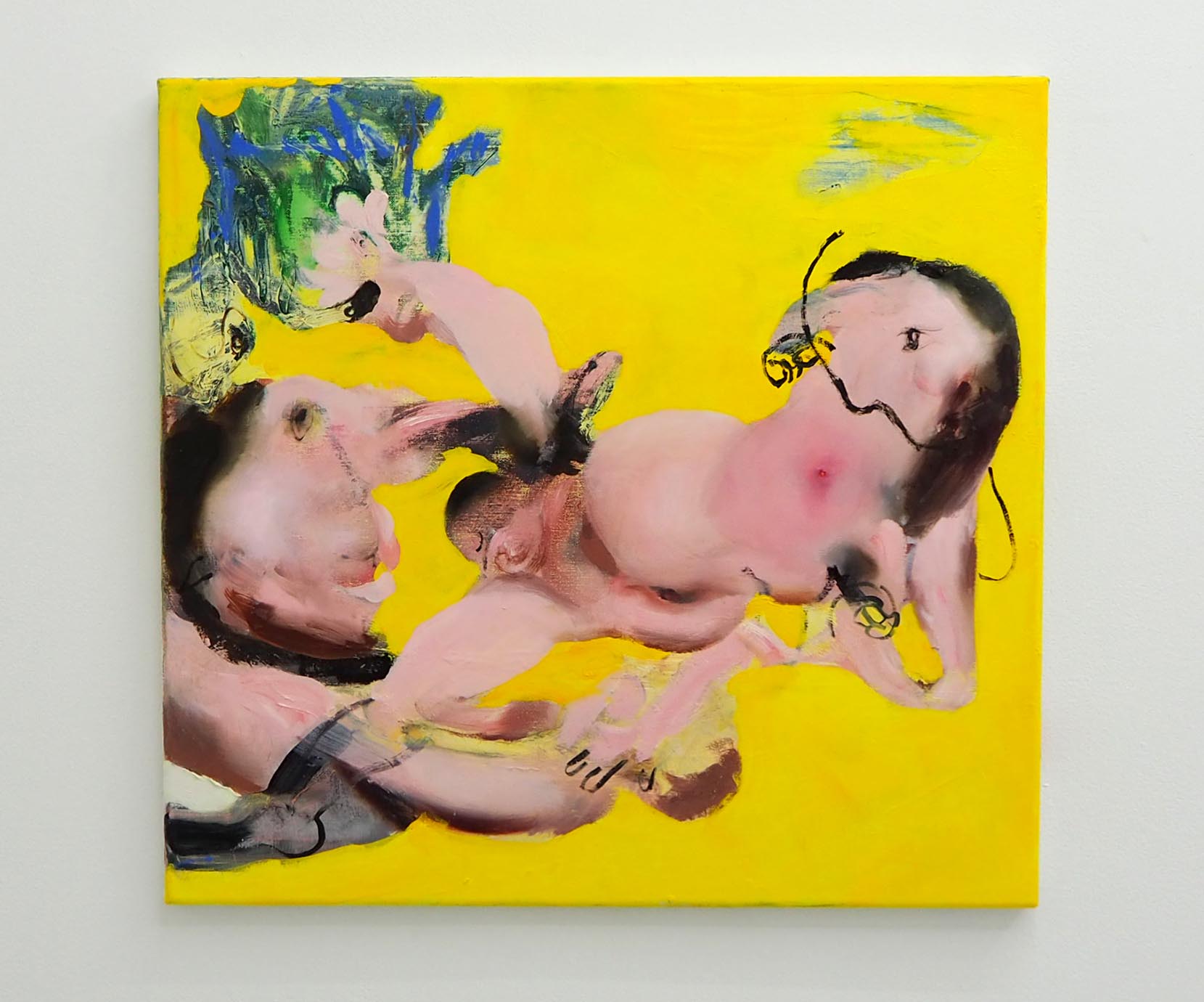 Ambera Wellmann at Lulu Gallery - Material Art Fair Ambera Wellmann's hazy bedroom paintings aren't just erotic in concept—there's something viscerally steamy about the way the Canadian-born, Berlin-based painter makes each piece come alive. Bodies melt into each other, body parts are duplicated while faces become indistinct, and the experience of desire is told through abstract brushstrokes, fleshy pastels, and transformations into objects of lust and love. Shown in the tucked-away house gallery of Lulu, it almost feels as if you've happened in on the artist's studio as she paints memories from her excursions, crafting a fever dream of queerness that is messy, magical and honest.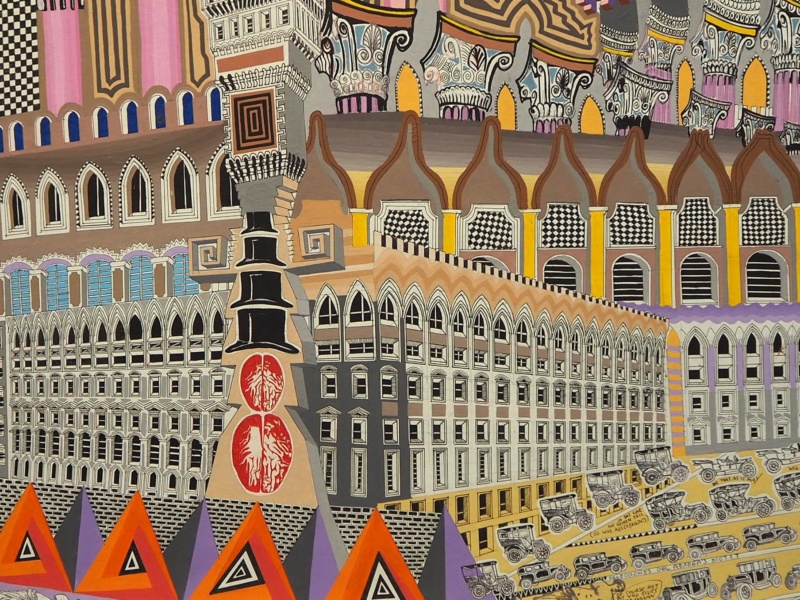 Pedro Friedeberg, MAIA Contemporary - ZONA Maco If you've grown up in Mexico, the surrealist architectural landscapes of Pedro Friedeberg are second nature. The 83-year-old Italian furniture designer-turned-painter has lived here for most of his life, hanging with the surrealist elite like Edward James and Antonio Souza, making murals and sculptures around Mexico City, and continuing to work today. He's known for his infamous Hand Chair—you sit on the palm—that has been recreated in many forms (from Ikea knockoffs to giant sculpture versions) since he designed it in 1964. But if you don't know his highly detailed paintings depicting Mexican symbols and futuristic streets from an M.C.-Escher-on-acid perspective, then they'll make you stop in your tracks, back up slowly, and look so close that you'll fall in—or wish you could.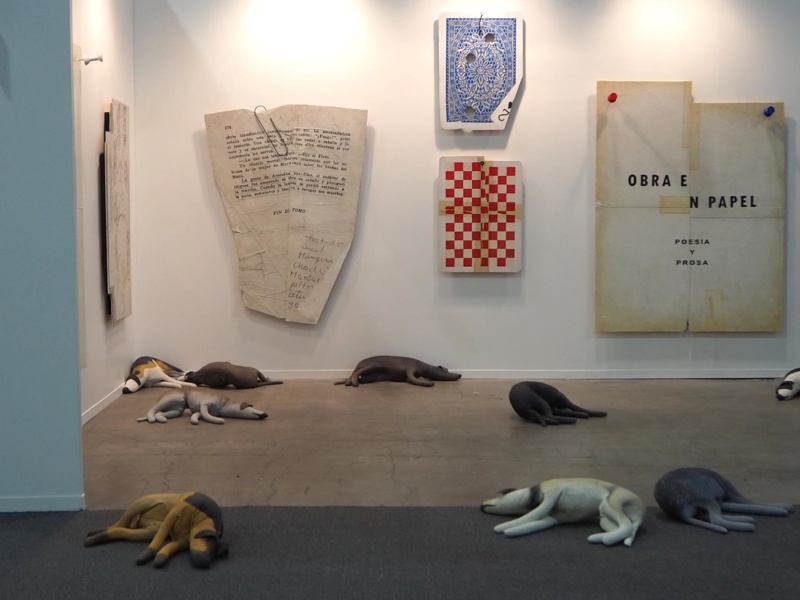 Ryan Brown at Galleria OMR and Y Gallery - ZONA Maco An obvious hit among the mega-galleries at Zona Maco, Ryan Brown creates a theatrical solo booth featuring limp, sand-filled soft-sculpture dogs laying in front of larger-than-life wall hangings resembling the contents of an artist's pocket (on Alice in Wonderland steroids). Old playing cards, crumpled pages from a book of poetry paper doodles—these objects play with weight and proportion as they look down on the dogs, life-sized but lifeless, like forgotten toys of the Peruvian-American artist's subconscious.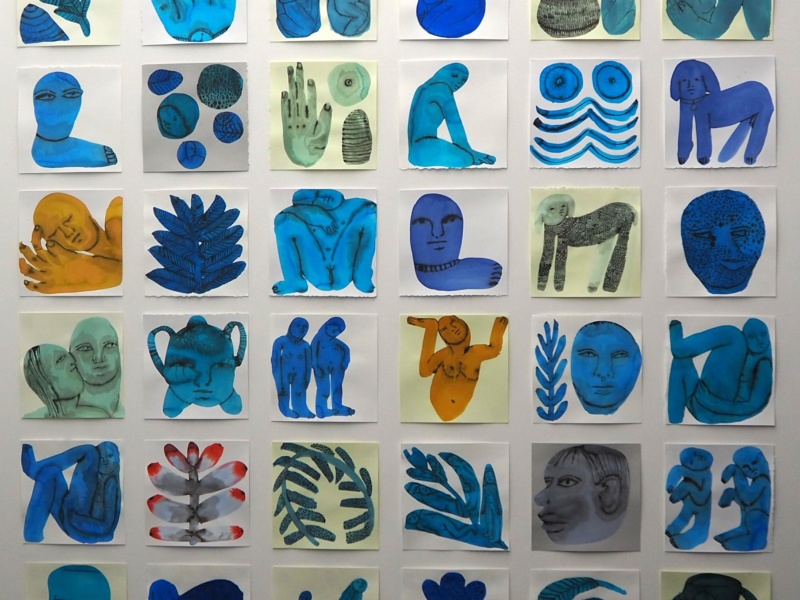 Emma Kohlmann at Jack Hanley Gallery - Material Art Fair Shown in grid form, Emma Kohlmann's colorful watercolor and Sumi ink on paper artworks show symbols and mythological icons painted from the artist's subconscious. These works, bright but often bleeding indistinctly into the paper, feel at home in a city like Mexico's capital, where indigenous imagery and customs create the backbone for a modern society. Naked bodies, a floating head within a foot, a vase that has come to life—the Bronx-born painter has created a language within her symbols, and together they act as hieroglyphics existing both as a relic of the past, and a link to the future.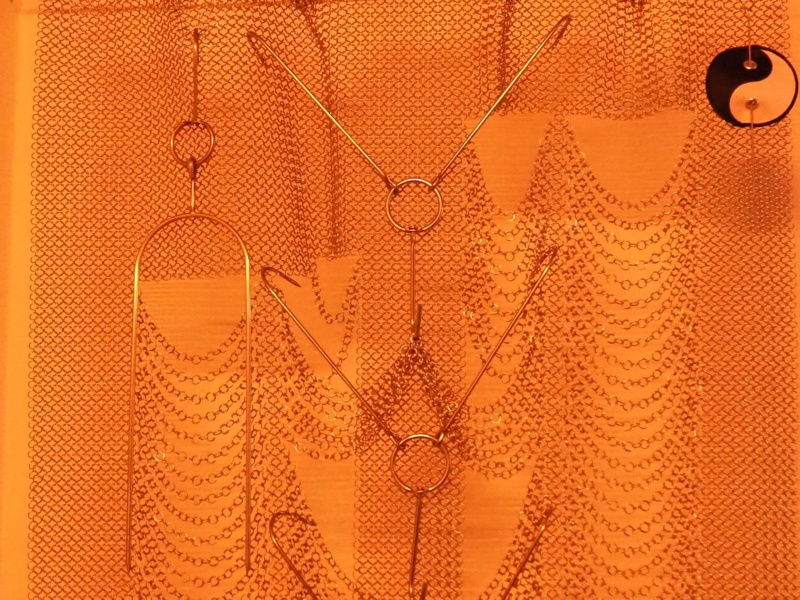 Sam Chun at the Beverly's Pop-Up - Material Art Fair Head under the stairs at the jai alai stadium-turned-art-fairgrounds for Material Art Fair, and you'll find yourself in a neon-lit art lair hosted by New York City bar Beverly's. Among the overgrown plants, neon dinner party installation, dreamy video projections, and many sculptures, is Sam Chun's woven chainmail tapestry. The small yin-yang symbol pinned to the hanging work speaks for the duality of the entire piece, an equal pull between the fragility and strength of the metal, between the masculine stereotypes of armor and traditional women's work of weaving. However, as the New York-based artist explains, yin and yang are not just opposites—they need each other to survive.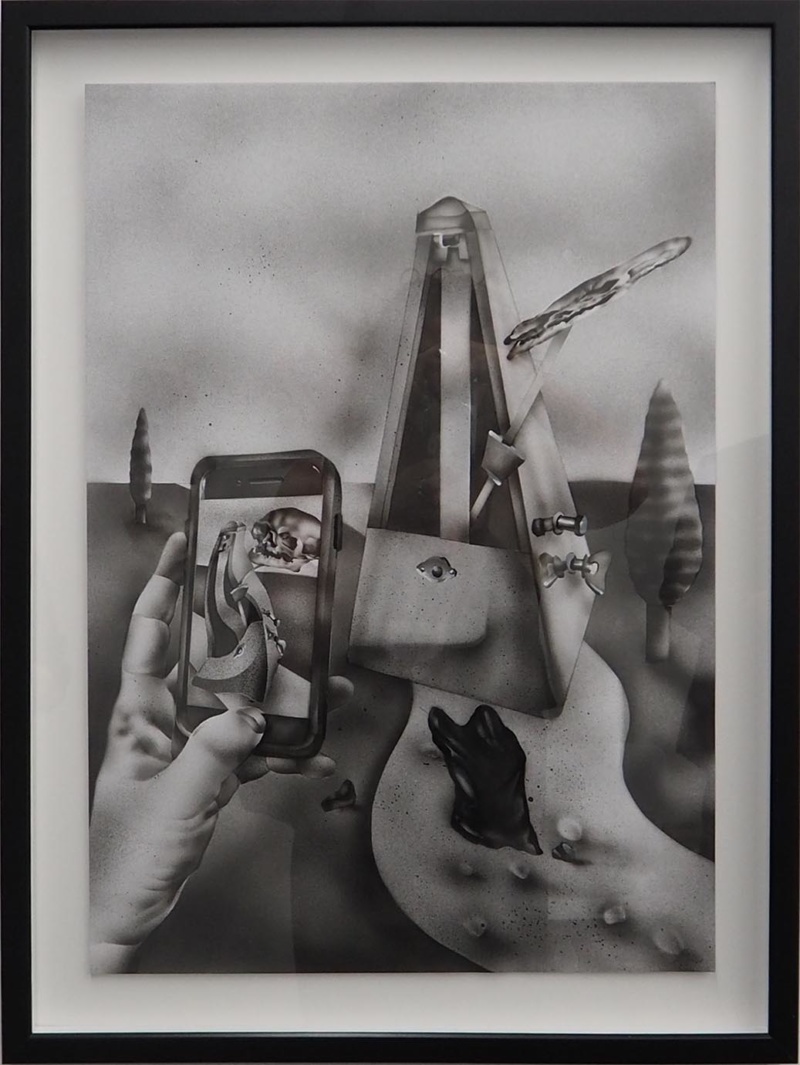 Botond Keresztesi at Future Gallery - Material Art Fair Time and space tend to become two-dimensional when staring at the Romanian artist Botond Keresztesi's aerosol paintings—it's hard to tell if the characters he creates exist in the future, the past, or somehow all at once. One painting shows a hand holding a cell phone, distorting the image of a Dali-inspired metronome, while another brings the Metropolis film's robot heroine to life as a praying mantis, ready to attack. The black and white aerosol paint textures bring another illusion of dimensions, making the figures look collaged and shadowed enough to burst from the flat page.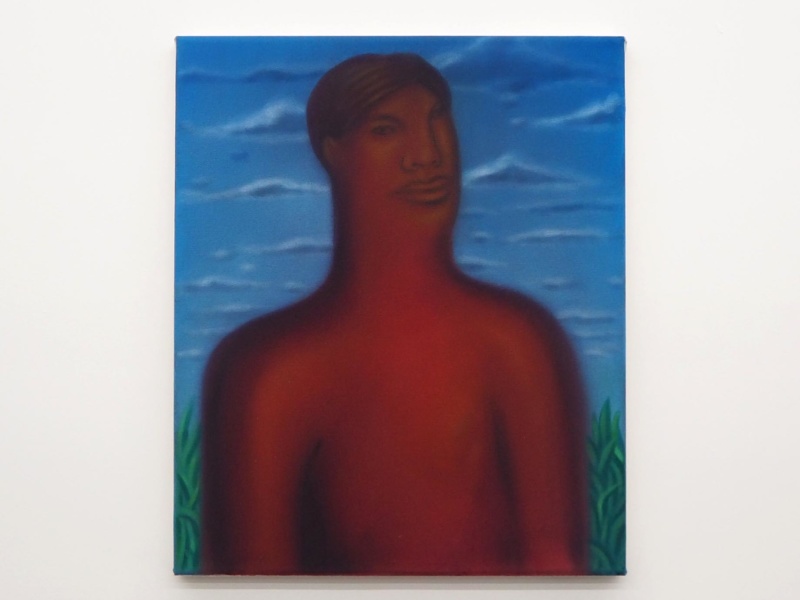 George Rouy at Hannah Barry Gallery - Material Art Fair London's George Rouy takes on the human form with a confident tenderness, painting figures that are soft and rounded, abstracted with a glowing hue or fuzzy profile, but feel powerful on the canvas. Paired with sculptures in collaboration with the other artist on view, Jesse Pollock, Rouy's figures are like pottery themselves - durable and functional, yet realistically breakable.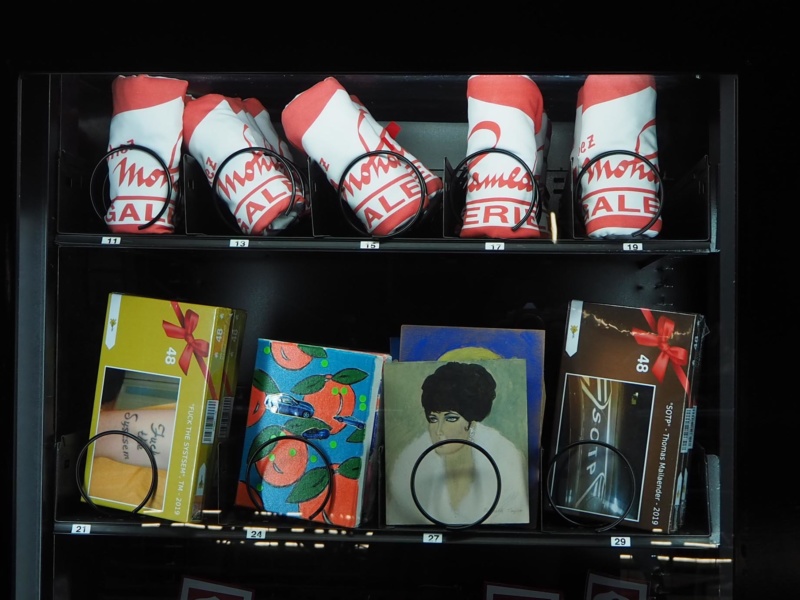 The Art Vending Machine at Chez Mohamad - Material Art Fair French gallery Chez Mohamed has created its own art monster with a fully functioning vending machine called Automatic Retailing Unit (ARU01) holding a variety of mini-artworks, from paintings of celebrity women to resin-coated roses to artisanal butt plugs. It's a clear play on the buying power of art fairs—but with the completely anonymous system of a collector inserting custom coins and retrieving the piece without any interaction between dealer, artist or market, it feels like a move of the future. Here, art is a game, and the ARU01 is the artist raking in the profits.