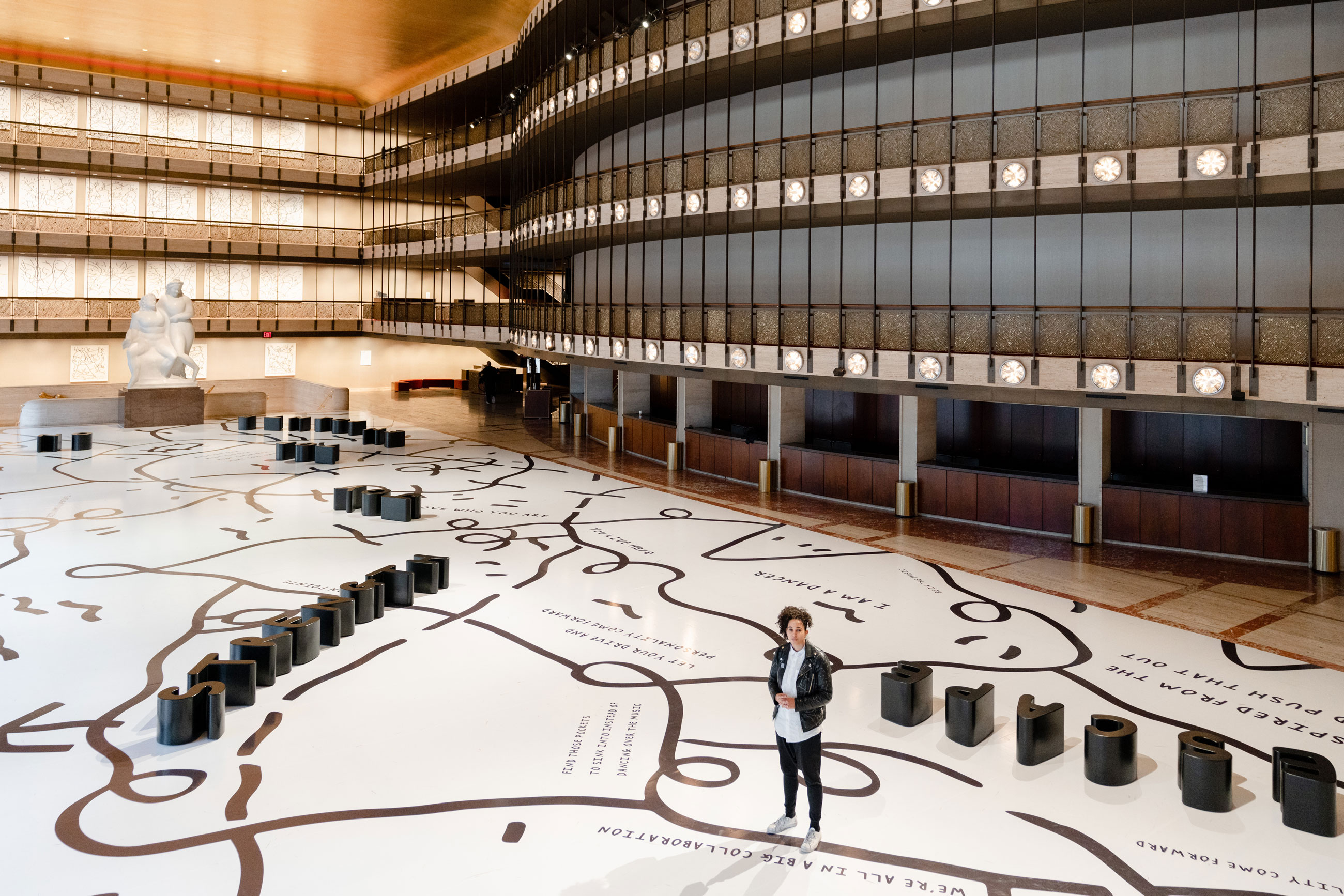 This winter, the New York City Ballet tapped artist Shantell Martin to transform Phillip Johnson's performance hall into an installation all her own as part of their ongoing Art Series. On opening night, the British artist stood up in front of an eager crowd to share her own history with movement. Cultured was in the audience for a first peek at Martin's black-and-white Gesamtkunstwerk (which is on view to the public through March 3). Here, the artist answers the questions on the tip of our tongue when the curtains came down.
What did you learn about the ballet that you didn't before working on this commission? Most recently, I learned that people say "merde" as good luck before going on stage—at first I was like, why are people saying that to me? And then I learned what that meant… [laughs]
But bigger picture: I learned that the infrastructure to the ballet is much larger than you might imagine. The number of people involved in everything, from costumes to stage production to marketing to research, all of these areas, to make these shows happen—everything else that's going on in order to have these talented people up onstage. Also, having the insider's view on the schedule and the dancers' work ethic—as an artist or a dancer, you have to really, really love your art to be able to go through such a grueling—but rewarding—schedule.
How does motion play into your work? Do you ever consider the lines you make as part of a dance? As I think you saw on Saturday, when I'm drawing, the pen is moving across the page—or the surface or canvas—in a way that is a dance across whatever the ink or pen is being applied to. Earlier in my career as a DJ, back in Japan, I collaborated a lot with dancers and when you draw live to dance, your movement is part of the performance or experience. And your drawing has to keep up with the dance—the pen is collaborating with dancers and, in a way, is dancing itself. So there is a dance that you end up doing, whether it's a pen on a digital canvas, or a pen on an analog canvas.
Of the pieces on opening night, I'm wondering which ballet resonated with you the most and why? What was really great about opening night was that it showed a huge variety of what ballet is. If you're someone like myself who maybe has not been very exposed to ballet, you might have this impression of what ballet is and isn't. And I think many people that haven't been to the ballet before were impressed—like, "Oh wait, ballet can be all of these different things?" There was great juxtaposition—for example, Variations Pour Une Porte et Un Soupir was so avant-garde and unexpected, especially followed by the pianist and violinist onstage with the two dancers in Duo Concertant, which was very delicate and more traditional, but still out of the box a little bit.
What I loved most about your installation was the floor. I was struck by how, with so many footprints, we added to your composition. I was wondering if you were hoping for this kind of dialogue with the viewer, and what drew you to change up what was beneath our feet? I'm firstly for different environments and connections—working below and above and in all different spaces is great. It starts with the journey from the outside—you are posed with this question, "Who Are You?" outside of the theater, and you can never really see the full question at once. When you walk into the lobby, you're faced with more questions and thoughts: "Don't Hide In the Corner." And then you go upstairs to the Promenade and you're immediately surrounded by the floor and the pieces on the walls.
The floor is the biggest canvas—well, I would have loved to do the ceiling, too—and its size encourages you to walk through and be a part of the space, and not just see it from one perspective. To speak to where the work came from, I drew during rehearsals over a number of days, and I sat down and interviewed some of the dancers. So it came from quite a personal, intimate space within the company and within the building. I think overall that intimacy is reflected in the work, including what you're walking on.