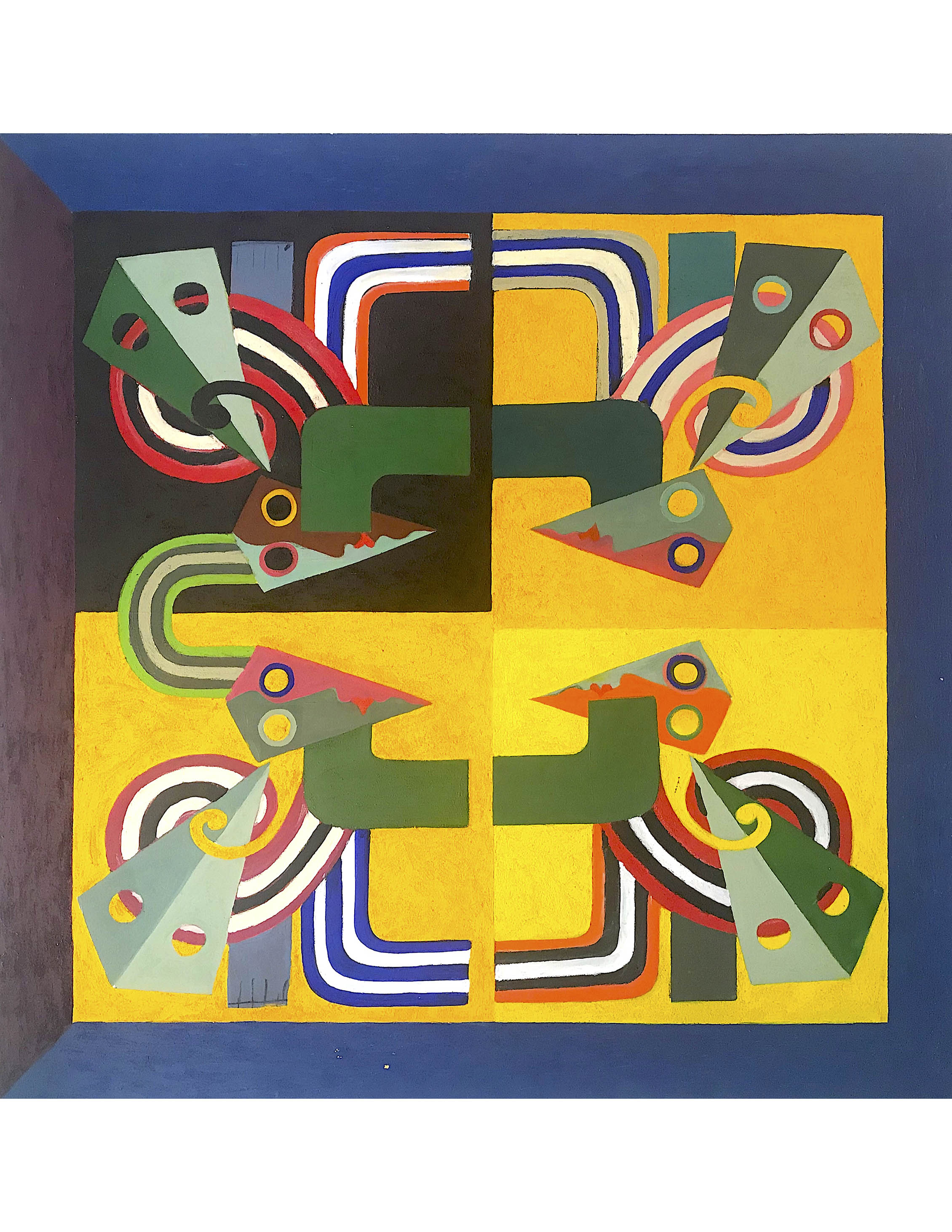 And so the writer barges into the tiny, cluttered sanctuary of the hottest art dealer in Soho where Georges Bergès is on the phone with a collector in Vienna, Austria trying to close out a deal regarding one of his stable stars, the Republic of Georgia born abstract expressionist Roman Kriheli. He gesticulates to the chair in the office about the size of an enormous Chewy.com delivery box—the type I see cluttering the halls of my Manhattan apartment building more and more these days. The tiny office, shuttered off from the bi-level airy art gallery he has owned since 2013, is peppered with fancy Mr. Porter bags of delivered goodies. On his desk littered with contracts: a copy of Bob Woodward's "Fear," a thumb-strewn deck of tarot cards, an opened bottle of stress pills. Amongst the ephemera too, art class drawings from his six-year-old Sofia hung to the wall by the bookshelf behind his desk. He's off the phone five minutes later beaming with delight as he runs his hands through a madcap mop of Botticelli-like curls. He's struck another deal, which can only mean he will be more than happy to continue the conversation over a glass of wine at his favorite local boîte.
''My assistant, just this morning, told me that #toadstool is trending on the 'Sinternet,''' bellows the Soho art dealer to all on sundry as he settles into the bar of a trendy Italian restaurant on Thompson Street—which, as chic would have it, is right next door to the Karl Lagerfeld boutique. The bartender seems flummoxed. ''Hashtag what....?'' he asks while uncorking a bottle of Fontanafredda Vigna la Rosa 1998. Bergès chuckles to himself as the barman banters on about ''the rather intense yet elegant bouquet,'' he is about to pour. The gallerist-as-bon-vivant raises a toast—and there is much to toast these days in the life of Georges Bergès.
His eponymous Soho gallery, once again leading the art world renaissance of West Broadway, is a must stop for the truly astute contemporary art collector. Indeed, it is more than fair to declare that when any proper list is drawn—"Forty Five Art World Folk Under Forty-Five"—that this ambitious and ascending 42-year-old art dealer will certainly make that list. ''He is smart and hungry and he knows how to sell,'' one current art world gorgon, Bill Fine of Artnet, attests. And, clearly—judging from his elevated sense of humor, if nothing else—Mr. Bergès will make for one superb conversationalist. The writer, happily, was not to be disappointed. Coming off a stellar one-man show this past September on Ben Birillo, the octogenarian maverick of the Pop Art movement, the show provoked much buzz for the early autumn art season and if nothing else, probably Bergès's greatest "get" yet.
We now think it the right time to probe and parry the mind of this 42-year-old San Diego-born New Yorker and why he is currently the talk of the gallery whirl.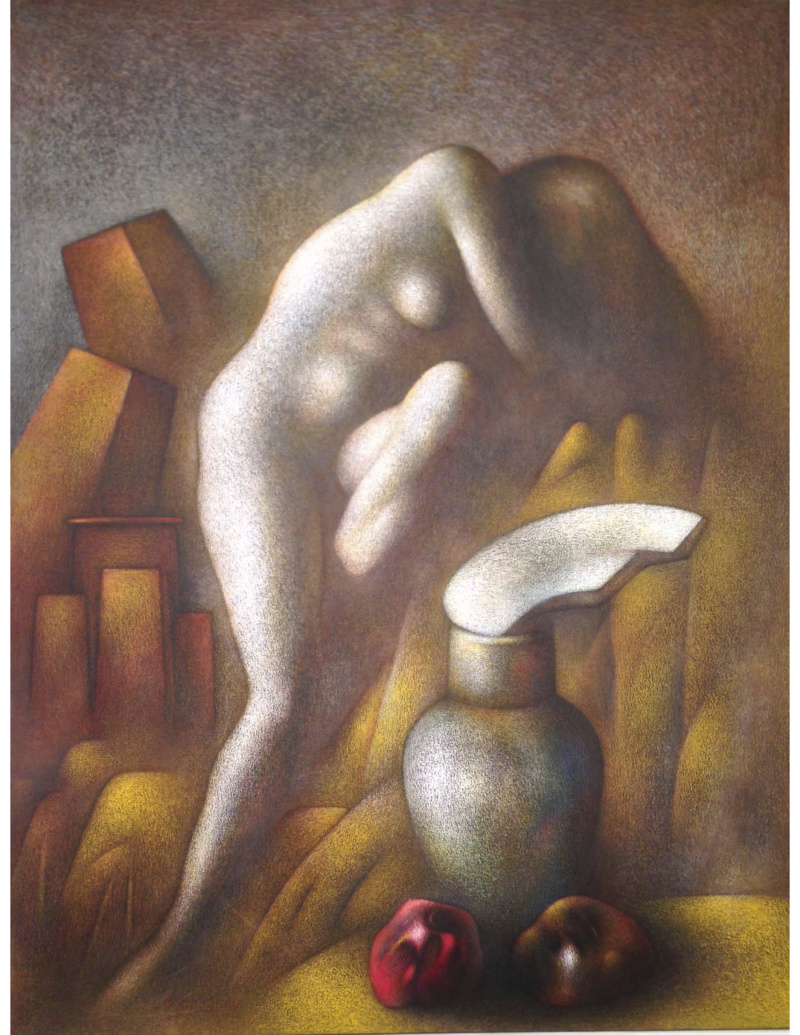 George Wayne: There is no question that your gallery has acquired a chic resonant buzz with the art world cognoscenti. An art world buzz that Soho has not seen since the days of Leo Castelli and Mary Boone. Was that always the goal?
Georges Bergès: No. My singular goal was to really create a gallery that is responsive to artists and collectors. I live and breath this entire process of creating art, talking and nurturing my artists and with a hands-on approach to sales and strategy. I will admit that Leo Castelli and his way has always been an inspiration. I really don't know but I what I do know is that this lifestyle is ingrained in my genetic make up. And I am a people person.
GW: No doubt about that! It's an incredible gift you have—the garrulous master of the charm and the schmooze—which is a must for any true master art dealer.
GB: I can chat into all hours of the night and into the morning about life and the human experience. That's the primary reason I love to be around artists and just absorb and nurture their creative fecund.
GW: How many collectors have you groomed holding court here at your favorite neighborhood restaurant?
GB: I love coming to San Carlo. You know Leo Castelli loved Mezzogiornio back in his day. This is my version. Anytime I need to channel and decompress from the gallery I come here. I was here once at my booth and noticed this guy with his hot date and his credit card wouldn't go through—his bill was like a $1000. So I offered to pay the bill and a few days later he came into the gallery and bought a piece of art for $75,000!
GW: And that is what you call karma. I was reading a profile on you somewhere and the headline said "New Kid Old Block," alluding to the fact that your gallery is on that same stretch of West Broadway where Castelli and Mary Boone ruled the art world in the late 80's.
GB: I thought that was genius because that is exactly who I was when that article came out a couple years ago. That encapsulates everything I'm trying to do.
GW: Add to that your coterie of blue-chip collectors which include the likes of Spike Lee, Dave Chapelle, Mark Rothko's son, Christopher Rothko, and Rick Lazes (founder Live Nation). Which piece of art did Spike Lee find at the Georges Bergès Gallery?
GB: I really don't talk about any of my collectors beyond what you see on social media. But nice try George!
GW: So I guess you won't discuss the fact that Susan Sarandon is often seen grazing your West Broadway gallery also.
GB: She was one of the very first so-called celebrities to visit the gallery and buy a painting mere days after I first opened four years ago. And that is all I will add to that GW!
GW: Define your gallery manifesto.
GB: Mine is a gallery that is artist-collector-centric. It's a definite emphasis, as such I sought to create more of a salon setting where my artists are always welcome to hang out and interact with each other as well as their collectors. Georges Bergès Gallery is a living breathing space. Too often I see galleries that operate like museums—mine is not one of them. Interpersonal relationships matter and that is what is getting lost in today's art world. I value conversation with my clients.
GW: Your first show for the new autumn season was the talk of the art world. Your gallery presented for the first time the work of one of the great unknown, but nonetheless vitally important icons of the early Pop Art movement: Ben Birillo. It is said that it was he who truly launched the careers of Andy Warhol and Roy Lichtenstein.
GB: Ben Birillo is an indispensable figure to the early history of Pop Art. He was integral to the movement, yet few people know the name. He was an art dealer who was also an artist. Birillo created the groundbreaking exhibition "The American Supermarket" in the '60s which was a commentary on post WW2 consumption. Initially it was just going to be with his own personal work but Leo Castelli convinced him to include other artists, from Liechtenstein to Warhol. It became a pop sensation. It was arguably the first time that Pop Art was taken seriously and it was Ben's exhibition that did that, at the encouragement of Leo Castelli. Now fast forward 50 years later and here we are with "Spirit Dogs" which was Birillo's first one-man show of his own work after all these many decades. Ben is 88 years old and finally had his first solo show. And that show in September was a benchmark moment for my gallery—in large part because Leo Castelli has been such an influence in my life. So to have this connection with him through his artist, friend and partner Ben Birillo is very humbling. And the show sold out!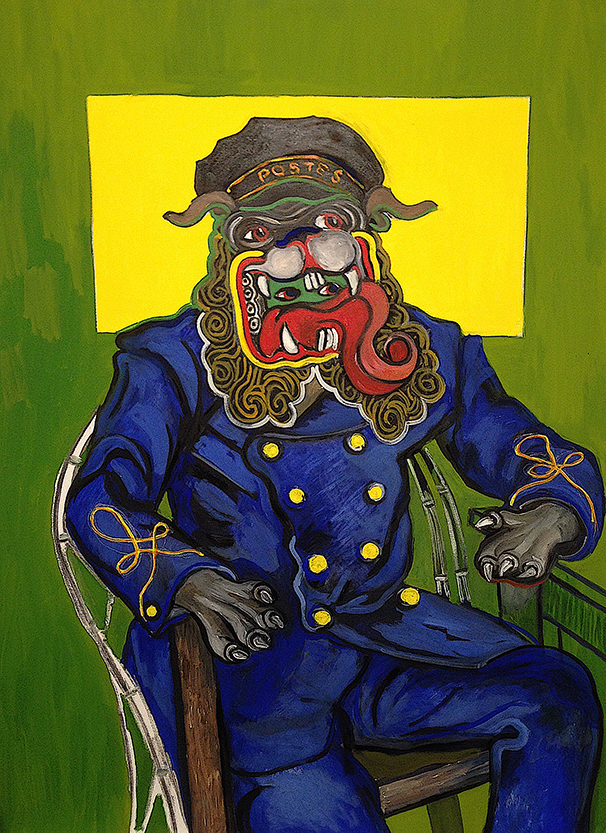 GW: "The American Supermarket" show that Ben Birillo curated in October of 1964 at the Bianchini Gallery on East 78th Street was groundbreaking to say the very least. It was the first Pop Art installation ever! It was also the show that really galvanized and inspired Andy Warhol's trajectory. It was the first time Andy ever showed his famous Campbell's soup can paintings. Ben Birillo must have told you some juicy anecdotes about Andy Warhol.
GB: When I was trying to coax Ben into doing his show, I went to visit his studio and noticed this statue he had created with Warhol on a cross. He told me he created that piece of work because he visited in Andy in the hospital before he went into surgery and Warhol jokingly said "Ben if I don't come out of this place I want you to make me a martyr like Jesus.'' They both laughed, but we all know Andy never did make it out of that hospital and so Ben created that sculpture. He created that work the very next day after Andy died.
GW: Other galleries have wanted to show Birillo's work for years but he turned them all down before you showed up—why did he decide to show with you?
GB: Well I think that's actually more of a testament of my ability to connect with artists. It took months of cajoling. Over time, I think he understood that I understood his transformative role—not just to the art world but also to the broader cultural fabric. Ben Birillo, after all, was the man who convinced Andy Warhol to show his Campbell's soup can paintings for the first time! And more than 50 years later I convinced him to finally show his own paintings.
GW: Apart from Birillo, who are some of the future artist superstars emerging from the Georges Bergès Gallery?
GB: I am working with Dean Dempsey who I truly feel is a rising star.
GW: I love Dean Dempsey. I call him the ''thin white duke of the millennial art scene''. He looks like David Bowie in his Ziggy Stardust days . Just my personal opinion.
GB: Hah! I have known Dean for a couple of years and like most of my favorite artists he's a personal friend of mine. I truly believe that the best personal relationships that I have with artists always manifest to the best artist that I sell and move up within the gallery. Dean is no different—he's young, ambitious, and he really is someone that if you are new collector you should have within your collection while he's still relatively affordable. It's not enough to call his work merely post-millennial abstract. He plays with a variety of materials and texture.
GW: I love the neon tube work of Laddie John Dill and the portraiture of Michael Carson. They are also emerging iconoclasts. I also love the abstract work of Johan Wahlstrom. And if you can't afford a Egon Schiele masterpiece, then Jean Schmeidel is a great alternative. Clearly, I have been scrolling the Instagram handle @georgesbergesgallery.
GB: Jean is another artist I am very excited about. His work is so profound and disturbing, and Laddie John Dill is a central figure in the California light and space movement. His work is in the collection of not only MoMA but also LACMA and MOCA in Los Angeles. His spectral wall pieces, which are neon argon light sculptures, are prized sought-after works.
GW: What advice do you give to that well-heeled millennial who wants to build an art collection?
GB: I always say find good art that you love but be smart about it and never compromise. You also want to know if the artist is in the collections of important museums because when all is said and done, most art these days is an investment. Look at it as being that person buying a Basquiat in 1982 that saw him when he was on the street. Be that astute is what I am trying to get at.
GW: ''I hate the notion of the art gallery run as a corporation,'' you have once said. Why is that?
GB: I think too often we see the major players within the industry forgetting why exactly we got into this and why we love it. As a result there are a lot of very unhappy people.
GW: Isn't that a slight knock at the Gagosian's and Zwirner's of the art world? Admit it!
GB: Not at all! Listen, mega galleries are needed too. I personally admire Larry Gagosian and David Zwirner. I know this business and it is a tough industry. I have my niche and they have theirs. The gaps that open up because of their stature create space for me to fill. We are a nice ecosystem as it were. Sure, you hear stories of this person or that person but I never get caught up with that crap. I just focus on what I have on my plate.
GW: You are just as much a snob as the rest of them "artsy-fartsy" folk. How do you unwind and decompress?
GB: I go to Vermont with my partner Sheryl and our daughter Sofia and I like to read biographies. I am obsessed with my daughter, just the other night I took her to the New York Philharmonic.
GW: Are those bags under your eyes bespoke?
GB: You are insane!
GW: So they tell me. I also hear your ego is almost as bloated as Julian Schnabel's.
GB: What?! Where did you hear that? All I can say to that is, "Enough about me...let's talk about me...'' And if you want to see my ego, stop by my gallery—I have a new one-man show hanging through November 4 with one of my biggest selling artists, Michael Carson.