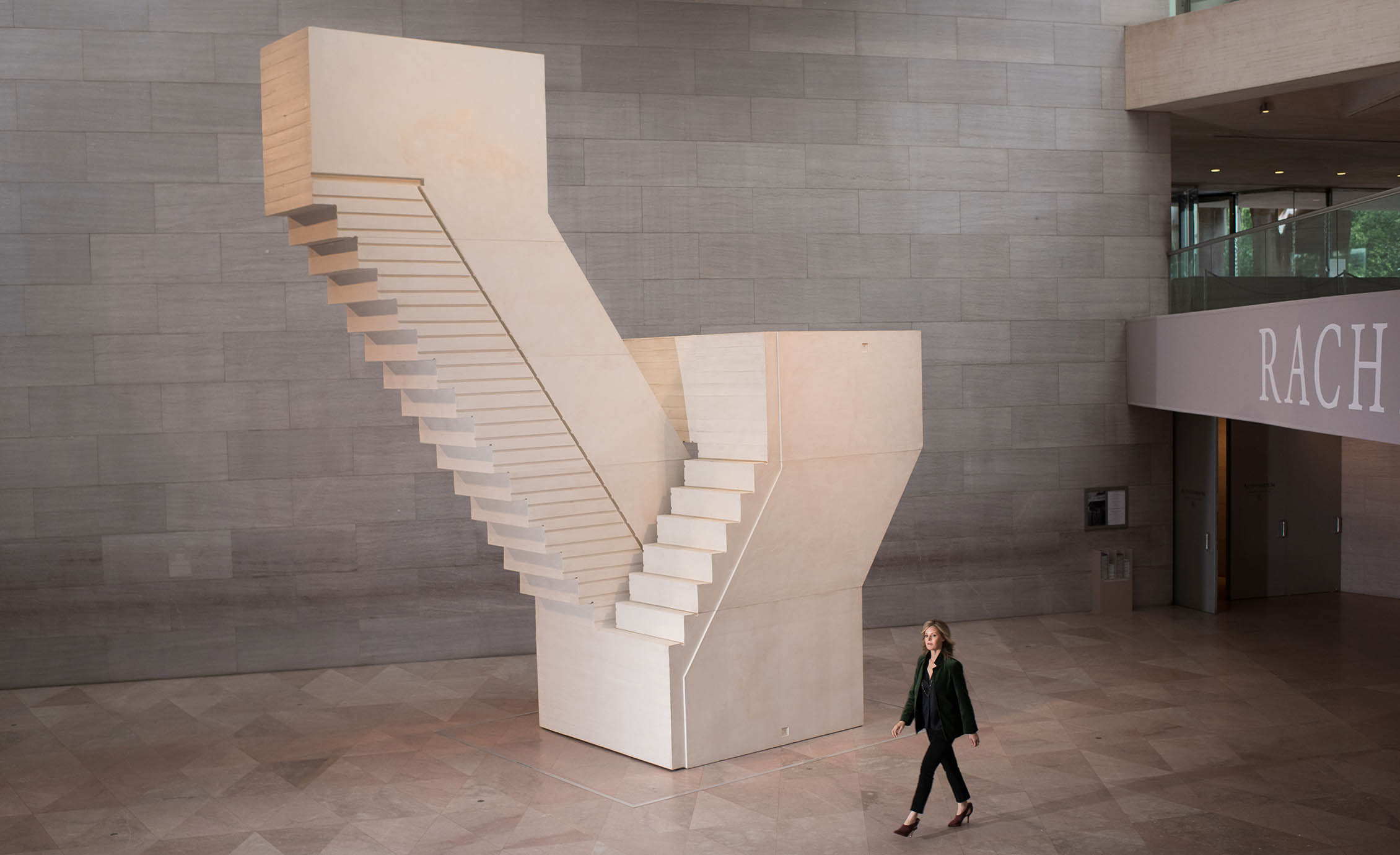 "Virginia is the kind of curator who is always there for you," says artist Jenny Holzer. "Once, I was waiting alone in line at the White House, feeling nervous, and there she was—calm, kind, much fresher than the gold brocade." Virginia Shore, the former deputy director and chief curator of Art in Embassies and now an independent advisor, commissioned 13 artists, including Holzer, to make work for the new high-security American Embassy in London. Holzer's pieces consist of quotes inscribed in stone on the embassy's walls, such as Queen Elizabeth II's adage that "the waging of peace is the hardest form of leadership."
Empowering living artists to manifest monumental works is one of Shore's fortes. She and Mark Bradford started discussing his epic 32-panel painting for the atrium of the Embassy more than four years ago. Titled We the People, the multicolored work includes the entire text of the US Constitution. "Virginia is cool, but tenacious," says Bradford. "She fights a good fight with the government." The seismic shifts to American foreign policy over the past two years have altered the meaning of the work. "But we don't march backwards," declares Bradford. "I tell myself that every day."
Having worked with some 6,000 artists and hung more than 10,000 works in 200 embassies and consulates, Shore has probably overseen more acquisitions, loans and major commissions than any other curator in America. When Shore joined Art in Embassies (which is overseen by the US State Department) some 20 years ago, the ambassadors had final say over the art in their realm. One wanted her to execute a "family fun and farming" theme. Another was keen to install photos of his wife in 50 different "Gone with the Wind"–style ball gowns. Luckily, in 2005, the State Department gave curators the responsibility to conceive and execute art acquisitions.
"We expected battles around what was culturally important," explains Shore, who has a BA in Political Science and an MA in Art History. "So, we'd do a lot of research to find the relevant messages for the region." In Madagascar, deforestation is an issue, so the embassy hosted an exhibition of photography focused on the environment. In Islamabad, the embassy displays many works by female artists to help open up a discussion about women's issues. "The art is political, but not so much that it would be inappropriate," explains Shore. "It represents American culture and values, not the shifting politics of the day."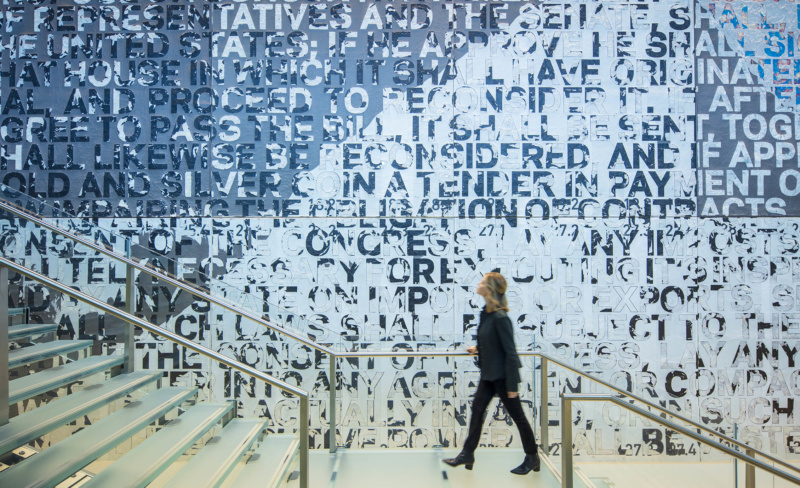 One of Shore's innovations was the inclusion of art from the host country. "Before the art was all about raising the American flag," she explains. "Now it's more like extending an olive branch and transforming these buildings into more inviting environments." In this capacity, for example, Brazilian artist Vik Muniz created a 90-foot-long mosaic, depicting both Brazilian and American forests, at the American embassy in Brasilia.
Despite the rewarding sense of purpose, Shore recently left the State Department. She resisted the exodus after the 2016 presidential election to complete her work on new embassies in London, Kabul, Moscow, Islamabad and Jakarta. "I've worked through the politics of four White House administrations," she says. "I stayed as long as I could bear. I'm still keen to curate art in ways that open people's eyes to political issues, particularly the environment, race and gender."
As a freelance curator and art advisor, Shore is already making an impact. She envisioned and executed 25 art projects as part of the Washington, DC arts festival "By the People." Dubbed an empathy or democracy fest, the first edition this past summer was a local affair—albeit with the involvement of globally recognized artists like Nick Cave, Imran Qureshi and Jenny Sabin. "Next year," says Shore, "we hope to spread the word so it becomes a destination event with national and international pull."
Shore is also consulting for Laurene Powell Jobs's Emerson Collective, working on outreach for Carne y Arena, a complex virtual reality installation created by Alejandro Iñárritu, the director of such films as The Revenant and Birdman. The work, which adopts the perspective of immigrants trying to cross the Mexican border, was the first VR project to be shown at the Cannes Film Festival.
Kathryn Hall, the former Ambassador to Austria, who, with her husband, owns Hall winery in Rutherford and St. Helena, CA, is another client. When the Halls met Shore almost 20 years ago, they were collecting well established names such as Agnes Martin and Gerhard Richter. "Virginia opened our eyes to a broader spectrum," says Hall. "I love the idea that we can include lesser-known or even unknown artists. It gives the collection more depth. It makes it less about us and our friends, and more about supporting the broader art community."
Connecting people through art is one of Shore's missions. Living in the DC suburb of Kalorama, two blocks from Barack and Michelle Obama and one block away from Ivanka Trump and Jared Kushner, Shore is ever cognizant of the need to "wage peace," as Elizabeth II puts it. Indeed, Shore believes deeply in cultural diplomacy. "It is an honor," she says, "and also exciting and meaningful, to deploy the soft power of art to initiate conversations in all sorts of places."