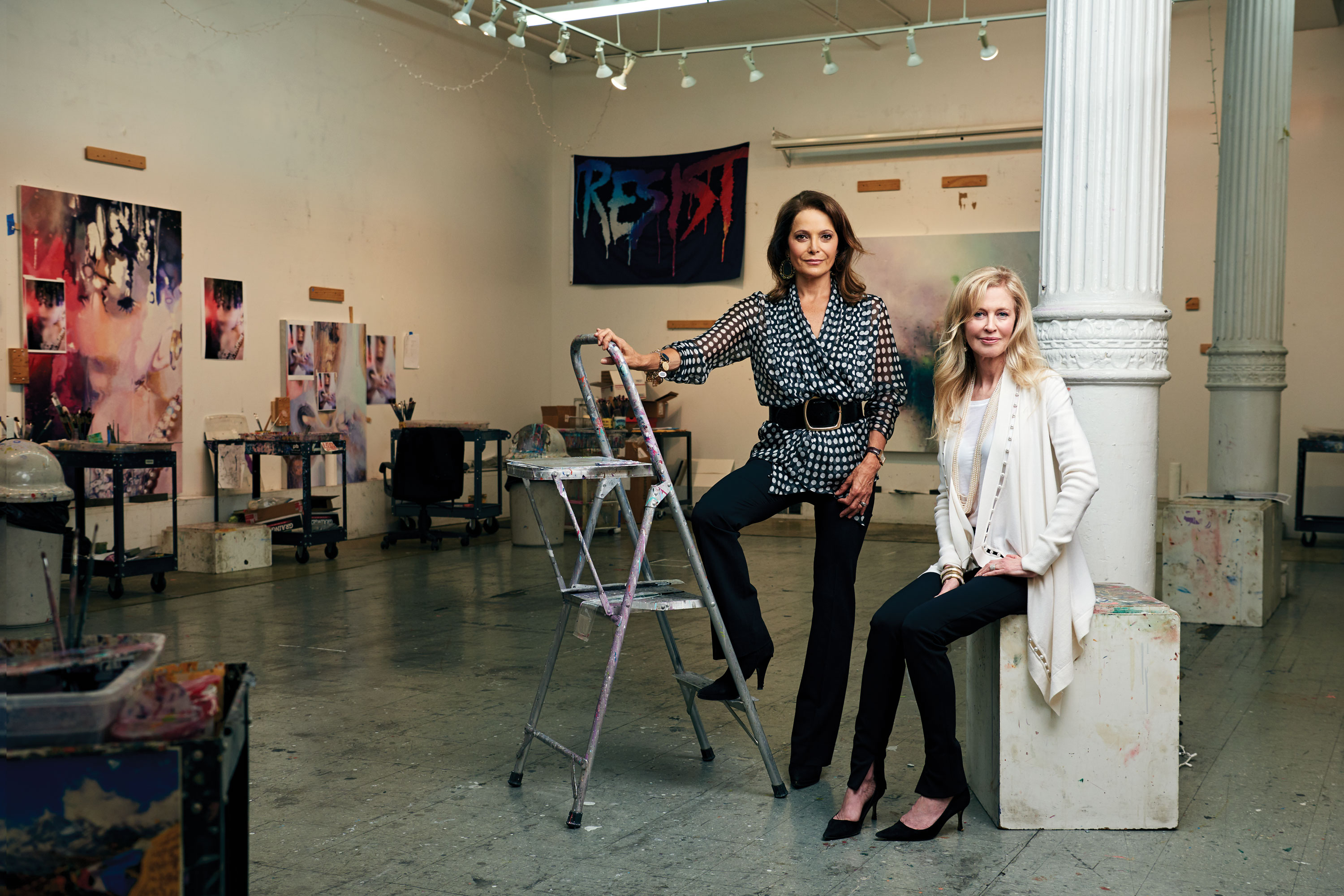 The Price of Everything asks figures including Amy Cappellazzo, Jeff Koons, Larry Poons, Barbara Rose and Gavin Brown about what the white-hot market means for art and artists. Following a premiere at Sundance in March, festival screenings throughout the world and acquisition by HBO, the film—directed by Academy Award-nominated filmmaker Nathaniel Kahn and produced by Debi Wisch, Jennifer Stockman and Carla Solomon—makes its theatrical debut this fall, screening at MoMA on October 18 and makes its official box office premiere on November 12th. Stockman and Wisch share the inspiration behind the movie and their hopes for its impact.
Sara Roffino: How did this project come to life?
Jennifer Stockman: I started observing startling and disturbing changes in the art world over nearly three decades of being a collector and involved in museums. It became tougher and more competitive for museums to buy contemporary art with their limited acquisition funds because the prices were so high. And unpredictable prices at auction were also affecting my own ability to collect the art I wanted. The market was becoming white-hot and very competitive, with new collectors from every nook and cranny around the world. I became interested in trying to understand the when, why and how the art world was changing. Was this a unique time in our history, or has this phenomenon occurred in the past each time markets became flush with new funds? I started asking everyone I met what events they attributed to these drastic changes in the art world—where art was now being thought of as a tradable asset. Some very smart people thought it was when Alfred Taubman bought Sotheby's in 1983 and turned the auction house into a "shopping mall." George Condo thought it all changed when Damien Hirst made a diamond skull and sold it for $100 million. Others thought maybe the idea of collecting and selling living artists started with the Scull auction in 1973. Anyway, answers were many and across the board, and it only piqued my interest to find out more. I knew that no one had yet produced a documentary on the subject of the layered, complex and non-transparent art world, and I became very interested in documenting this through storytelling. I knew making a documentary on this subject would be a long and complicated journey, and it was in early 2012 that I started putting the pieces together. About two years later I met Debi.
Debi Wisch: And we went on a hike.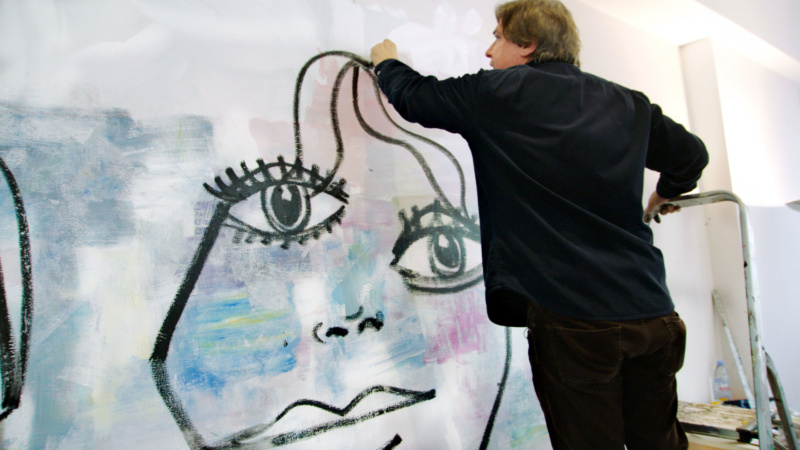 JS: Yes, we went on a long hike called Sunnyside in Aspen and by the end we had decided to form a company and call it Hot & Sunny Productions. We realized right away that we shared many common goals and were both eager to make this film happen.
DW: I was looking for a way to do a film about the art world and who makes it and why. Once we connected, we probably spent a year talking about where to begin. Do we follow students? Do we follow emerging artists? Older artists? Female artists? We had a gazillion questions, but the big question was how to cover it all in one film. Our goal was to be broad and illuminate the plethora of questions that exist in the art world. We wanted to observe the ecosystem and let the audience reach their own conclusions. We did not want to pass judgment, nor did we want to be myopic.
JS: As art world "insiders," we knew that very few people in the entire world were exposed to what we see and experience in the art world. We take for granted meeting famous artists in their studios, talking to brilliant curators about collection strategies, visiting the homes of major private collectors around the world. These opportunities are a rare privilege, and one of our objectives was to share them with an audience who might never set foot in a museum or an artist studio. We wanted the film to be interesting and engage audiences of all demographics.
SR: You have an incredibly diverse group of artists in the film. How did you decide who to include?
JS: We knew we needed artists who had different career trajectories and interesting personal stories. We needed dealers, experts from the auction world, art critics and people from the museum world. The challenge was to find people who would open up their heart and soul in front of the camera, which is not easy, plus one never knows how someone is actually going to come across on screen.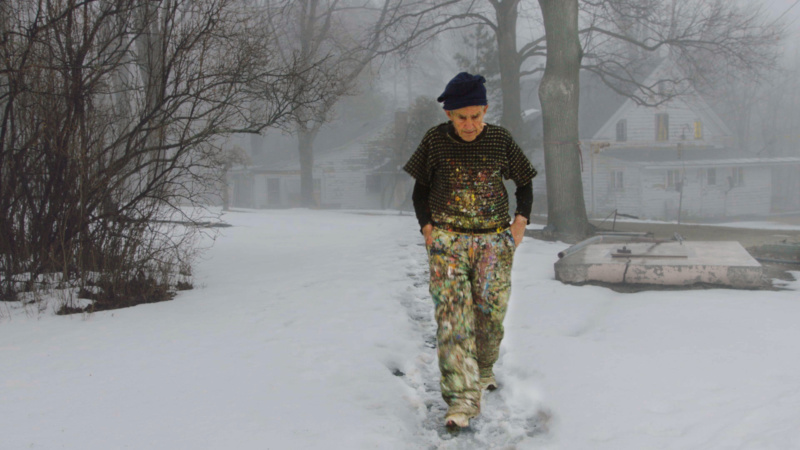 DW: I remember when the director Nathaniel Kahn came back from his interview with Larry Poons upstate and exclaimed "We have a film!" Early on we made a decision to focus as much as possible on the artists. We also always knew we wanted to look at when the market changed and when the commoditization of art became a thing. We discussed many points of departure, and we ended up deciding on the Scull auction because there seemed to be a consensus on that being a pivotal moment in contemporary art history. We wanted to show that there wasn't a randomness to all of it. It's rooted in something specific—or a confluence of events.
JS: It was important to show a range of artists. Our talented archivist Judy Aley was able to find awesome footage of dozens of artists painting, sculpting, photographing, going back to the '60s and through the present. Edward Dolman, who's now the chair of Phillips auction house, talks about the differences between the '60s and the international art world that exists today. There's a wonderful scene in the film that puts this archival footage together, with Dolman's narrative accompanied by David Bowie's song "Fashion."
DW: That sequence alludes to the fact that when you look at artists today, you wonder who's going to be around 20, 30, 40 years from now. Who's going to be relevant and why? I was in Los Angeles last week and someone used Jacob Kassay as an adjective. Can you imagine for a young artist what that would be like?
SR: What does commoditization actually mean for the art and the artists?
DW: That's a question of what you value and why—and our view might be slightly different than other people's views. There's a line at the beginning of the film where Paul Schimmel states that there would be no golden age without gold— and if there weren't hundreds of more people buying art, there wouldn't be thousands of more artists making art. He concludes by stating that bubbles make beautiful things and you want to keep the thing floating. Obviously there is a downside to the ramped-up volume of it all, but the positive side is that there are so many more people making a living in the art world, even if navigating this labyrinth has become increasingly complex.
JS: Looking back in history to the Renaissance when artists and art flourished, even then there were collectors only interested in the prestige and status art conveyed. Then the robber barons of the early 20th century bought Renaissance paintings from Europe to give them cultural and intellectual currency, and not necessarily because they loved the art per se. I used to be very upset with the idea that art has become a commodity for so many, but I have now accepted it, for better or worse. For sure it's likely to remain a commodity, especially when five of the top banks in the world are advising their clients to buy art along with bonds, equity and gold and are encouraging their customers to borrow against art, like a mortgage on a house. Whether or not you think this is despicable, as Barbara Rose says in the film, there are people who look at art as a business. Many of us who think of art as another religion have always held it to a higher standard. So it's sometimes painful when there are people out there only interested in using art to create another profit center. It feels like blasphemy.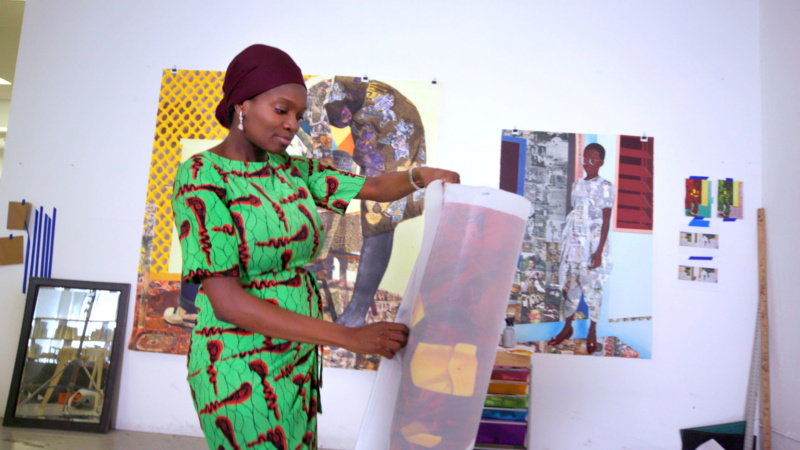 DW: Artists are also criticized for being successful. If you're an architect, you're also selling ideas and creativity. It's not that different from art. And when an architect or filmmaker or designer accepts a huge commission, they're not criticized, they're applauded.
SR: The film doesn't try to answer these questions. Why did you leave it open in this way?
JS: Because there are no easy answers to the question of how to determine the value of art. Simon de Pury opens the film by saying that "the most expensive works have the greatest value." That's basically the hypothesis that is disproven over the next 96 minutes of the film.
DW: People only value cultural artifacts if they're expensive. Larry Poons says in his Larry-esque way: How can the most expensive artist be the best? It's not like baseball where your batting average is your batting average. It's brilliantly put, and it's so true. Some experts can decide tomorrow that George Condo no longer has talent and his market would plummet. It's all very precarious.
JS: In most markets there are financial criteria and other objective ways to make credible valuations. This is less so in art, and the fact that art is traded and unregulated just makes it even more complicated. There were so many issues we wanted to cover, but 97 minutes is just not enough time to do so. DW: I hope that we show that there's an aspect of the art world—the actual art—that's sort of priceless. Art outlasts us all, it actually matters!
Craving more culture? Sign up to receive the Cultured newsletter, a biweekly guide to what's new and what's next in art, architecture, design and more.