Venice is sinking beneath my feet, and I think I can feel it. The architecture biennial has flooded the city and I'm on my way to "The Architecture of Memory," Paula Crown's exhibition at a former glass factory, co-commissioned by Dallas Contemporary and the American Pavilion.
A mimosa greets me, served in a flute that contrasts with the party detritus spread across the villa floor—a sea of ceramic Solo Cups. I don't recognize their precious nature on first blush, as they are convincing fakes with airbrushed faces. The trompe l'oeil effect of Crown's painting highlights the dings of the cups' folded porcelain bodies. It is a kind of crime scene and my impulse is to turn away from the mess, which is a reaction that Crown is counting on. "It's a call to action," the artist says. "The party is over and all that is left is a question: Who will clean it up?"
The query is a simple one, and my answer leaves a lot to be desired. Single-use cups and bottles are so commonplace that one is rarely confronted with their monstrous half-life, let alone the reality of their part in a plastic-filled sea. By lavishing throwaway objects with distinctive personalities and precious materiality, Crown brings attention to the individual's accountability within the bigger picture. That's why each cup is named for an archetype, such as Sorority Squat or Loner. "I felt it was necessary to create a kind of cast, so that people could see themselves in the crowd," Crown says. "There is a power vacuum in our leadership right now. Creative people need to step in. The traditional tactics aren't working and it is up to independent thinkers to not only advertise our values but to experiment with creating solutions."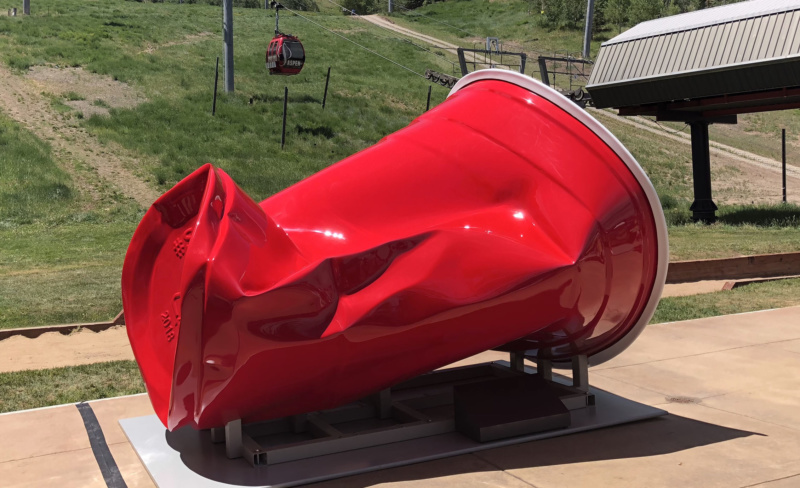 Our conversation overlaps neatly with a viral post of a beach filled with trash that my friends and I repost on Instagram ad nauseum, as if we will never again order an iced coffee or bottle of water. I'm seasick, but Crown is hopeful. She leverages social media's predilections for theatrics in order to broadcast her messages to a wider audience. In her installation and sculptural work, she employs the drama of scale and surface detail to such effect that her work demands documentation. Jokester (2018), a collapsed, 10-foot Solo Cup adorning the high hills of Aspen this fall, is a perfect example. "I was thinking about how I could emphasize this message of environmental responsibility," Crown recalls. "And then it became clear. I've got to really make this big. I've got to make something that normally feels benign impossible to ignore."
Climate catastrophe has been a recurring subject in Crown's work and often dovetails with her political endeavors. She is a founding member of For Freedoms, a nonprofit focused on instigating civic engagement through art and education, and she sees her involvement in the organization as a vital part of her responsibility not only as a citizen but also as an artist.
When we spoke in May, Crown was busy planning a new intervention alongside For Freedoms: an inflatable public sculpture designed to fly near Mar-a-Lago. "It's going to be a huge, black golf ball with a '1' etched in its face," she says. "It's an image I've been thinking of a lot lately, especially in relationship to computer code. We have a president who is blackballing the country by emphasizing this false sense of difference between us, but at the end of the day we are all just ones and zeroes."
The golf ball is not just a visual pun for Crown but a form that lends itself to conversations around privilege as well as celestial metaphors. At "I am FOR," Crown's exhibition at Fort Gansevoort this summer, she brought these references together using a luxurious alabaster. The first output in her Entitleist series, the CNC-carved stone was visible from the street: a gesture emblematic of the kind of confrontation that Crown's work invites.
In her studio, the artist challenges her biases by keeping her process open to new techniques and mediums. "I'm a scientist at heart," she confesses. "It's so important to keep learning and my studio is my lab. There is this belief that change is spontaneous, but the truth is that everything of value requires effort and persistence." At its core, Crown's practice is an exercise not in conceptualism but in self-discipline and reflection. She paints a picture that feels as romantic as it is within reach.
Craving more culture? Sign up to receive the Cultured newsletter, a biweekly guide to what's new and what's next in art, architecture, design and more.