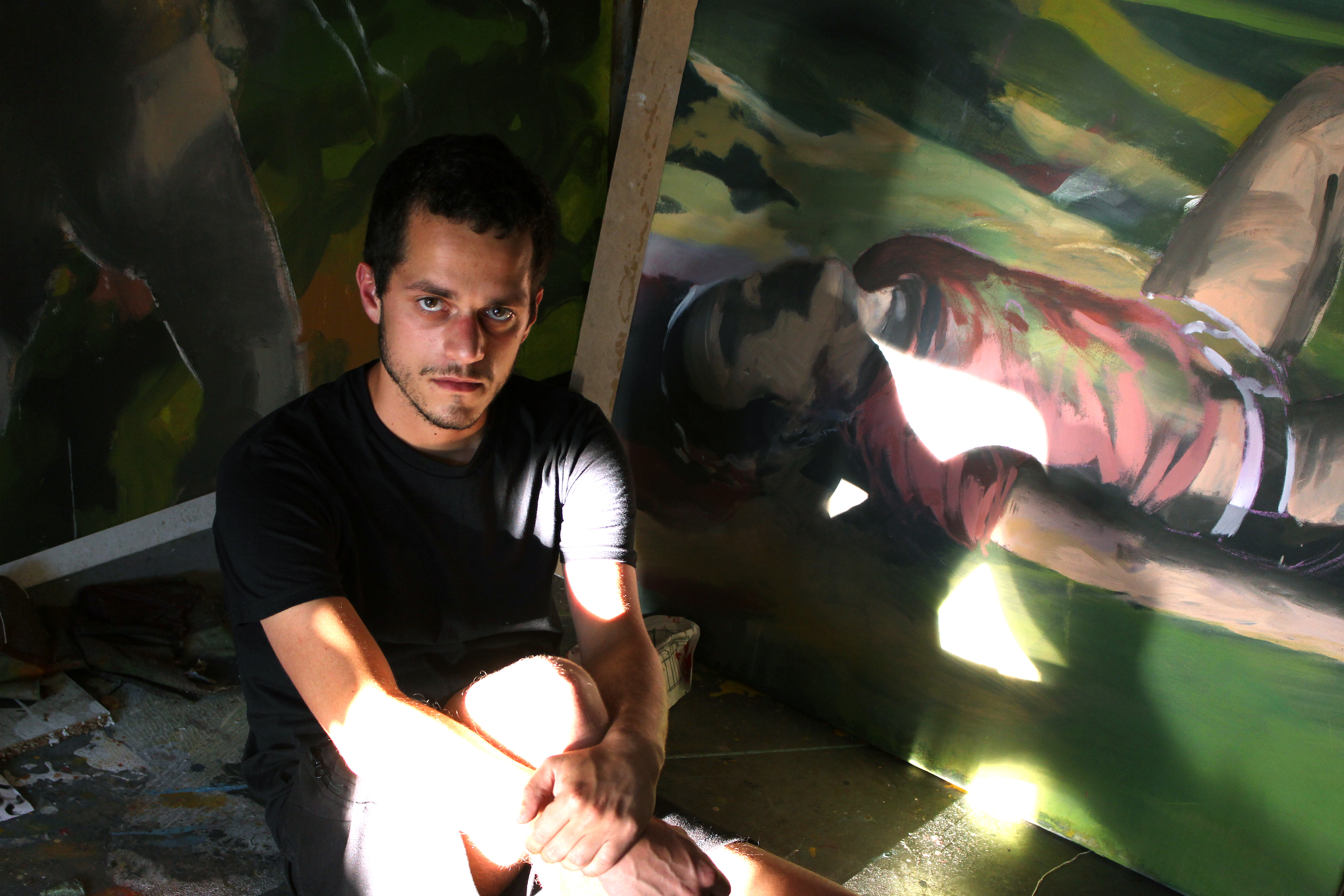 Visiting artist João Gabriel in his Caldas da Rainha studio gives as an insight to this young Portuguese artist's prolific painting practice which centers on capturing erotic male figures that exist in a world between figuration and abstraction. Every inch of wall and floor space are covered with striking paintings of varied scales depicting intimate encounters, nature, the built environment or domestic scenes. His most striking works are ethereal male nudes suspended in moments of intimacy, which, although absent of sex, depict tender encounters: a kiss, an embrace, or something in between.
Gabriel's recent work takes as a point of departure, vintage gay porn movies of the 1970s, at a time pre-AIDS and indeed golden era for gay erotica and publishing between the 1950s and 1970s where such material were circulated in an increasingly flexible legal environment. His works are suggestive but go beyond the act of representation itself and contribute to queer and homoerotic narratives in contemporary painting today. The 1970s marks an important decade for histories of gay/lesbian/queer cultural politics as it was the period between the birth of the gay rights movement in the 1960s, and the impact of HIV/AIDS that followed in the 1980s. In many countries across Europe and in the United States, this was a time of marked by an increasing yet tentative public visibility for queer culture accompanied by flourishing subcultural spaces, interactions and an outpouring of art, film, and literature. The spread of HIV/AIDS across the globe in the decade that followed, however, stymied many of these developments.
Gabriel, by drawing on gay erotica in his paintings, challenges the pervasive link between heterosexuality and masculinity, flipping stereotypes of what 'gay' should look like, whilst also offering the viewer a return to places, histories and visions of the past that might otherwise be lost or forgotten. Here, Gabriel unpacks his multi-layered process and its connection to queer history.
What your first encounters with painting? It began really when I followed my mother on her housekeeping jobs around the age of 5 or so. We would go into these houses and I remember a specific house with an array of paintings (mostly reproductions) of famous artists including Salvador Dalí, René Magritte etc. I guess that's when I began this sort of repetition, image making, sketching over and over to create images.
Did these early encounters give you a clear idea that you would become an artist? No. No one in my family was related to art, so I didn't have any access to art history growing up. I did know that I wanted to be a painter like some of the artists I encountered in these houses, but I did not have any concept of art growing up. I never thought of it as art till I was much older and in art school, but I continued this fascination with painting from childhood to adulthood.
Can you tell about the specific kinds of 1970s erotic gay movies that inform a lot of your paintings? Most of the movies I draw from are North American and I have some favourite directors including Toby Ross, Wakefield Poole and William Higgins (Sailor In The Wild 1983) whose film I was particularly struck by how improvised a lot of the movies they made were. I have always been interested in erotic imagery which initially I referenced from photographs or the internet, but I found this really repetitive, stereotypical and uninspiring after a while. When I came across these gay porn movies from the 1970s, they were quite beautiful filmic material that were so diverse. I had a sense that most of actores didn't know what they were doing and it was inspiring that they took these roles on at a time when although legalised, there still was a stigma in taking part in such movies. Most are DIY and improvised, and I found these particularities interesting to paint from.
What challenges are posed by engaging with hidden or fleeting elements of subcultural history? Yes, this is material that was quite risky to make in terms of the stigma still associated with making gay porn in the 1970s. This is something Wakefield Poole speaks about when he made his first film, Boys in the Sand (1971). He speaks of working with friends, acquaintances and sometimes approaching individuals in a bar which he later filmed in Fire Island, New York. This shows they wanted to be actively involved in the filmmaking process and speaks of wider close-knit queer communities who supported, worked together and now contribute to these histories.
How much of your personal experiences come into the paintings? I make some references to daily life, but there is no clear reference meaning that these works exist in some sort of liminal space between a real and imaginary situation. I guess you could say that through the process of painting I deconstruct both the object and subject.
How do you paint? I paint simultaneously, and I often work on a smaller scale, rework, re-layer and even being new paintings as a way to resolve an unfinished issue encountered in a previous work. By this I mean, I often paint what might appear to be similar works sequentially. I do this not to create a lineage but rather a continual painterly process that might create an entirely new and independent work based on an existing image. I find that when I work on a smaller scale there is more of an opportunity to experiment and resolve mistakes due to let's say, correcting a brushstroke that might create an effect overall. When I work on larger canvases, this is more precise due to the fact I have more room and perhaps less of a chance for the unexpected to happen in a process of painting. I can create up to three paintings a day, but then I put them away for a while and revisits later. Most of my completed works consists of several different layers, whilst referencing varied imagery. I don't create a linearity in my paintings as they exist independently and succeed each other.
João Gabriel's solo exhibition A Permit For That Fire curated by Benoît Loiseau features a series of recent paintings, including 11 on paper and three on large canvases is on view at Galeria Mascota, Mexico City through 22 July 2018.