I'm sitting in front of a mirror, while holding another and its making me sticky. Matthew Morrocco is taking my picture in the fall of 2017 while I stare at my sweaty red pants projected into infinity. I'm not comfortable and it shows because he starts to coach me. (Full disclosure we are friends introduced through the branches of ex-boyfriends.)
This is not Matthew's first rodeo nor his wettest sitting. In fact, as I lurk before him, the greater world knows him best for Complicit, his series of nudes featuring himself as a devilish valentine flitting between the homes of elderly homosexuals in New York. These works served as a pivot point for Matthew but their influence can still be felt in his latest series, Mirror Portraits, which he is rolling out on his Instagram this summer.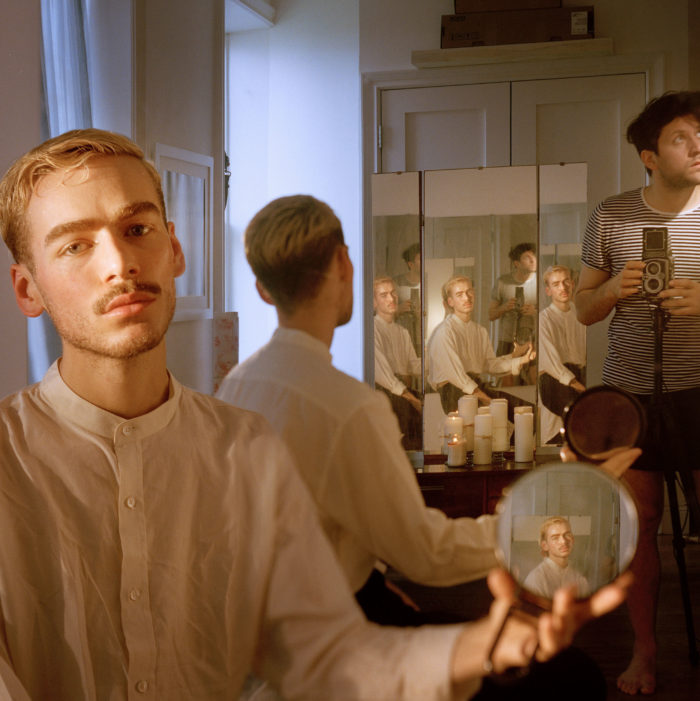 "I wanted to find a way to spend more time with the people in my life IRL," Morocco says about the inspiration for the series. "But more seriously, I've been thinking about the way photography finds its way into our relationships. When you take a picture of your friend and post it to social media, it's becomes a part of your friendship. You have new responsibility your friends. You are helping them create a visual language around who they are whether that is consciously or subconsciously felt. It's a thing artists have dealt with but only recently as a society."
Morrocco attacks this territory with his own habits as a photographer. The sittings all take place in his bedroom with almost no variation. There are three layers of mirror in each image, and the artist is always present within the frame in some capacity creating a double portrait. This streamlined aesthetic draws the eye to the formal qualities of each image rather than the person portrayed. The quality of light becomes the actor.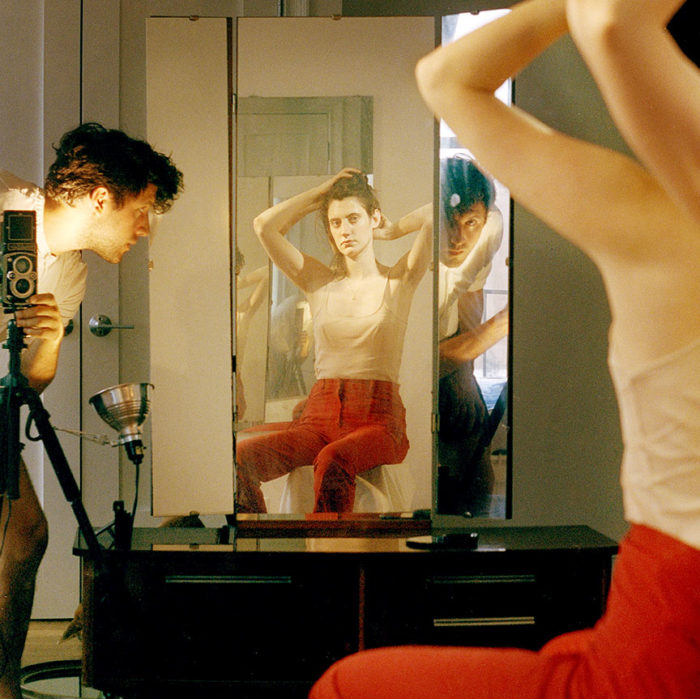 The urgency of the details pushes back against my own social media experiences where photographs are consumed as a collective fluid stream or narrative rather than as individual specimens. It's a transgressive lens but one that I find ultimately doesn't pass judgement. Morrocco isn't mounting a case against Instagram (he loves it). He's just bringing attention to its relationship to time and light rather than its function as community-maker.
Unveiling a new friend (Rindon Johnson, Paul Mpagi Sepuya, Molly Soda to name a few) day-by-day under the hashtag #mirrorportraitseries, Morrocco characterizes the work as a kind of serialized television show but one that is ultimately more about aesthetics than representation. "The photographs stand for themselves as objects," he says. "Making this series I had authentic conversations, meals, drinks with everyone but those experiences are not accounted for in my images. They are a luxury only accessible through privacy. Intimacy isn't purely sexual but ultimately an expression of trust. I'm interested in how photography can find its way to intimacy without betraying it."