The first time I met Virginia Overton I remember being overwhelmed by her ability to find clarity in chaos. Her studio at the time, a large tall box in Williamsburg, was filled to the brim with materials, both industrial and living. I felt like at any second the whole thing might cave in--perhaps revealing some greater vision like tea leaves at the bottom of a cup.
This sensation of enlightened claustrophobia came rushing back to me on a recent visit to Overton's new space--a long rectangle not far from the Brooklyn waterfront or her old studio. Here, the artist's endless stacks of wood and metal run the length of the space rather than stretching vertically. "We are in the midst of unpacking," Overton says apologizing as we take a seat in a sun-filled entryway. Her dog Charlie joins us lapping it up.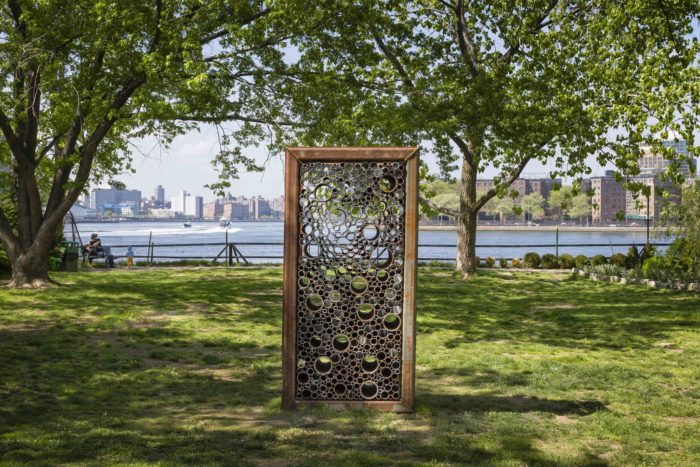 Overton's move finds a small role in "Built," her roving solo show at Socrates Sculpture Park in New York. The artist spent the entire winter tinkering at the coastal park as a resident bringing batches of found and recycled elements to the former landfill--an irony that Overton pulls on with her own exhibition. "Did you see the piece with all the pipes?" she asks referring to Untitled (4x8 View) (2018), a hedge of copper and steel pipes pointing towards the Manhattan skyline. "I thought about it as a kind of odd locating device. This conversation between the natural and the man-made landscape. Of course it's also about how that discussion morphs over time. You can see this in the patina of the pipes. They've already changed so much, but so has the park."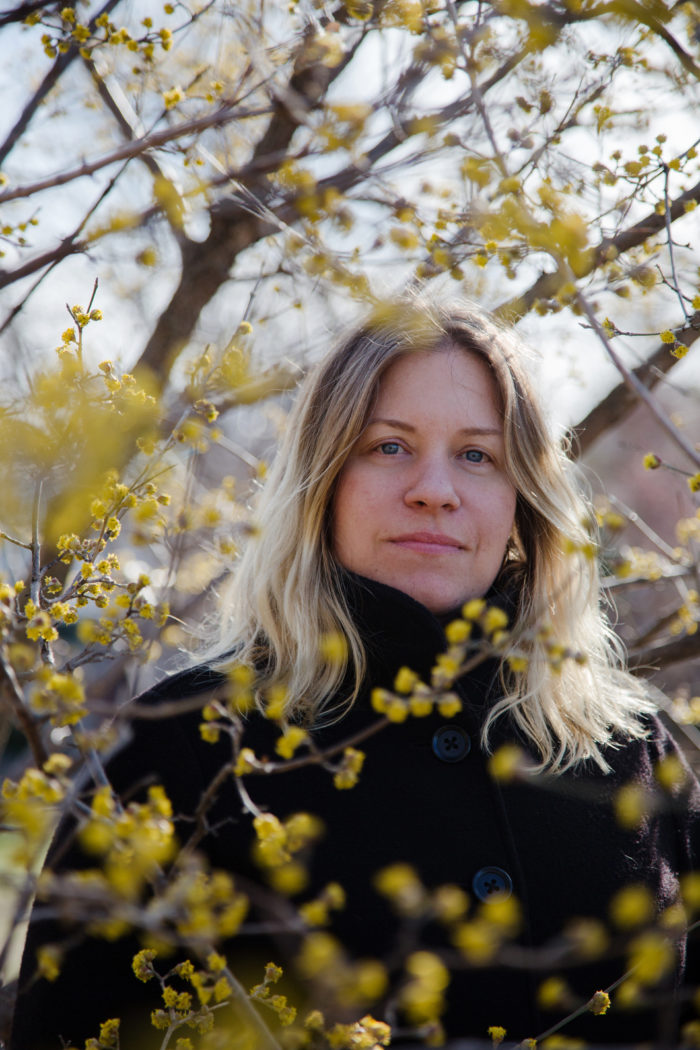 Always responsive to her environment, the works on view are designed to be weathered as the seasons progress much like the greenery in which they are seated. "It's gone from no leaves, not really much grass at all to this green and lush and abundant feeling," the artist says. "I wanted my sculptures to follow the trajectory of the park." This sense of evolution proliferates throughout her installation, but is encapsulated by Untitled (Late Bloomer) (2018), an active truck bed fountain with a lotus growing inside it. During the winter, the Dodge Ram had been tented in a greenhouse.
"I added this black coiled hose as a passive solar water heater because lotuses like it hot," Overton says of the work's present state. "In a way the fountain sort of hearkens back to this hot tub that I made a long time ago with a bathtub and a coffee-maker."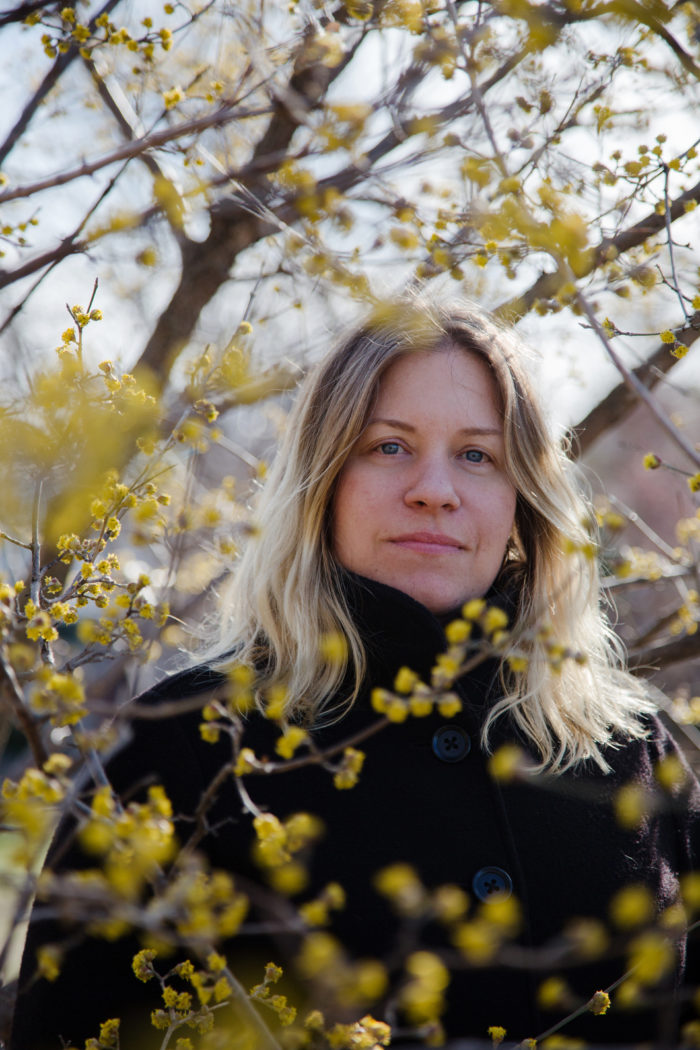 This cyclical reuse of materials, ideas and narratives is critical to understanding Overton's practice. Her past installations are often quite literally torn apart and woven into the new. One poignant moment of upcycling comes in the form of a gantry-rigged swing that rifts on an older installation from the Aldrich Museum where Overton suspended a log as an invitation. "At the time, I was looking at pictures from sixties and seventies of sculpture parks, it was funny to see how the public had been so hands on with the work," she says. "I wanted to emphasize the interaction using something that was native to the landscape. The gantry had been at the park for years functioning as a tool. Through this sculpture it was able to maintain this utilitarian identity while creating a new pathway for interaction."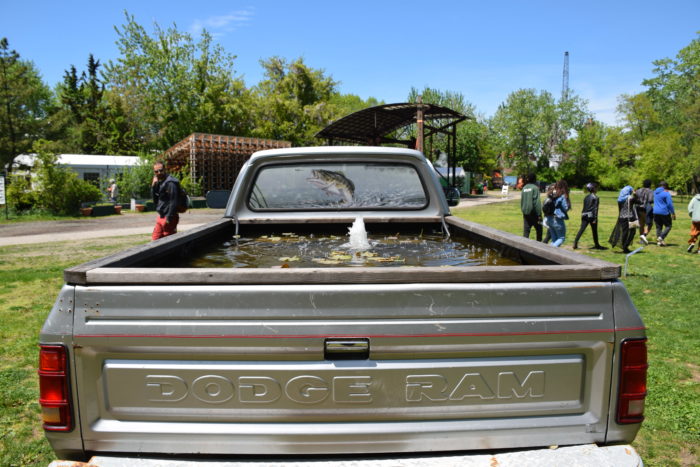 Like Overton's studio where piles of pipe and beams seem to reveal greater truth through their organic patterns and structures, her sculptures don't insist on promoting a singular image but rather embrace time as a material. Through the artist's hand, history becomes an active participant in the landscape--one that the audience is invited to reach out and touch. "What's interesting to me is the energetic potential of a material is always there, no matter if you rearrange it or painted or cut it," Overton says. "I like to cull that character out and see how it can be transformed into something else."
Bringing awareness to the familiar feels like the key to interpreting "Built." As one weaves through Overton's intervention, a story unfolds that is inherently tailored to the landscape but also to the visitor's perspective. Staring past a blackened truck at a watery Manhattan, I could feel the weight of the land beneath my feet and also its potential for change.