Film director and arts patron Dennis Scholl brings two worlds together for a new video series, "Inside my Studio," commissioned by Anderson Ranch and debuting exclusively on culturedmag.com. The series of interviews offers an inside look at six artists and their studios.
"We are so proud to release 'Inside My Studio,' Anderson Ranch Arts Center's first ever film series directed by Dennis Scholl," said Anderson Ranch Deputy Director Ashley Todey. "As an organization we are committed to supporting artists, art making and critical dialog on contemporary art. With our alumni living all over the world, what better way to do this than this online series featuring some of today's most influential artists who provided insight into their studio practices while visiting Anderson Ranch. We are very grateful to the artists featured in the films as well as Lynda and Stewart Resnick whose generous support made the series possible."
To celebrate the launch of "Inside My Studio," Scholl takes us behind the scenes.
How did you get involved with Anderson Ranch? I spent some time at the Ranch in the early years of my coming to Aspen many years ago, but I was not a "maker" until around ten years ago. My contact was sporadic, but then around five or six years ago, the Ranch brought Sue Hostetler and a number of contemporary art collectors [The Anderson Ranch Art and Artists Advisory Group] together to begin a program to bring big name speakers to the Ranch—artists, curators, critics, etc. Suddenly the Ranch Summer Speaker series became a focal point of our time in Colorado, and we have attended almost every one of those talks.
How has your relationship evolved over the years? Recently, I was chosen to moderate a few talks; one with an amazing painter from Chicago, McArthur Binion, who rose to fame recently in his 70s! I also did a talk with Enrique Martínez Celaya, who has the distinction of being a scientist, a physicist and a great artist.
In 2014, my wife Debra and I were fortunate to be chosen as the Ranch's honorees at the annual gala—The Recognition Dinner—along with artist Theaster Gates. Then last year, the Ranch's Deputy Director Ashley Todey and I were talking about finding a way to preserve the presence of the artists that were speaking at the Summer Series.
I am a documentary filmmaker working almost exclusively in the arts. So I proposed that I direct a series of short films about each artist and that we focus on their studio practice, as that is an area that can be quite mysterious to outsiders. The Ranch is full of artists and I thought people might love to hear how these major artists approach a day in the studio. With the help of the amazing production team at Aspen 82, we set out to capture that summer's speakers on film.
What are some of the highlights of this project? Our task was made much easier by the incredible quality of artists at the Ranch last summer. Major artists like Huma Bhabha, (whose work is currently on the roof of the Met!), Doug Aitken, Walead Beshty, Diana Al Hadid, Wangechi Mutu and William J. O'Brien. They were all incredibly generous with their time and their images.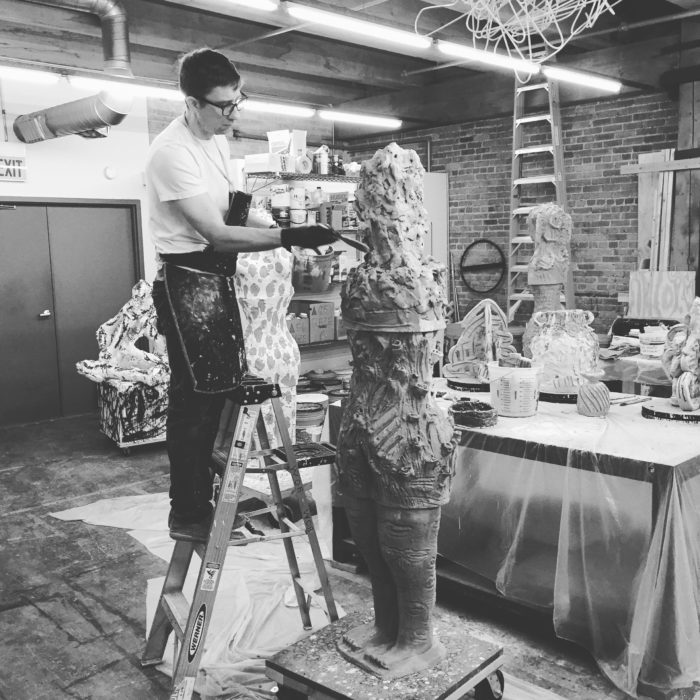 As a collector, what is the significance of getting to know an artist? And what is your relationship like with the subjects of the interviews? As a longtime art collector and patron, I knew most of the artists previously and that may have made the conversation flow. But the results were quite revelatory. I think artists across the globe are going to want to know how Walead prepares for a big museum project, how Huma works her magic in a restored fire station in upstate New York and how Doug Aitken views his studio as wherever he is, being the most nomadic of the six artists we spoke with.
In what ways does this series create a more intimate look at the artists and their work? Artists can be very circumspect about their practice, but by approaching them through the idea of how they use their studio, and what kind of space it is for them, we gained real insights into their work and process.
What was a particularly emotional or memorable exchange with one of the artists? Perhaps the most emotional moment was when Bill O'Brien told the story of landing at an airport and finding out that the building where he kept his studio and all his work had been destroyed in a massive fire. He was devastated and it really came through in the interview.
One of the other highlights of the films is that we are able to talk in the studio and then show finished works in situ in gallery and museum spaces across the globe, so you hear about how the work is made and then you see the finished product. It's pretty cool.
I can't wait for this summer's program, as we are going to get our film team together and continue the "Inside My Studio" series again for 2018, with a whole new set of artists—and what a group they are! Some of the most important artists in the world, like Ai Weiwei, Tara Donovan, Robert Longo, Njideka Akunyili Crosby, Vik Muniz and Alex Israel will be at the Ranch and we can't wait to talk to them about their studio practice. So, stay tuned for "Inside My Studio"—now going worldwide with the help of Cultured magazine!
Watch the first interview in the series with Diana Al-Hadid here.