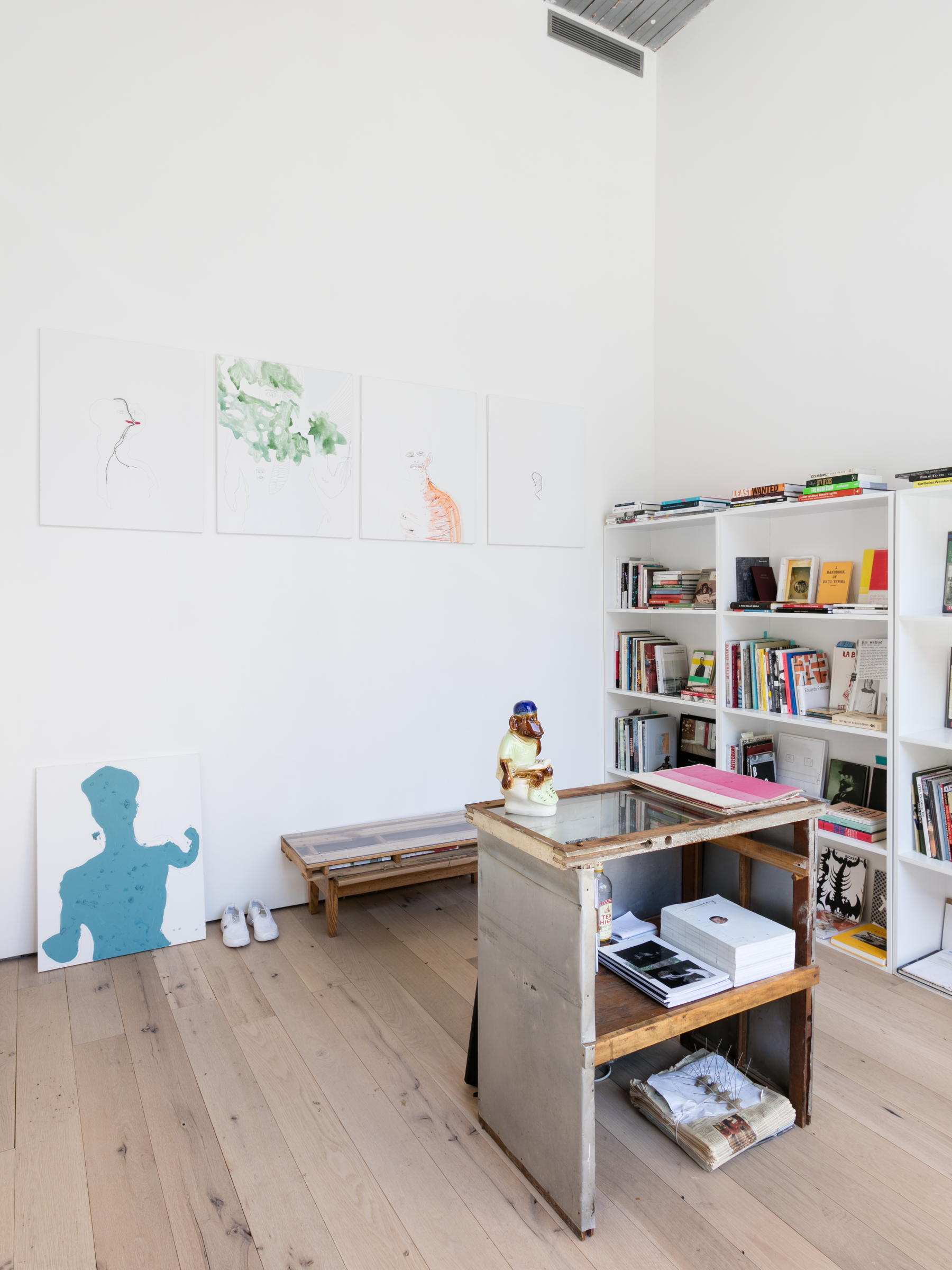 Many of us probably don't think of books or records as "artifacts," but that's more or less what they are to younger generations that read and listen to everything via the internet. So why not put books and records in a gallery alongside painting and sculpture? Well, that's exactly what Jose Martos is doing with the front room of his new gallery space at 41 Elizabeth Street in New York's Chinatown.
The art dealer decided to tap his longtime collaborator, the critic and curator Bob Nickas, to put something together for the enclave, but the famously innovative persona ended up pushing things farther than expected. Martos asked if I would want to set up a bookshop there, which immediately appealed to me," said Nickas, who had previously worked on a series of curated summer exhibitions for Martos at the dealer's Bridgehampton house and on the North Fork. "But if we were going to have books, we should also have records, and since there was a tall wall facing street-level windows, we might as well show art, though not from gallery artists."
And from there, May 68 was born. The store's title references a flashpoint of civil unrest in 20th century France, but it also reflects the tenor of our times, explained Nickas. "May 1968 is about to be marked as 50 years past—in May 2018—yet when you consider the current situation in America, it feels very present," he said. "And what was going on in the late 60s in terms of protest in this country has parallels to the times we're going through now."
But in the end, both Nickas and Martos understand that May 68 is but a humble record and bookshop, though hopefully a socially relevant one. Shelves of records (and tapes and cd's) sit up front and carry music ranging from a rare Roxy Music album to a recording of Ethiopian Tribal Music. From there you can peruse the book section, which includes titles like "The Narrative of the Life of Frederick Douglass" and "From Revolution to Ethics: May 1968" and "Contemporary French Thought" by Julian Bourg, as well as catalogs by artists like Alan Uglow, Virginia Overton, Dan Walsh and other Nickas favorites.
As for the artwork, artists displayed at May 68 have ranged from youngsters like Ryan Foerster to newly-minted art stars like Josh Smith; the current show features Arnold Kemp, which will be followed by Jessica Diamond in March. With exhibitions that rotate every month, the shop gives many artists the chance to present something different than their usual fare. Foerster, for instance, chose to display a range of canvases, a video, and even some found objects alongside his more commonly-known photographs and unique artist books. He even installed a bench outside the gallery as a way to draw local passersby into the project.
But is browsing records and musing over books even applicable to today's media-savvy youths? Nickas thinks they'll always have their place. "The rumbles about the death of painting go back to the early 70s," he says. "Forty-plus years later, those predictions didn't exactly come to pass, and those who made them are mostly gone. Physical books will always be important to anyone who writes them, publishes them and reads them, and records remain unique objects and artifacts in our culture."