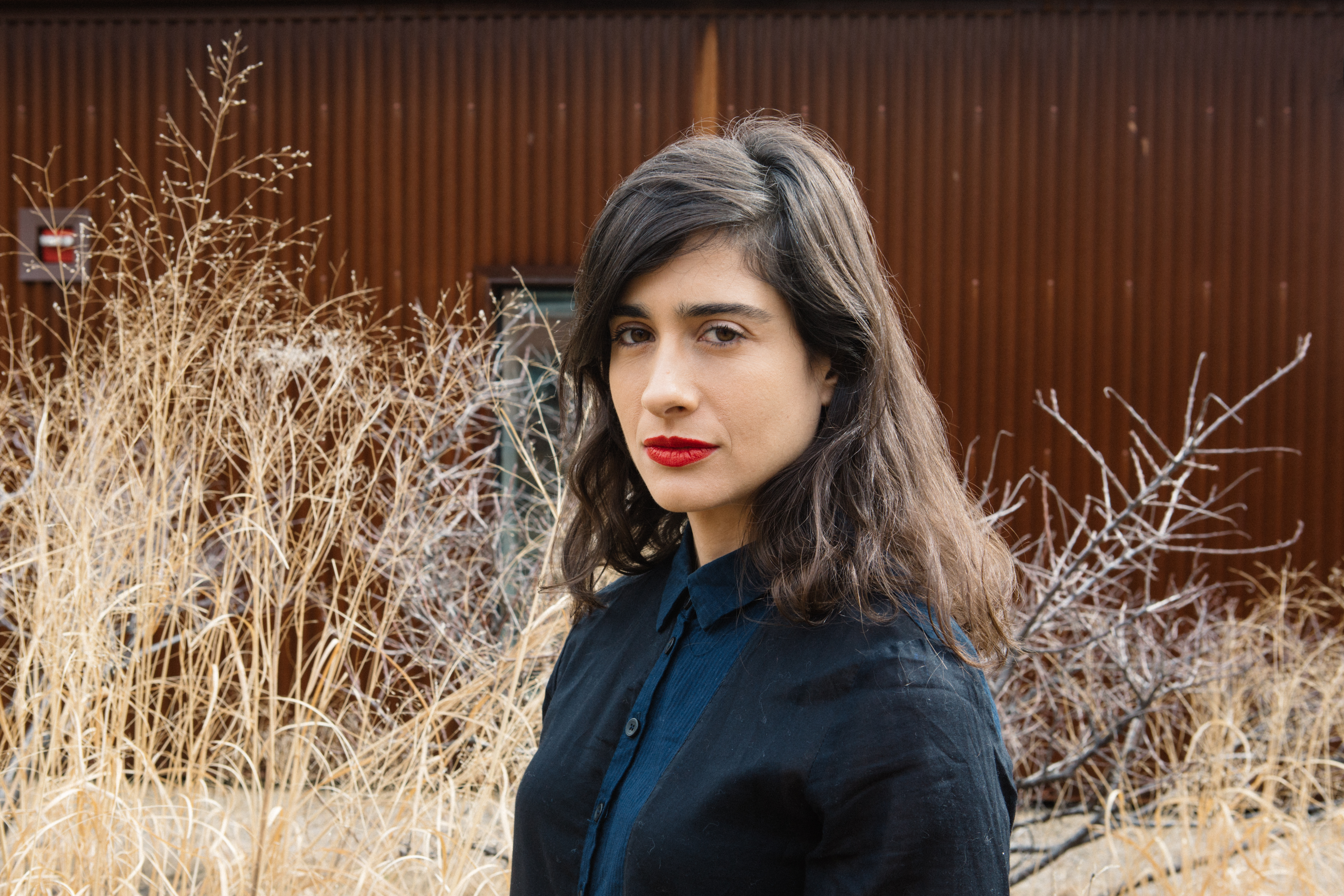 Multimedia artist Naama Tsabar orchestrates immersive sound installations, in which musical gadgets replace color palettes and melodies adorn paintings.
The New York-based artist's audible structures contain a nuanced resemblance to the body, and reclaim rituals of music-making as performance art. In her latest work from the guitar series, Stranger, two electric guitars attached together double the forms of their players, as the instruments are activated together. Their sudden harmony echoes the physical encounter between two strangers; the music they create fills the space in sudden chord. Tsabar's long-term relationship with music and stage performance is at the core of her interactive practice, which borrows cues from Minimalism, digital art and feminist theory. "This is a relationship piece," says Tsabar, referring to Untitled (Double Face), 2010, in which she and another female artist play two adjoined guitars for 20 minutes. "The hands of two women negotiate movement and sound, and there, gentleness and violence coexist."
Tsabar's 2015 installation Propagation (Opus 3), at the Museum of Art and Design's group exhibition "Sonic Arcade: Shaping Space with Sound," addresses the movement of sound waves through material form. The wall-spanning installation includes speakers, amplifiers, piano strings and microphones—a mammoth instrument to be operated by the audience. With each pull of strings, viewers take an active role in creating a sound transmitted into the museum space through inverted speakers.
"This installation conveys a romantic idea of what happens when viewers can interact with the architecture that surrounds them, through touching the artwork," explains Tsabar. "I am turning the museum wall into a giant instrument of 60 piano strings, which is not different than a painting or a sketch on a wall; however, here, everything is functional, meaning all the wires and cables are transmitting the sound."
Before moving from Tel Aviv to New York, where she earned her MFA from Columbia University in 2010, Tsabar played in a punk band. The experience has strongly influenced her art practice. She examines systems and objects embedded in music culture by stripping music-making from its mythic aura. In her installations, electric cords, speakers, and transmitters–which are traditionally kept covert during stage performances–curl and drape over gallery surfaces. Amplifiers are substituted for pedestals, and speakers recall the human form, with their voluptuous and rounded shapes.
"In a typical musical experience, all these objects are in play, but they are hidden within a constructed environment," she says. "I am interested in making them the environment itself." Her ongoing Work on Felt sculpture series challenges strict formal (and somewhat masculine) aesthetics of Minimalist art within a visually demure, yet sonically engaging strategy. Piano strings pierce through tactile flat surfaces attached to amplifiers. Activated by touching and rubbing their felt surfaces, the wall-hung sculptures translate caresses into musical pitches. She drew crowds on the opening night of Prospect.4 in New Orleans last fall with the performance piece Composition 21, in which 21 local musicians, mostly women, performed three commissioned songs atop amplifiers; her works on felt are being exhibited there through February 25.