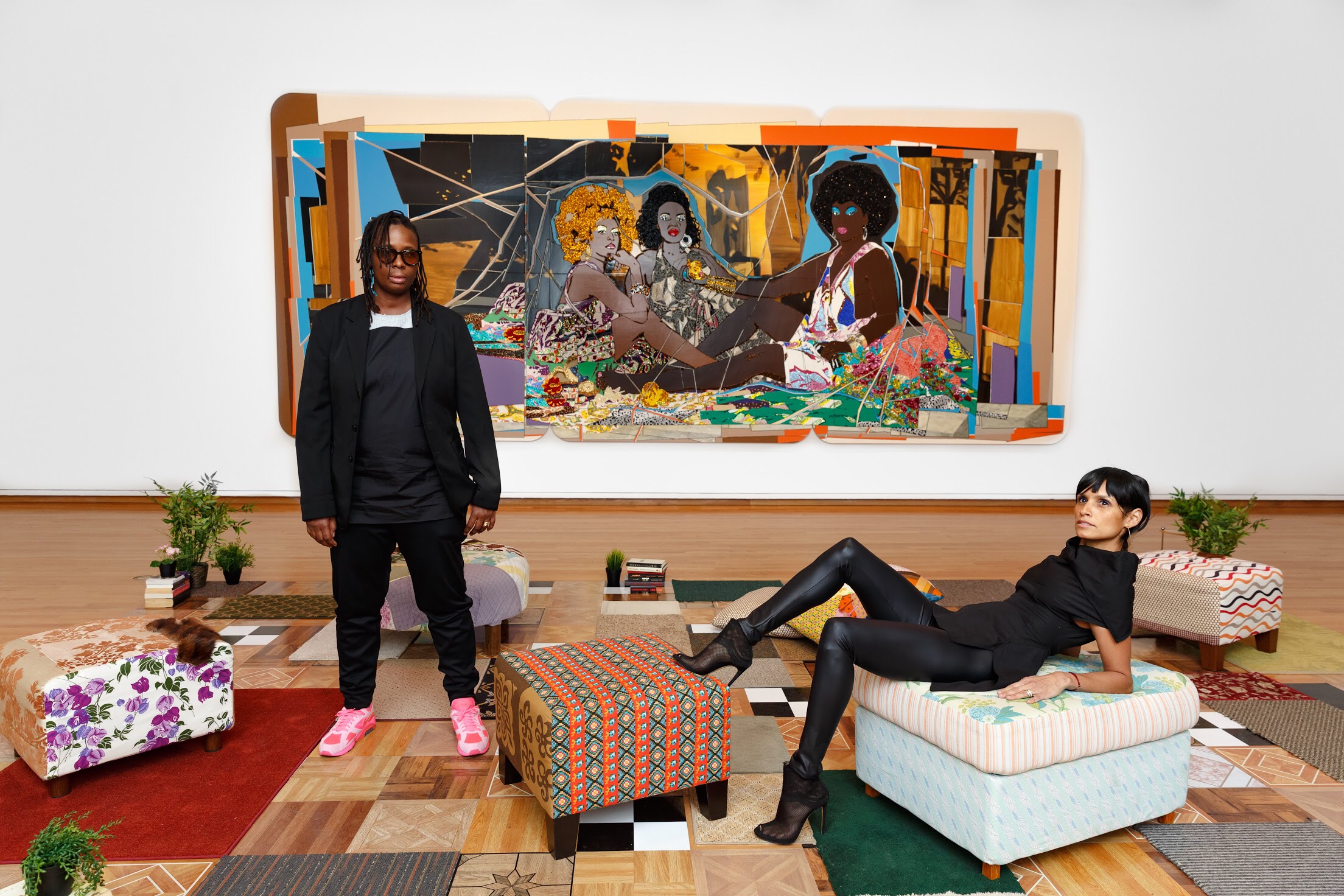 The Seattle Art Museum's highly anticipated exhibition "Figuring History" brings together—for the first time—three of the most celebrated contemporary artists of color: Robert Colescott, Kerry James Marshall and Mickalene Thomas. On the opening evening of the show, Cultured talks to Mickalene about what it's like to be part of this major assembly of artists that are continuing to reshape the art world.
What was the process for the three new works created for "Figuring History"?
My process varies depending on the content and concepts that inspire me to make the work. Most often when I'm invited to participate in museum shows I create new bodies of work. After several conversations with the curator Catharine Manchanda I began to do some research and put thought behind making a painting in response to Robert Colescott's
Color TV
. After photographing my muse Racquel Chevremont in one of the installations that I build in my studio and after making several collages for reference, I then created the painting
Racquel: Come to Me
. As for
Maya #10
I used earlier photographs I had taken of Maya, collaged using photoshop techniques to create double exposure effects by juxtaposing several images of her body into one image. For
Resist
I wanted to make a painting in response to our sociopolitical climate today by using images of the Civil Rights movement, scenes of confrontations between demonstrators and the police, but mainly focusing on the famous image of Walter Gadsden, a Parker High School student being attacked by police dogs which was published in the
New York Times
in 1963.
What place in your personal history does this exhibition hold?
It is important in my personal history to be put on the same platform as artists that I admire and looked at while I was in school. These artists say they have a place for me too. This exhibition presents a cross-generation of artists together, within our individual voices we have a common thread of using western historical canon, collage, power and beauty in our work. As Kerry James Marshall stated in the "Figuring History" promotional video, "If you want to get in the game, you got to play it at the level that the people at the highest level are playing at. Know what they know, do what they do." As a queer female artist of color, once I entered the game I had to enter the discourse at the highest level. So I'm doing what they do.
In the context of this exhibition, what experience does the immersive set installation aim to create for visitors?
A place of contemplation, being in the moment and present. Allowing the visitor to occupy the space as a participant. The installation is immersive on many levels, it's a performative platform for the viewer to engage with the space allowing them to be in the painting.
Can you tell us about what this experience has been like representing the perspective of women of color in this exhibition?
The sheer power of seeing yourself reflected in works of art speaks volumes, it says "I am you!" We have to see ourselves represented on every level. My hope is that when a young girl comes to the museum she leaves it inspired and knows that we see her too.