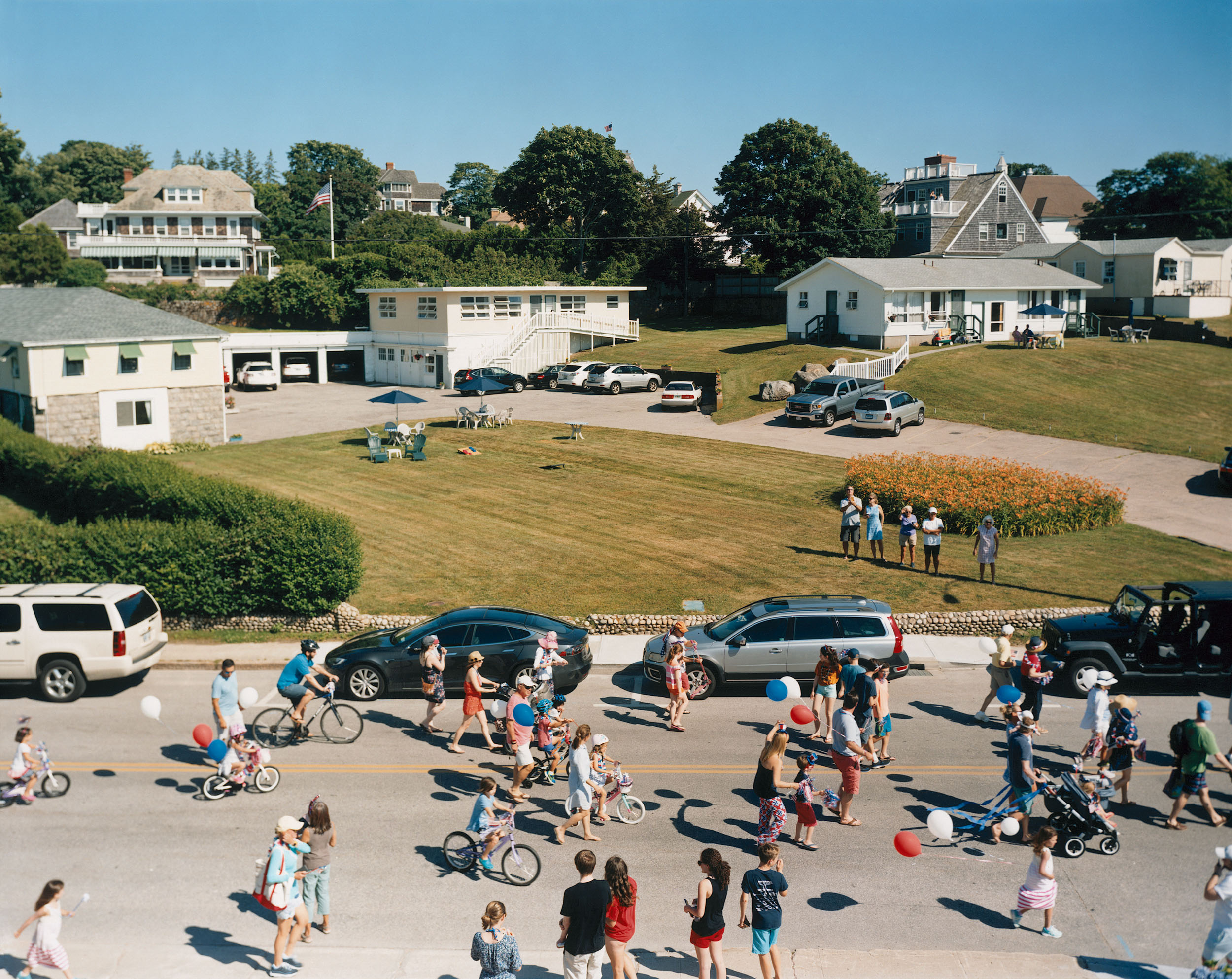 Tina Barney's photographs have an intimacy that displaces the viewer. Standing before one of her prints, one enters a paradox. Her subjects—strangers, family, friends, artists—are at once intensely close and impossibly distance as if the composition formed vitrine rather than a two-dimensional plane. This breakdown between subject and viewer is only intensified by the self-awareness of Barney's subjects who often stare directly into and seemingly through the lens.
Of course Barney never stares her subjects in the eye. In fact, in working with 4 x 5 and 8 x 10 cameras, the photographer has spent her career looking and choreographing a frame that is permanently upside down. "I'm used to it," she says. "It doesn't fazed me anymore but it does still affect the image and how I construct it."
In her most recent body of work, "Landscapes," now on view at Paul Kasmin, Barney tests her formal and technical skills by changing up her subject matter from humans to space. "It required a different kind of attention," Barney says. "I've always thought about domestic environments but the space was always secondary and in these images it is the main character."
Photographed in a coastal Rhode Island town and Connecticut, Barney's images of tennis courts, beaches and parades capture a pastoral New England that disconcerts with its Elysian sheen. This is in part a function of the natural lighting which Barney had to contend with on a technical level like never before; typically she controls her environments with powerful flashes.
"It challenged me to think differently about the formal qualities of an image," she says. "I would have to commit to a space, a composition, but I couldn't guarantee how the light might change. The truth is that there is always chance in photography."
Usually in Barney's work serendipity comes in the form of her subject's postures and expressions, but in the case of "Landscapes," it is the interplay of light and object. The work highlights the photographer's keen eye for color and the way she uses it to reveal the abstractions all around us. Take for example, Drive-In, 2017, which calls to mind minimalist paintings with its stretch of dark green amidst a field of tan as much as it does memories of the summer. "I'm not concerned with documentation," Barney says. "It is about the relationships between a million details."
Like The Europeans, Barney's early 2000s series documenting continental aristocrats in their homes, "Landscapes" deals with the collapse of emotional and physical space. The images traffic in a hyper-reality that makes the rest of reality feel impossibly dull and distant. One desires to enter the frame, melt into the twilight, the crowd and yet something stops you. Perhaps it is that creeping sensation that someone on the other side wishes the same. Barney's work is a mirror that calls on the viewer to decide whether everything is as simple and as real as it seems.