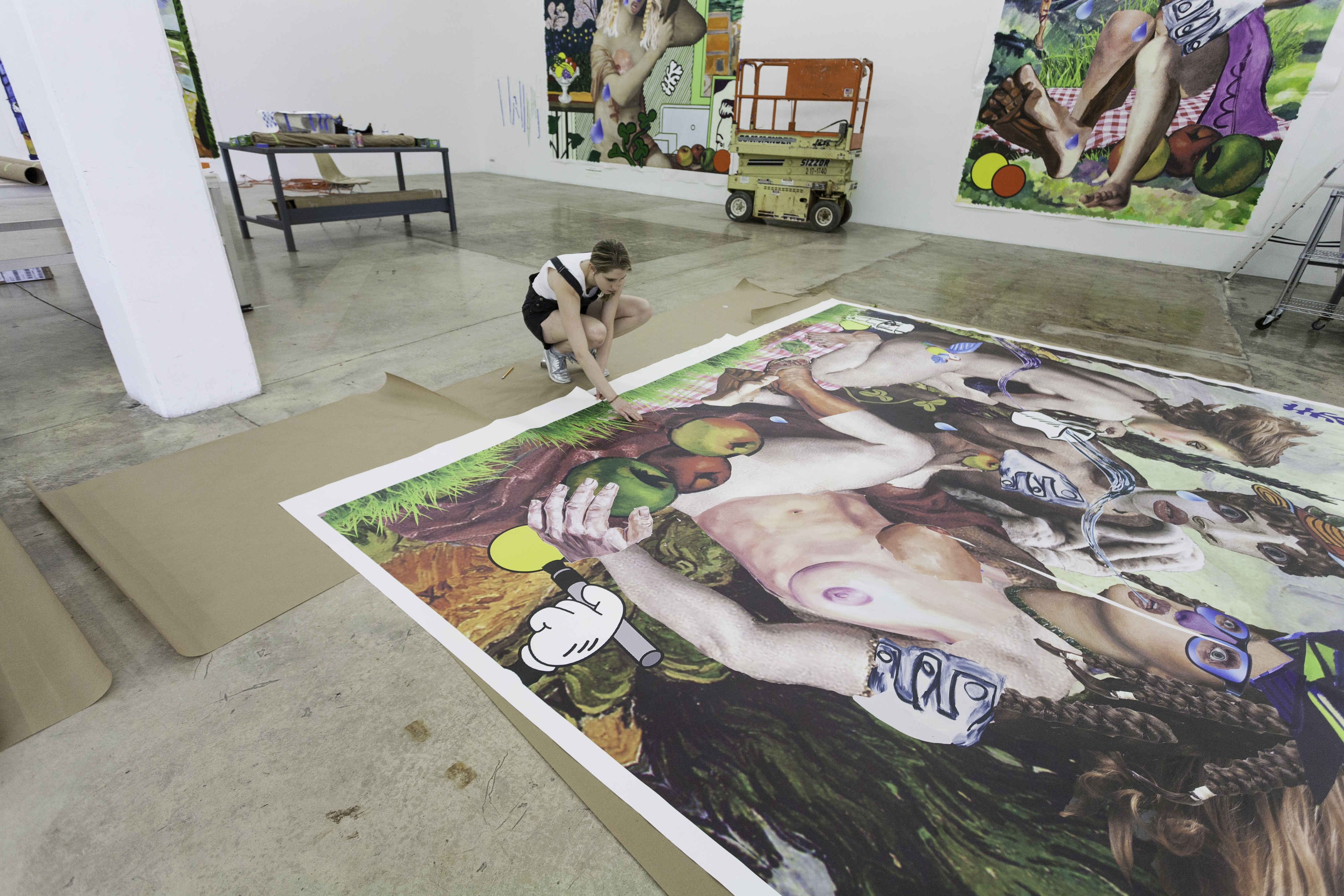 When Mera and Don Rubell first visited Allison Zuckerman's studio, it was a few square feet, along a wall in her one-bedroom apartment in Brooklyn. "It was exuberant," Mera Rubell said of the small paintings and antic cut-out sculptures strewn around. "They're so in-your-face. It's the kind of work that you can say, 'It's too much—too much color, too much image.'" Zuckerman remembered a slightly less poised reaction: "Don walked in and said, 'Well, you're a nut.'"
It was an impromptu encounter that ended with the Rubells' leaving with 22 pieces, negotiating the price with Zuckerman's gallerist, Marc Wehby of Kravets Wehby, in her bedroom.
So when the Rubells invited Zuckerman to be the 2017 artist-in-residence at their 45,000-square-foot Miami collection, they assumed she would feel at home in one of the space's smaller galleries. Instead, she chose its largest. "She said, 'If Oscar Murillo can paint here, so can I!'" Rubell said.
The 10 paintings Zuckerman produced there over the summer are on a heroic scale— canvases ranging from 10 to 16 feet in length—that required a scissor lift to complete and five people to move. They make up "Allison Zuckerman: Stranger in Paradise," her second major solo show—and her first in a museum. The title refers both to the 27-year-old New York–based artist's sojourn in Southern Florida and the iterative history of the pop standard of the same name, a hit for Tony Bennett but also tried on by Isaac Hayes, Johnny Mathis and dozens more.
Classical riffing is a good way to think about Zuckerman's practice; a crash course in art history put through a Vitamix is better. The paintings in "Stranger in Paradise" are post- postmodern fantasias that collide art historical references and Internet culture and delight in Duchampian appropriation—Old Master nudes in repose over Lichtenstein Ben-Day dot backgrounds scattered with emojis. They're an ecstatic metabolization of our Internet- abetted, image-addled anxieties.
As gleeful as Zuckerman is in pulling together Cézanne apples and amebic Matisse cut-outs, her work starts and ends with an understanding of how we see images. "Most of the art that I consume is through a screen," she said. "When I first moved to New York I thought, The only way people are going to see my work is through Instagram. Like, I can't carry a portfolio through Chelsea. How am I going to reach most people?"
She began photographing her own paintings and digitally manipulating them, flattening everything—paint, print, photo—into a single riotous field. Elements from a painting—a Picasso eye, an inflatable parrot—are cannibalized and reincorporated in others, a visual rupturing that owes as much to Pictures Generation agitators like Louise Lawler as to the breezy seizures of Jeff Koons.
"I was painting from photographs and my teachers would say, 'Why not just show the photograph? What are you doing?' she said. "And that really struck a chord—what am I doing? I just wanted to show that I can paint, and that's not necessarily that interesting. To me it's, How does painting compete with photography in a time of image bombardment? How can you keep up? It's like, let's just cut to the chase."