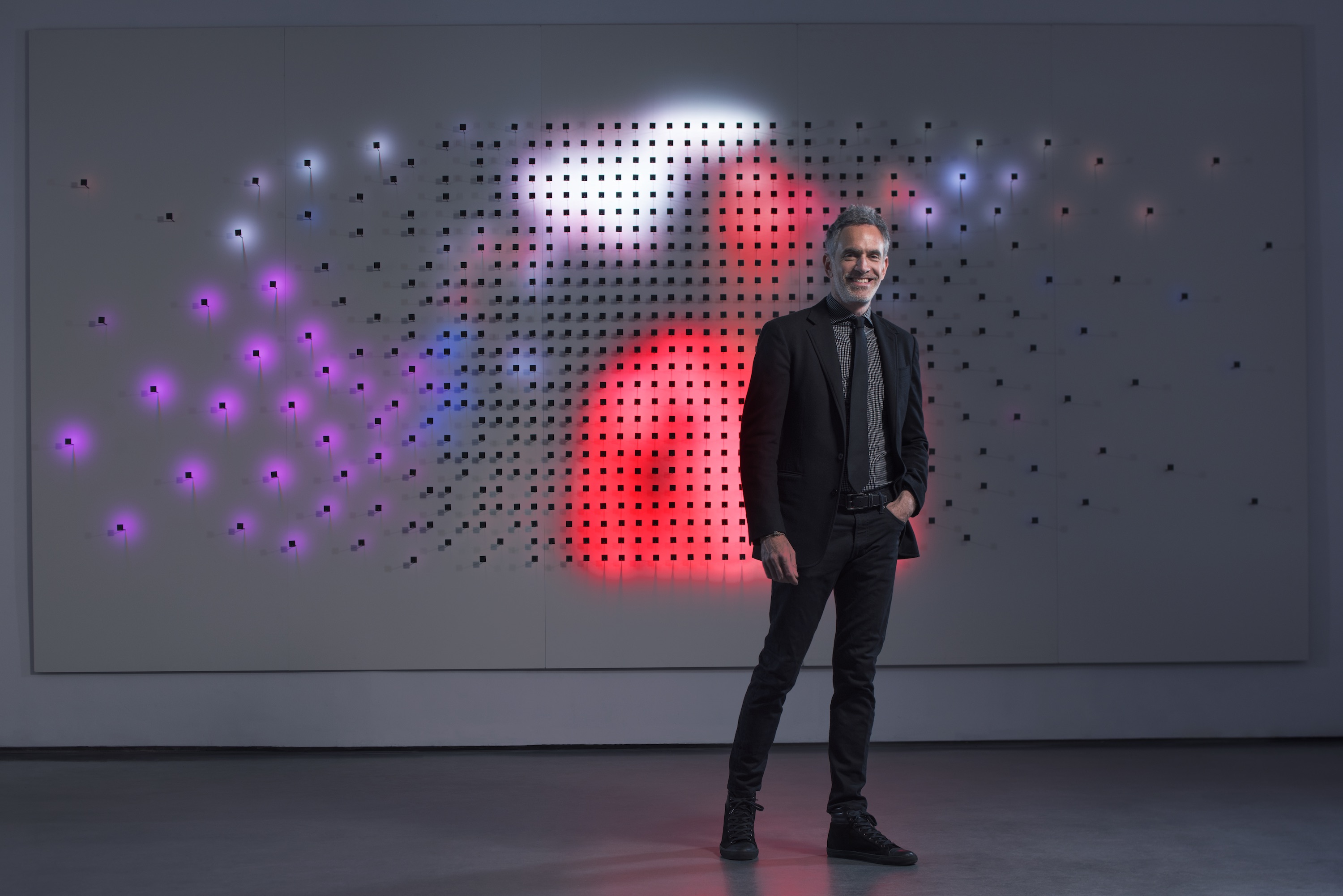 Inside his private office at the Chelsea gallery that bears his name, Bryce Wolkowitz is surrounded by artwork. From where he sits at his desk, a glowing, standing sculpture seems to be perfectly positioned to gaze upon if lost in thought, with neon-hued pink and blue lights flickering cryptically.
The piece, Wolkowitz mentions, is by Jim Campbell, and it's one of the artist's latest. The lights, emitted from a board of LEDs, are arranged to distort a film playing underneath. What's impossible to gauge from aesthetic criteria alone is that Campbell studied engineering at M.I.T. in lieu of artistic training. The work, Repixelated Pedestal 2, therefore, has a special designation: "custom electronics"—an umbrella term for self-contained art objects with electrical components, which can be traced back to the 1990s ascendance of new media art. In contrast to much of what emerged during the decade, custom electronics are less about dazzling visuals and more about the artistry of the circuitry itself.
For Wolkowitz, "this merging of art and technology," as he puts it, anchors the gallery's ethos, whether it manifests subtly—like an echo of a photograph recreated in a José Parlá mural; or openly—like the swelling ocean in a digital animation by Yorgo Alexopoulos, framed and hanging on a wall.
Long before he laid eyes on any of that, however, Wolkowitz had fallen in love with photography after taking an art history class devoted to the subject as a teenager. Raised in New York by art collector parents, he grew up surrounded by Pop Art and Color Field paintings. With photography, he was fascinated that creative expression could be so closely intertwined with technology. "Photography has always been about an evolution," he says. The smallest advancements could—and did—transform the medium at every turn. "The founders were not expert chemists or necessarily experts in optics," he adds. "They had this spirit, of innovation and experimentation. That pairing has always interested me."
Yet it wasn't until his mid-twenties that Wolkowitz was able to fully grasp the parallels in video art, owing to a stint as a research assistant for John Hanhardt, then the senior curator of film and media arts at the Guggenheim. As a globally influential figure in the art world, Hanhardt had been pushing video and new media art to the fore of academic and institutional conversations.
With a front row seat, Wolkowitz was instantly captivated. "I became enamored and enthralled with the history of video art," he says. It was invented, he points out, in 1965, when Nam June Paik first incorporated a Sony Portapak into a sculpture. Not even half a century old, video art felt comparatively nimble and free in relation to photography, saddled with a lengthy past, the excitement of its invention an unknowable memory. Wolkowitz eventually realized that video art "is truly the medium of my generation." But the gallery scene in New York had not caught on. "There was a window of opportunity to open a gallery focused on video and new media," he says. Recognizing that collectors would not be receptive to the "big, cumbersome systems" associated with a genre rarely seen outside of institutional settings, he decided that he would stick to "elegant, contained units, shown and installed similarly to photography or to a painting," he describes. "It takes away that apprehension, if you will."
Two artists immediately came to mind: Campbell and another M.I.T.-educated engineer- turned-artist named Alan Rath. Both lived and worked in San Francisco. Wolkowitz, then a 26- year-old aspiring dealer, showed up on their doorsteps. "It was as much a leap of faith on my part as it was on theirs," he admits.
In 2003, the gallery's inaugural show featured work by both artists, who remain on its roster. As far as Wolkowitz is concerned, the ideals he upheld then aren't going anywhere, either. "This notion of innovation has always been at the center of what excites me," he says. "For the gallery, it's what I'm constantly looking for."