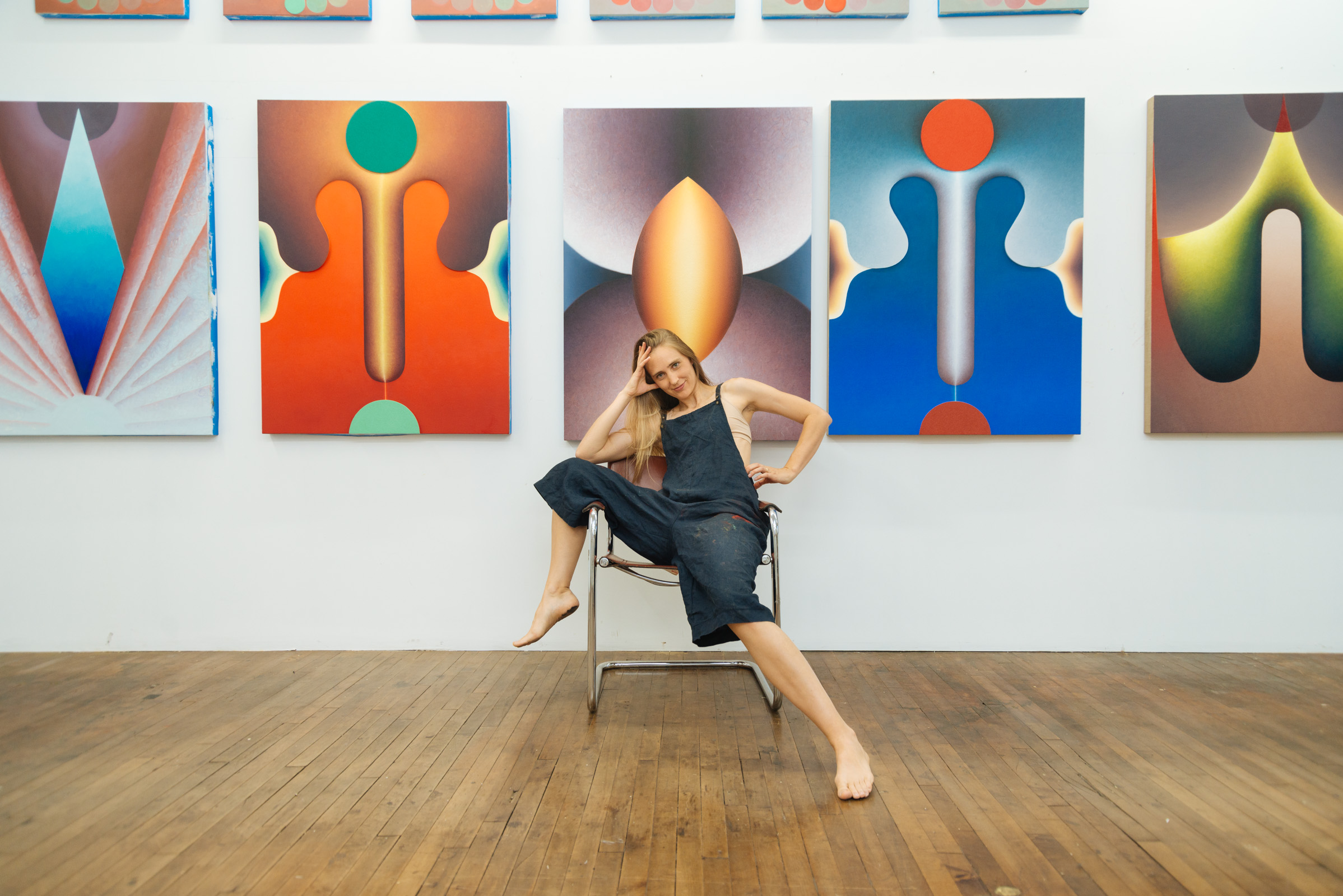 It seems unlikely—perhaps impossible—for a young painter to go from their first show at an artist-run space to being represented by one of the world's biggest galleries alongside David Hockney and Julian Schnabel in a little more than a year, but that's exactly what happened to Loie Hollowell.
When the 34-year-old Northern California native ran into one of her former visiting professors (the painter Ridley Howard) in Chelsea one sunny day, she didn't think much of it. But that chance meeting led to a studio visit, which led to a show at Howard's Brooklyn-based gallery 106 Green, which in turn led to a glowing review by The New York Times critic Martha Schwendener. Now Hollowell's just hoping to keep up with the tremendous demand for her elegant abstractions—which surprisingly come from crude beginnings.
"These are very directly related to physical interactions with my body and my husband's body," said Hollowell matter-of-factly, standing in front of what can only be described as a phallic image spread across a four-foot-tall canvas in her Brooklyn studio. "I'm breaking down the forms... That's a butt, that's a vagina mound right there... and here are the legs coming in with a penis."
It's this balance between rudimentary drawings of genitalia and highly sophisticated forms of abstraction that has proven extremely affecting, and Hollowell's upping the ante this fall with a new body of work for her upcoming show at Pace's Palo Alto branch. While her last show at the Mesler/Feuer gallery [now Marinaro gallery] on the Lower East Side offered paintings with a hint of three-dimensionality to them, these new works take that idea even further, relishing in large protruding shapes that jump off, and even into, the panels.
"For the first time I'm going into the canvas," said Hollowell mischievously while standing over a panel with a foot-and-a-half vaginal chasm seamlessly inserted into it. "My husband's a sculptor—he's the one who's teaching me about these materials—and he just said 'why don't you just go in?'"
Hollowell's sexed-up, slapstick sense of humor is heavily influenced by her love for a new breed of female comedian—typified by Lena Dunham and Amy Schumer—who don't shy away from base physicality or sexuality in their work. The genius of Hollowell's art is how she's added this humor into an abstracted figural style that has a rich history with female painters, beginning with the Modernist vulvoid flowers of Georgia O'Keeffe and continuing into the 20th century with the fleshy forms of painters such as Elizabeth Murray and Christina Ramberg.
But despite their genital leanings, Hollowell's new works are getting even more abstract thanks to the optical illusions of her three- dimensional surfaces and a heightened focus on the fastidiousness of her forms. "In my dreams I'm a loose Ab-ex painter," she laughs, "I'm a Helen Frankenthaler. But when I get to the painting, I'm just tightly rendering everything."
It's no joke. Each Hollowell work is based on a 9-inch x 12-inch soft pastel study drawing, laboriously crafted and refined over many layers. But the final form of the painting is worth it: a collection of luminous and roiling shapes that dance across—and out from—the surface. They seem almost too graceful to echo their crass sexual beginnings, but you'll see them if you want to.
"I want the viewer to not have to deal with that content if they don't want to," says Hollowell. "These are about painting concerns, and now, very basic sculptural concerns... but the impetus is from something very personal. It still comes from my body."