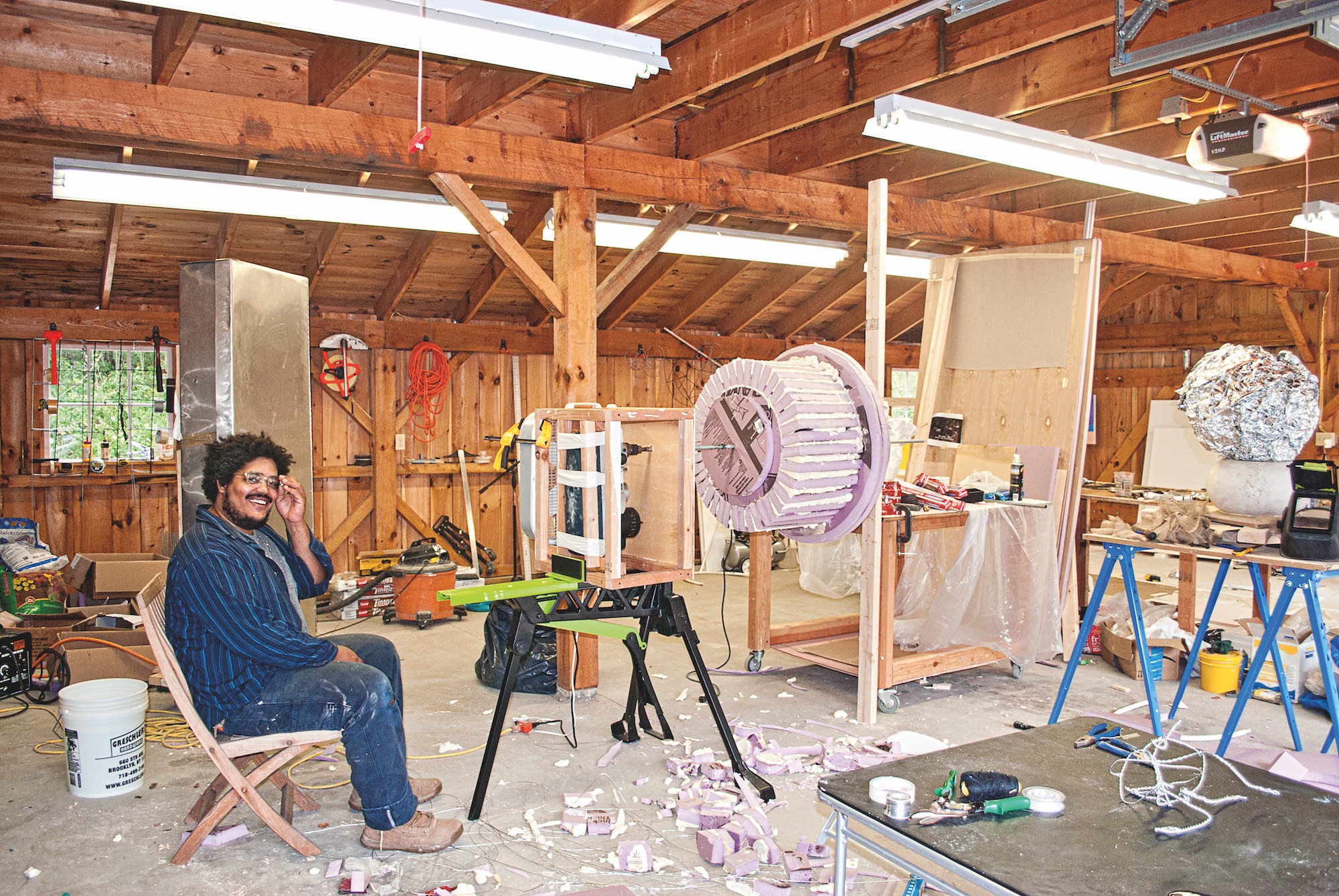 New York's Chelsea neighborhood is best associated with blue-chip galleries, whose stunning white boxes don't quite align with the ethos of the city's younger galleries. But, if American Medium's migration from Brooklyn's Bed Stuy neighborhood to a third-floor space on West 20th Street is any indication, Chelsea may not be as inaccessible for younger galleries as previously imagined.
Known for their heady program of up-and-coming artists working heavily in new media, American Medium moved to Brooklyn in 2014, following a stint in a large but limiting Union Square loft space. Co-directors Daniel Wallace, Travis Fitzgerald and Josh Pavlacky have been working together—and with many of the gallery's current artists—since their early 20s.
"It's sort of necessary for us to grow with the artists we're representing," says Wallace. "As their visibility and careers are growing, we need to provide something that matches that. It will also allow us to get back to doing more programming, more performance."
While Brooklyn has long been touted as the next art world hot spot, that hasn't quite panned out. Wallace recalls inviting a potential investor, who had lived in New York for at least eight years, to come check out the space, only to learn that it was the art aficionado's first time setting foot in Brooklyn. And while Bed Stuy has a long history as a cultural hub, the residential nature of the area makes it difficult to stage events.
American Medium's new Chelsea space opens with a solo show by sculptor Andrew Ross on September 14. "Ross is one of the people who has been encouraging us to make as little changes to the new space as possible, to leave it really raw," says Wallace, who promises that while they plan to do some sprucing, it will be a far cry from the white cube.
It's Ross's first time working with the gallery, and the decision to show him now was no accident. A true sculptor's sculptor, his work combines new media influences and technology, like 3D printing, with the physicality of old school sculpture. For a gallery that wants to stay true to its tech-centric roots while, in Wallace's words, not be "pigeonholed into the new media zeitgeist," Ross is the perfect choice.
"I've been thinking a lot about Cosplay and costume," Ross says of the exhibition, which will explore the human body in connection with various environments and coverings. "What I'm really interested in is this relationship between objects that engage with the body, like a helmet, and cartoons. Because there's a visual similarity between an actual helmet and a cartoon head. They're both simplifications of the head."
Meanwhile, as the gallery is moving into a very different neighborhood, they're not abandoning Bed Stuy entirely. For one thing, Wallace and Pavlacky, who are partners, live in an apartment above the gallery. The space itself is being turned over to KJ Freeman, a curator who has worked with American Medium, and artist Eileen Skyers, who together will turn it into a gallery, called Housing, which will focus on showing works by artists of color.