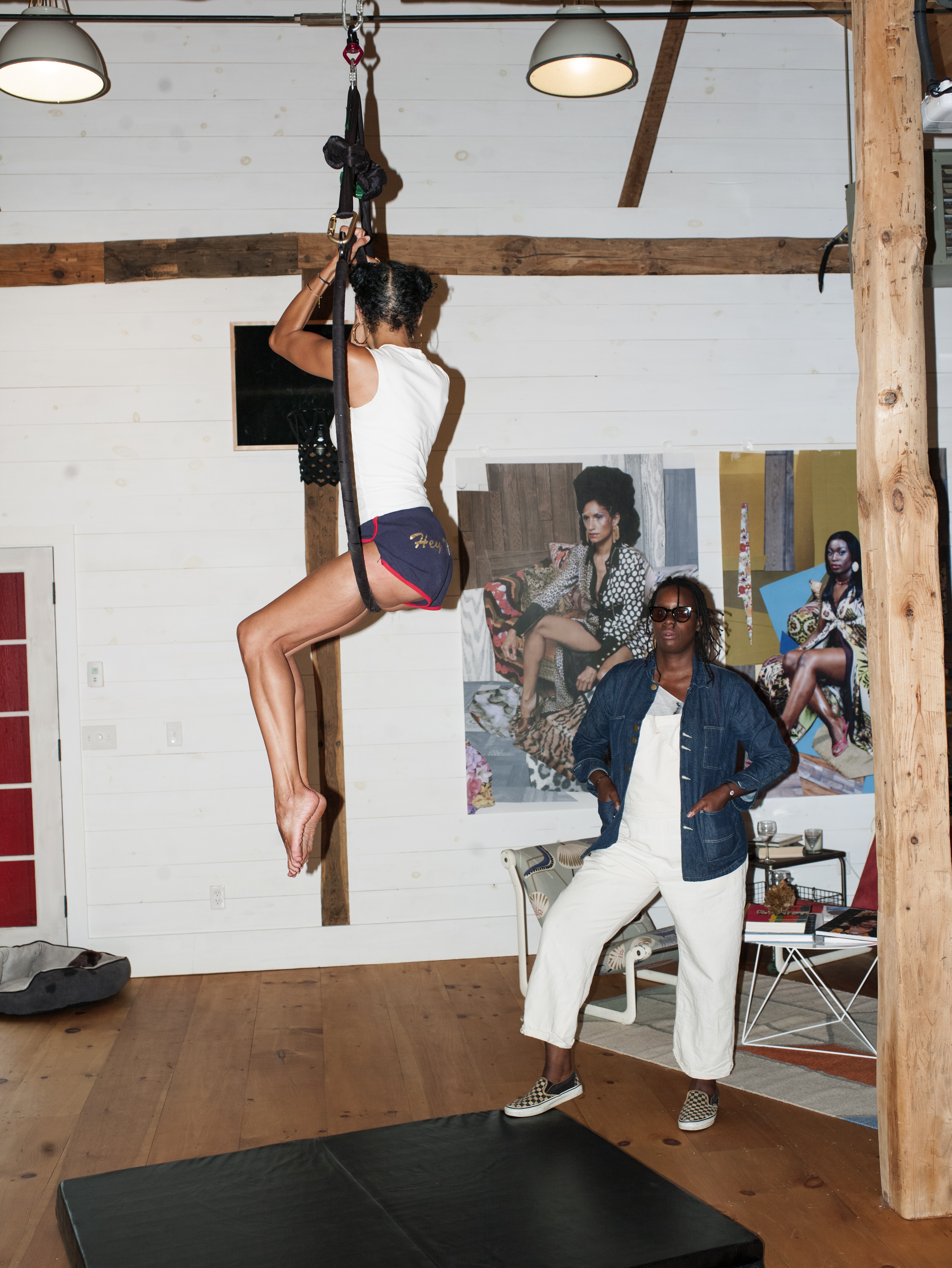 On a sweltering July afternoon, Mickalene Thomas and I sit in her Brooklyn studio and watch her 2016 multimedia installation, Me as Muse. Spread across 12 television monitors, Thomas's figure appears bit by bit in one screen after another—first her feet, then her breasts and left hand, her upper legs, torso, and head. Eventually her full form, in the pose of a classic reclining nude, stretches across the monitors.
For the next two minutes, images of white female bodies from throughout art history—François Boucher's Leda and the Swan and Amadeo Modigliani's Reclining Nude among them—and depictions of black women's bodies, including that of Sarah Baartman and Grace Jones, intermittently flash on the screen alongside fragments of Thomas's figure. An audio recording of singer Eartha Kitt plays: "She gave me away to a family that eventually wound up using me as a work mule, and my mother gave me to this family because the man that she wanted to marry said, 'I don't want that yella gal in my house.' . . . You are not wanted by the blacks and the whites couldn't care less. . . You try not to have it leave a scar on you, emotionally or mentally. . ."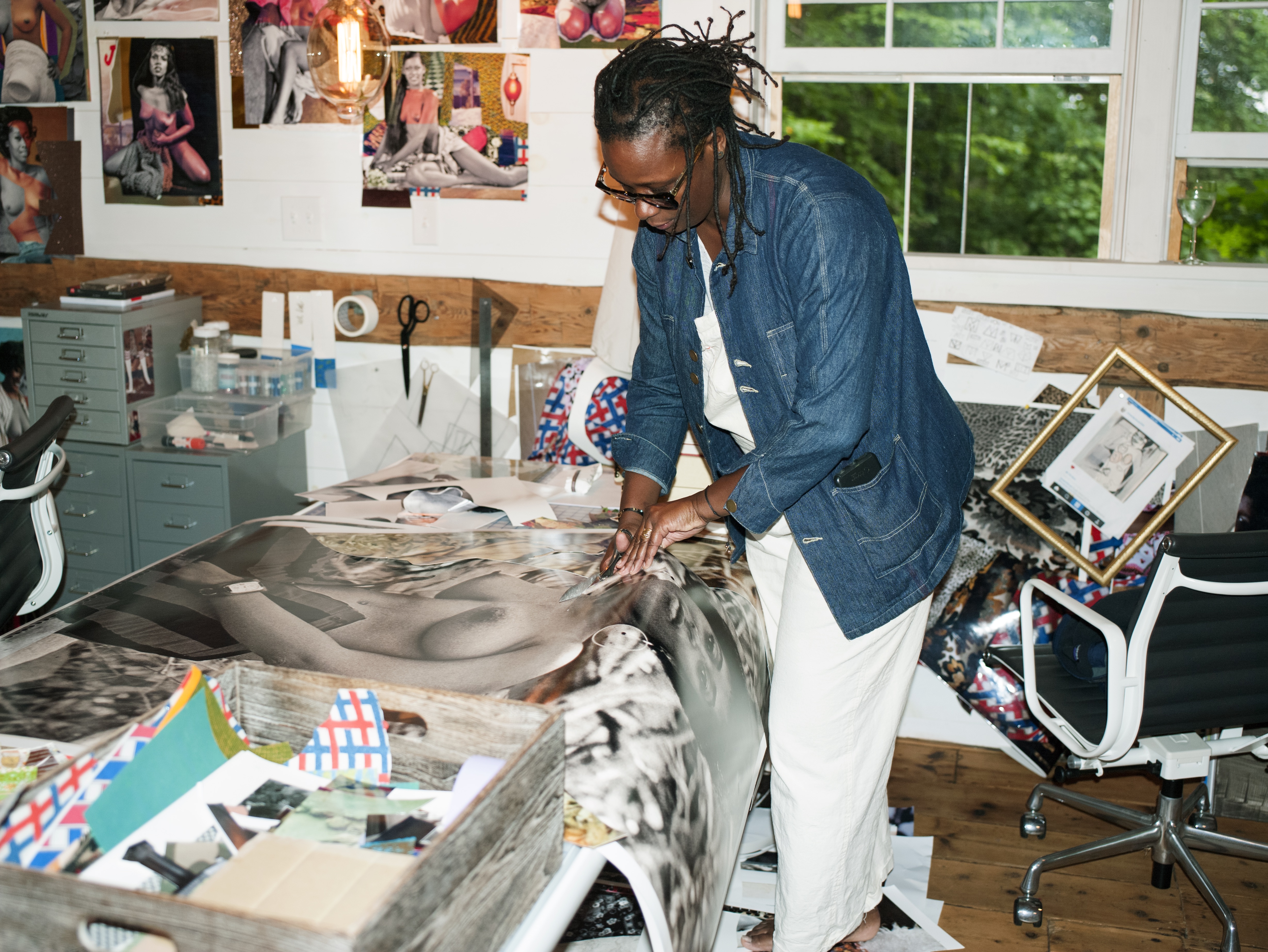 The loop ends and Thomas—who has solo exhibitions this fall at the Contemporary Art Museum in St. Louis; the Moody Center for the Arts in Houston and the Georgia Museum of Art in Athens—looks at me through tinted glasses, explaining that when she first conceived of this piece she had "a Nam June Paik-like fantasy of 60 monitors and a huge odalisque." The physical size isn't quite on par with Paik's, but the emotional and psychological scale of the installation certainly outstrips its material dimensions. "I envisioned this very grandiose gesture of monumentality of this Amazonian black woman reclining and people coming into the Whitney or MoMA," Thomas trails off laughing.
Known for her iconic rhinestone-studded portraits of black women, Thomas's ever-expanding repertoire has recently come to focus more on film and video. However, Andrea Andersson, chief curator at the Contemporary Arts Center in New Orleans where two large installations of Thomas's films will be included in a solo show in the fall of 2019, points out that "Mickalene's practice is fundamentally one of disruption that's grounded in the collage form— whether she's working on a painting or whether she's working on a film. Anybody who is ever showing Mickalene's work is also kind of showing film, even if they don't know it. It's always there."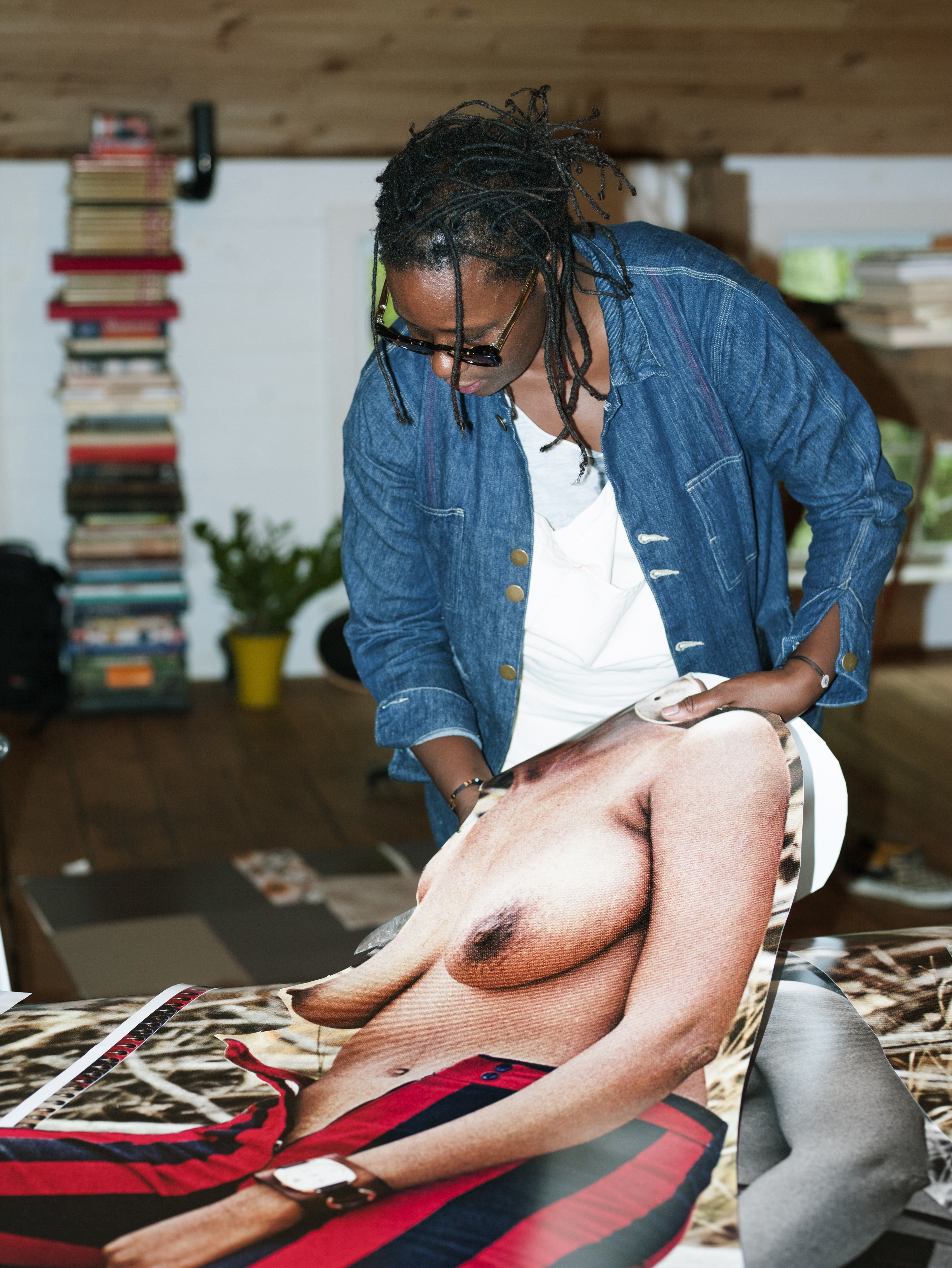 On view in a group show at the New Museum, Me as Muse, 2016, is the first piece the New Jersey-born, Yale-educated painter has made explicitly integrating both her body and art historical references. Realizing that she was including this material in her work indirectly, Thomas decided it was time to bring it to the forefront. "I was trying to figure out how to have this conversation about the black body in video," she says. "I thought it would be interesting visually to place these images in relation to my own body because these are the images I grew up looking at—these notions of beauty."
Also among her several works in video and film is her 2016 piece Do I Look Like a Lady (Comedians and Singers). The work cuts between footage of figures such as Josephine Baker, Whoopi Goldberg, Whitney Houston, Adele Givens and Jackie "Moms" Mabley addressing—each in their own distinct way—the titular question and its underlying complexities. "It's a lot about memory," Thomas says of the 12-minute, two-channel video and its relationship to her two-dimensional works. "The editing process reminded me of collage. Once I started editing it was like the gears switched in my brain and I realized how this makes sense with my practice in the studio. I saw myself thinking about cutting paper and deconstructing the image with multiple layers." Yet, she continues, "whether I'm doing photography, video or sculpture, I'm always thinking about painting. Whatever I'm working on, I'm thinking about it as a painting, regardless of the methodologies or tools I'm using to execute my idea."