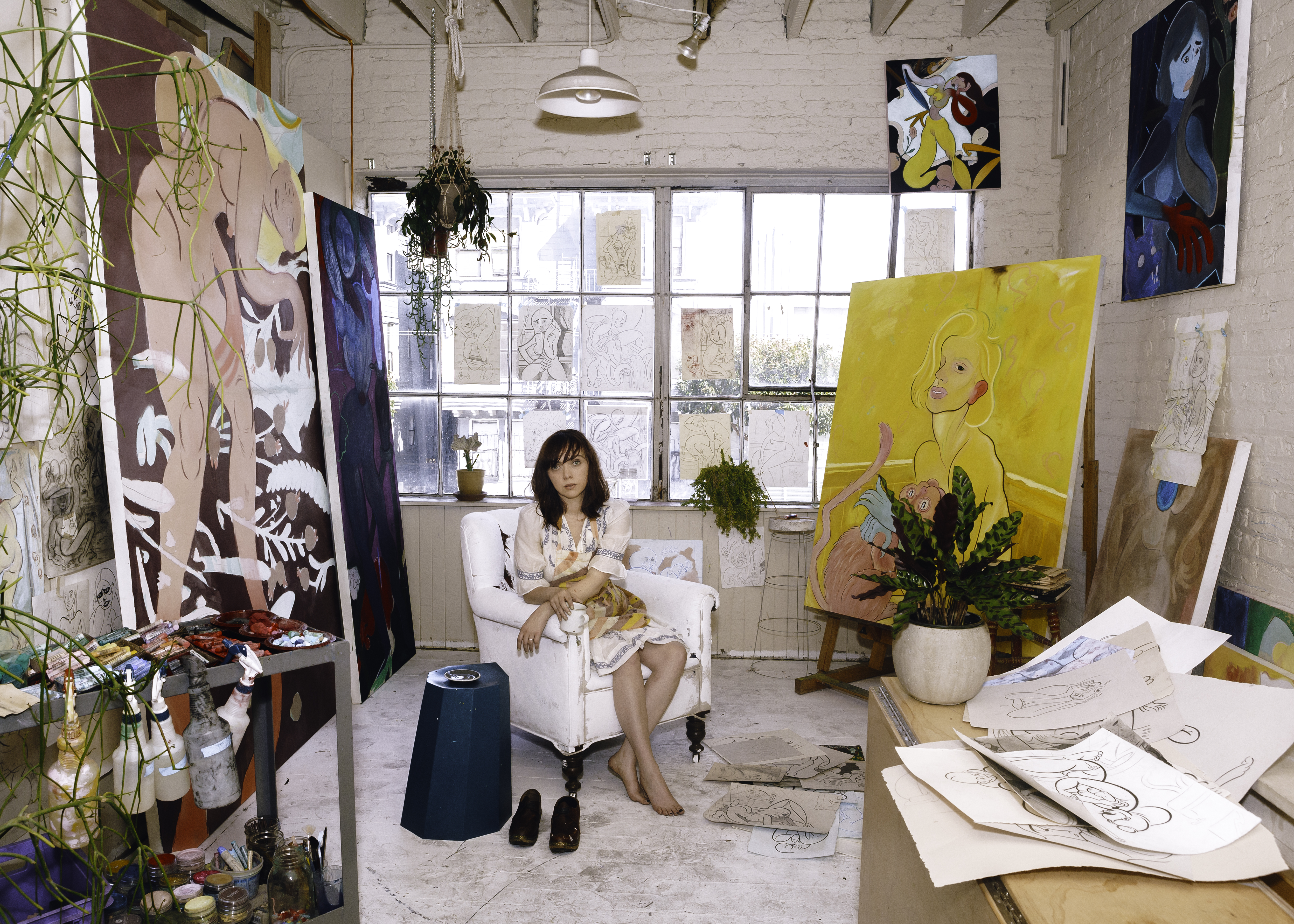 On a sweltering spring Saturday, surrounded by rainbow-hued stacks of curved resin and fiberglass that form the bases of Thomas Linder's glass-like sculptural environments, a group of young Angeleno scenesters is gathering in and outside of Timo Fahler's downtown artist-run space BBQLA. It's the last day of a six-person group show, "Teeter Totter," and Alex Becerra is giving tattoos beside the Linder blocks while Fahler entertains sweat-soaked guests in the neighboring gallery who have come to see Amy Bessone's electric pink Blue Leaves canvas, and a black and white floor painting by Daniel Gibson. They're also scooping up some risographs—a portion of whose proceeds benefits the Transgender Law Center, Futures Without Violence, UNICEF and Free Arts—and peeping three new works on paper that capture the louche and limber figures of the ascendant San Francisco-based artist known simply as Koak.
"It's a problem, we're trying to figure it out," says the 35-year-old, Michigan-born artist of her increasingly name-checked nome d'arte at a Hollywood Thai restaurant the following Monday. "A lot of people think I'm a guy because of it and because I draw women the way I do."
When she was making work in high school as a teenager Koak and a friend made their debut at cafe in Santa Cruz, so she created an acronym of her name, backwards, "Because it was so personal I wanted a buffer." Though she was raised by a philanthropic, artistic family— her stepfather was a musically inclined C++ coder and her mother ran a daycare/kindergarten and started the nonprofit Firelight Foundation, which raises money for grassroots organizations in Africa that are affected by AIDS—growing up in '90s Santa Cruz meant Koak witnessed the ravages of teenage heroin addiction with her peer group. As such, her early autobiographical, comic-styled dioramas teased out ideas of belonging against a world of substance abuse.
"The stuff I was doing back then was pretty grotesque," says Koak, who went on to spend a year at CalArts, where she grew her dioramas into inhabitable life-size forms, before moving her practice to San Francisco where she earned an MFA in Comics at the California College of the Arts. There, she studied under the famed American illustrator Barron Storey, who encouraged her to start her now three-part, 2000-page, 12-years-in-the-making comic book "Sickbed Blues." The narrative features animals who live inside Koak's reproductive organs, which were threatened by a sickness in her late 20s.
"It's kind of like this apocalypse because if you were animals living inside of a body and the body couldn't have kids that would be like the end of the world," says Koak, who still battles some illnesses, but constantly appears cheery with her banged bob bouncing over her yellow curry and songbird voice dripping over a discreet lip ring. She only began making her loose female forms—whose smoking and bathing nudes have rated her shows from San Francisco to London—a year ago, and only after accidentally banging her drawing hand against a wall in a restaurant bathroom. "When I started drawing them I was interested in parts therapy and really interested in creating a woman that felt like feminine archetypes of different emotions my friends or I had been," she explains. "A person has all these different tropes—like heroin addict or teacher—and they're all there because they are helping you deal with something."
Though she started out selling graphite drawings of these amorphous forms—with their snaking limbs and attenuated nipples—to friends for $40 a piece, and later through her husband Kevin Krueger's San Francisco gallery Alter Space, Koak's new crushed pastel and milk casein pieces are growing to epic scales that are now attracting the attention of serious collectors and international dealers at Art Los Angeles Contemporary or Mexico City's Material Art Fair. To wit: this summer her work will be featured in group shows at London's Laura Bartlett Gallery as well as the Museum of Sex and MAW Gallery in New York.
"I am drawn to her colors, the voluptuousness of her figures and their digression into a sort of geometric abstraction," says Fahler, who became aware of Koak's work via her Instagram feed and the Night Gallery publication Night Papers. "'Teeter Totter' was about the conversation of abstraction and the figure, and how various artists utilize both of these practices within the same body of work. It seems as though the current political climate, the separation and self-segregation of race, gender and political-based ideologies has introduced a whole new meaning to the figure and its conversation with the abstract realm. Anna's work tells of an evolved individual, matriarchal and powerful yet soft and destructible. It drives me to find the solution and not focus on the problem."