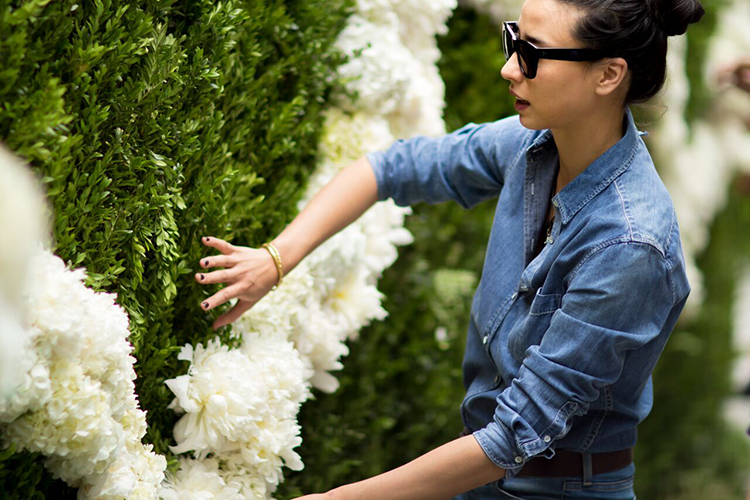 Last week, Lily Kwong joined forces with artistic director Mafalda Millies, composer Charles Derenne and choreographer Nathan Mitchell on a performance piece set under a canopy of thousands of fresh blossoms, strung together by hand by Kwong and her crew on New York's High Line.
The event was in celebration of the summer solstice and the VIP opening of Maison St-Germain. The thousands of flowers used to create the installation was in reference to the 1,000 elderflower blossoms harvested for each bottle of Saint-Germain liquor—many of which were poured that evening. Here, the talented Kwong gives us the scoop behind one of her most ambitious projects to date.
Your installation was positively dreamy. Have you ever created a flower curtain before?
I had never created a flower curtain before! I fell in love with a vintage photo I found in my research of a Paris nightclub in the 1920s that had hundreds of flowers hanging from the ceiling. St-Germain commissioned me for the High Line project, and their brand draws inspiration from that era. I wanted to do a modern take on the concept, and integrated neon lighting into the hanging florals as a nod to the High Line's industrial roots. I don't often work with cut flowers - I'm trained in more traditional landscape design and only recently started creating site-specific installations. Luckily I was able to collaborate with Botanica, a company based in the flower district run by two passionate, brilliant humans. I worked with them to develop the floral palette, which featured peonies, Queen Anne's lace, hydrangeas, roses, wisteria, delphinium, ranunculus, viburnum, lilies, and more. Each strand of the curtain was meticulously hand-constructed by their team on-site after running several tests in their workshop to get the species balance just right.
How many garden fairies did it take to create this ephemeral creation?
It took over 100 extraordinary people working through the night to bring this project to life. We were given a seemingly impossible task: our team was only given access to the site starting at midnight the night before our opening. I dragged myself to the High Line in the middle of the night, and our 13,000 flowers arrived on site at about 3AM and the greenwalls were lifted onto the High Line by crane. St-Germain is made of elderflower, which is extremely ephemeral as well - it blooms for only a couple weeks and has to be hand-picked and harvested in a blink of an eye. Our installation was similar - it blossomed and then disappeared as quickly as it came.
How did the collaboration with Mafalda Millies, Charles Derenne and Nathan Mitchell come about?
I saw artistic director Mafalda Millies' piece "Virtually There" at Mana Contemporary this Winter and was deeply moved. She combined costumes, dance and an original composition in a way that just got under my skin and stayed with me. I carried her work in the back of my heart/mind for months and when this project came up, I knew she was the perfect person to activate the landscape. She pulled in choreographer Nathan Mitchell and French underground composer, Charles Derenne to form a dream team. We were inspired by the fact the opening night fell on the summer solstice, and the "The-Solar-Do-Nothing-Dance" honors a Charles and Ray Eames' invention which converted solar energy to electricity. The stages were custom-built and pay homage to Eames, and the structural costumes were inspired by Robert Rauschenberg's designs for Merce Cunningham's 1977 Travelogue performance. Mafalda is a visionary, and her dancers moving through our labyrinth added a dynamic layer to the plant life.
Should we expect to see more performance collaborations in the future?
Absolutely. I'm designing another immersive installation for St-Germain in Los Angeles at the Houdini Mansion on August 2nd. After breaking down the High Line, our team was in production meetings less than a week later preparing for our next undertaking. It's going to be just as inspired, and I feel like we set a bar in New York. I'm already engaging the great performance artists, musicians and creatives I know out West to activate the historical site. To me landscape is a vehicle for connecting with other art forms, and layering a botanical ecosystem with a rich cultural ecosystem is the ultimate goal.
You've said that the High Line has been an important urban landscape for you. What other parks or landscapes in the city are you a fan of?
I absolutely love Brooklyn Bridge Park - Michael Van Valkenburgh is a huge design hero for me. I think New York City's waterfront is so underutilized and the 1.3-mile park completely revived that area. I take design and horticulture courses at New York Botanical Garden and always leave filled with inspiration and joy - their tropical garden is spectacular. I also have a soft spot for all the community gardens in the East Village. That neighborhood is the first place I landed when I moved to the city a decade ago, and community gardens really embody what I value most about urban green-space. They are a vital contribution to the urban fabric and connect community, re-connect us to the earth earth and stimulate cross-pollination between people of all different backgrounds.
Photos by Benjamin Lozovsky/BFA.com