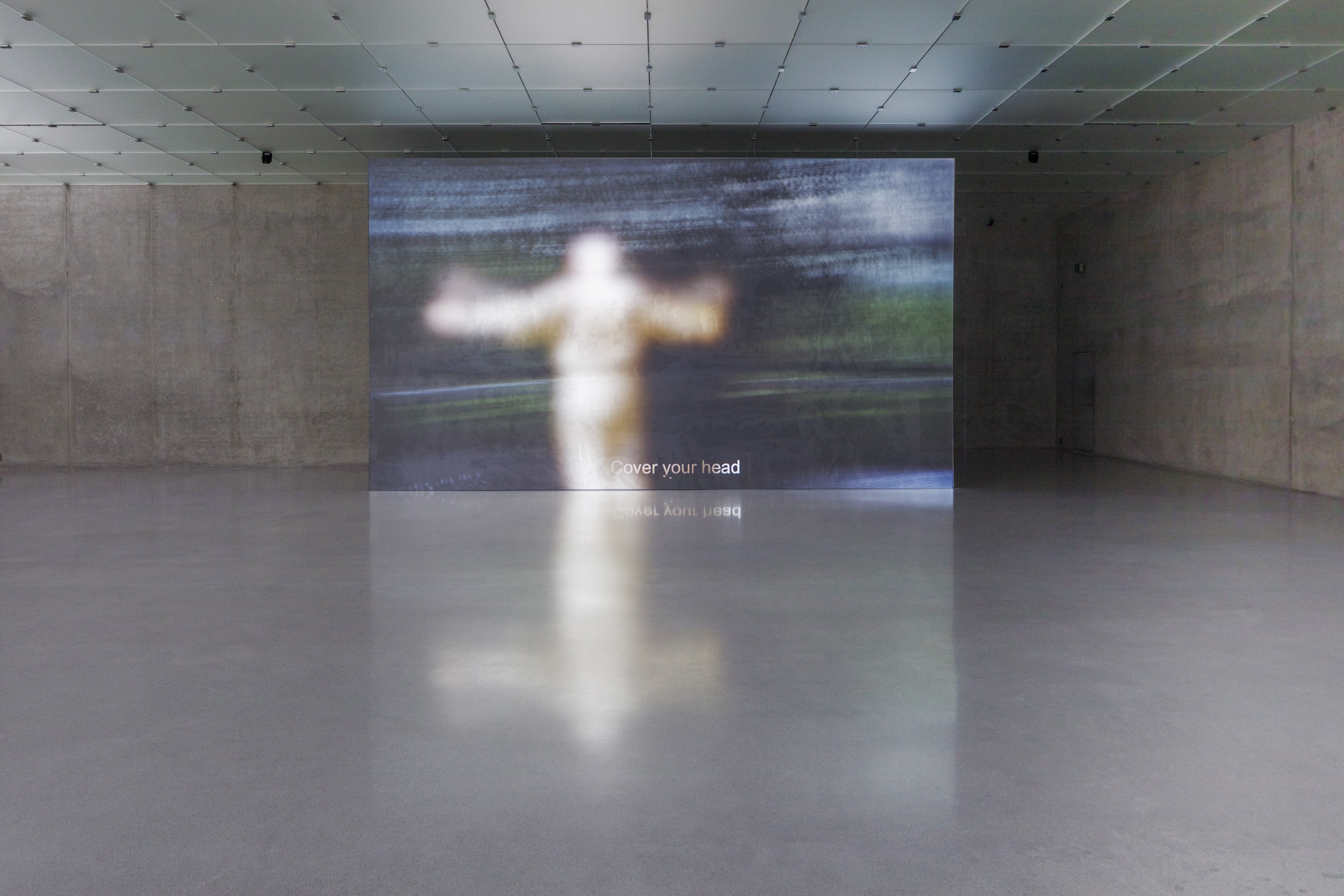 When the Venice Biennale opens, the pavilions will speak on behalf of the artists. Before the doors open, we checked in with these promising participants to discuss their practices.
Rachel Rose, United States Rachel Rose's videos don't translate to the Internet. They are installations that swallow their visitors whole. The engulfing quality that defines Rose's work showcases her sensitivity to space and light as well as time. "Attention is short," she says. "There are no limits on when you are supposed to watch something. I think that this is a constraint in art. It is a drawback to an otherwise free set of conditions."
Rose takes advantage of cinema's specificity. She uses details to heighten awareness to the fluidity and frailty of reality. Palisades in Palisades (2015) uses footage of a woman on the banks of the Hudson to tell the longer history of the land now occupied by the Palisades Interstate Park in New Jersey. The video first screened at Serpentine Sackler Gallery in the fall of 2015 and was reconfigured last winter for Kunsthalle Bregenz. This is typical for Rose, who generally spends a year working on each piece. "I consider each work as a bracket along a flow," Rose says. "The process is more fluid than that."
After the biennale, she will continue work on her first scripted piece which will debut at the Philadelphia Museum of Art in 2018. While she couldn't reveal any details, Rose noted that her most recent work, Everything and More, led to an interest in children's stories and how these early narratives shape adult selfhood.
Mariechen Danz, Ireland Mariechen Danz grew up in Dublin and is now based in Berlin, a city that plays an integral role in her work. For her sculptures, the artist has collaborated with the same fabrication company, Sculpture Berlin, for six years. "There's a lot of collaboration in everything I do," says Danz, "but I would never give something away to be completely made. It just really wouldn't work. I make too many decisions in between."
Artist Kerstin Brätsch, represented by Gavin Brown, has also collaborated with Danz, who was inspired by Brätsch's marble paintings to create a series of silk-prints. "It's a process-based practice," says Danz. "Everything grows from one thing to the next." Since the artist often reworks materials when fabricating a new piece, we can likely expect that her pavilion will integrate both old and new.
Alicja Kwade, Poland Alicja Kwade, Poland Alicja Kwade's sculptures begin as sketches, and it's only through careful calculations that they come to life. Once realized, her works seem to defy both space and time; they disorient the viewer and transform the contexts they inhabit. Kwade uses tools like reflection, humor and light. At TRAFO Centre for Contemporary Art in Szczecin, Poland, the artist installed a swinging light bulb that cast ever-changing shadows across a darkened exhibition hall. These are the mystifying experiences Kwade conjures to access more universal truths. "I am interested in general human questions, behavior and the matter of what our world, reality and society, is made of," Kwade says of her work. In her preparations for Venice, Kwade divulged her installation would include elements from her recent past as well as some brand new techniques. This is the rhythm of Kwade's practice, one body of work feeds into the next. Over the past few years, the artist has shown at kunsthallen throughout Europe, but Venice will undoubtedly be her highest profile opportunity to date. "A biennale has the function to show what art is," she says. "It is always a mirror image of its time and a generation."
Taus Makhacheva, Russia
Taus Makhacheva is more like her superhero alter ego, Super Taus, than she will ever know. The artist's superpower is the ability to occupy multiple worlds at once and take the audience with her. Of course, it is through characters like Super Taus that Makhacheva is able to bridge personal and collective histories. When asked why she is so drawn to role play, Makhacheva replies: "Reality is just so hard to decipher. The truth is always moving. Things are dissolving. At least there is some certainty in something you imagine."
The world Makhacheva occupies is one of gleeful mystery. Take for example her curious performance at the 2015 Moscow Biennale, where she hired dancers to transport paintings across the round stage in pirouettes and leaps, or her dessert performances where she serves up cakes inspired by the Caspian Sea. Makhacheva can't say what she is cooking up for the biennale, but promises an element will be edible. "It's a bit like performance art," she says of her edible pieces. "It's a very direct way to make you think and make you carry the work on. It's also a way to avoid compromising for the market."
Working out of her studio in Dagestan, Makhacheva has the advantage of being able to take a step back from the spectacle of the city. "I don't think about my work as a form of therapy," she says. "But it is a way to deal with frustrations surrounding the way that I feel, the way things, even people, are appropriated by current political regimes."
Hajra Waheed, Canada
Though the characters in Hajra Waheed's work are technically fictional, each is animated by personal truths. "I have a very close relationship to my practice," the Montreal-based artist says. "As a result, I tend to mediate what I pour of myself into the work by framing it within larger, more dispersed narratives and semi-fictions. As abstract as it may sometimes seem to viewers, to those with an intimate knowledge of my personal life and practice, the work is as legible and revealing as a diary."
Waheed admits to feeling too close to her work at times, which makes sense as she tends to investigate topics such as mass surveillance, military escalation and the traumas of mass migration. When bringing these tragedies to life, Waheed's methods range from charcoal drawings to video installation, but the process starts with extensive research. She demands the same sustained attention from her viewers. Rebelling against the easily digestible, her works tend to occupy time rather than space. Her 2015 solo presentation at KW Institute for Contemporary Art in Berlin required one to obsessively pore over drawings, documents and collages meditating on Saudi Aramco, the largest oil company in the world, and the beast it feeds. "Rather than produce discrete objects, I prefer to deal with constellations of information and visual materials in order to address specific themes," she says. "I often use characters as a vehicle to harness the anticipatory quality of the novel and invite the viewer to feel privy to the passage of time."