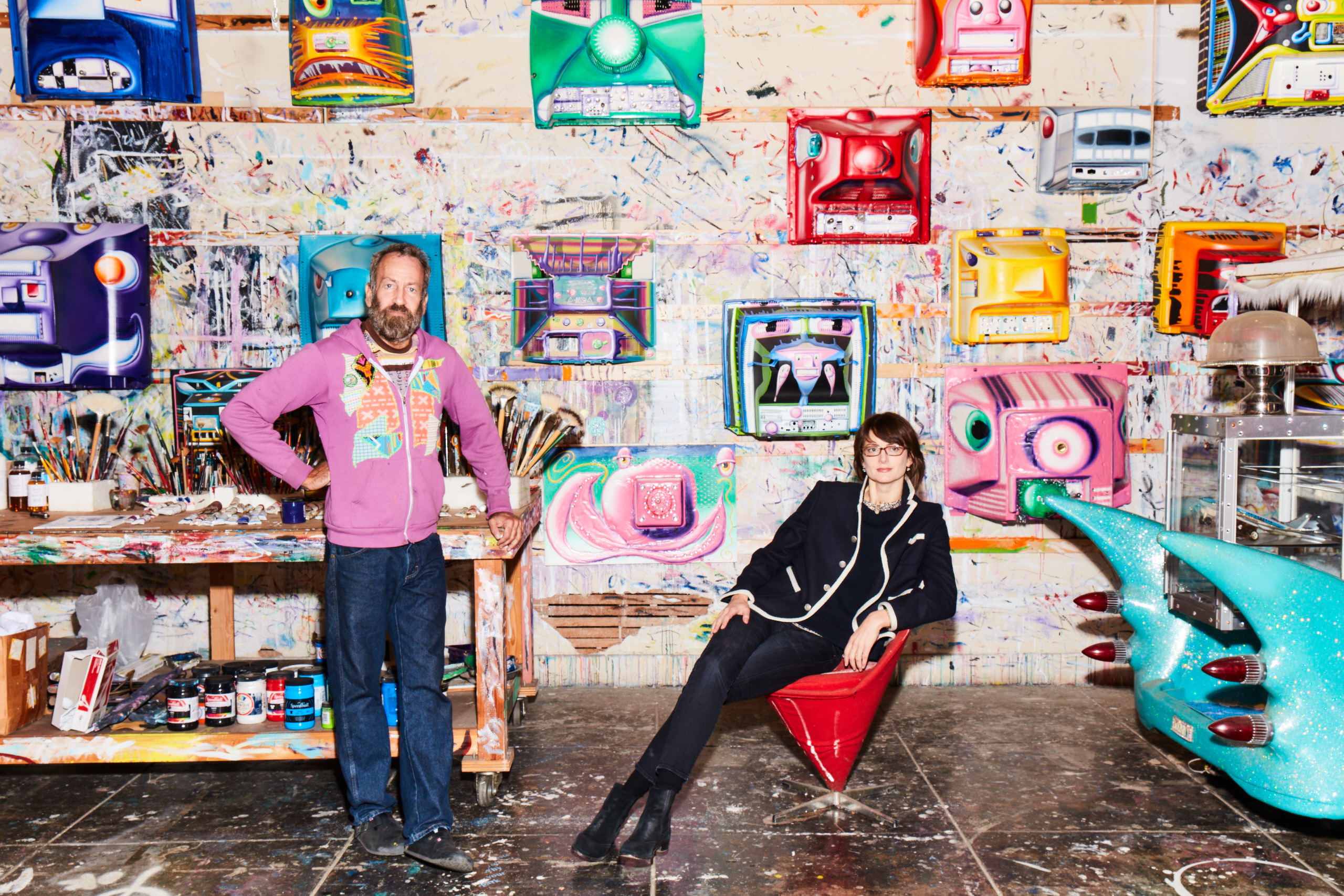 Three egg-like eyes stare at outer space from the hood of an old Nissan. The back of a discarded TV becomes a 3-D painting filled with the ghosts of toys. Bright, wiggly creatures pop up in the foreground of paintings found at thrift stores. This is the world of Kenny Scharf, one of the most underappreciated artists active on both sides of the Millennium.
Scharf greets Honor Fraser at the entrance to the studio he's occupied for 18 years in Culver City, a literal five-minute drive from her gallery. But Scharf is in the midst of getting pushed out of the neighborhood: a developer is clearing all the warehouses for a big shopping monstrosity. "Which is so sad," says Scharf. "Well, we'll still be in the same city, but not really in the same neighborhood, which is so wonderfully small-town and convenient."
It should be said that Scharf's career has thrived on community. A Los Angeles-native, Scharf cut his artistic teeth in the late '70s while a student at the School of Visual Arts in New York. He roomed with Keith Haring in those days, and the two of them would star in each other's videos. "Sometimes I'd be in the videos, and sometimes I would be behind the camera for his tapes," says Scharf. "The very early videos were on school equipment."
Scharf took the video camera to regular hang out sessions at Club 57 with Ann Magnuson, Joey Arias, Klaus Nomi, and John Sex. The club became known for riotous skits and performances.
"I had my suitcase stolen with all of my finished tapes in it—clean, edited versions," says Scharf. "And it just devastated me. It was like a death. So basically, about four years ago, I saw this show at the Brooklyn Museum on Keith Haring which featured some videotapes. I saw the impact that it made in the show for the audience, and I thought, 'I need to get my videos back together.' I said, 'Honor, this is what I want to do.'"
By that time, Scharf and Fraser had been working together for a number of years. Since the early 1980s—one of Scharf's career peaks was his inclusion in the 1984 Whitney Biennial—he'd been showing with Tony Shafrazi's gallery, for 27 years. Once he left Shafrazi, Patrick Painter in Los Angeles represented him for three years.
Around this time, Fraser, a descendant of Clan Fraser of Lovat of the Northern Scottish Highlands, was working at Gagosian Gallery in Beverly Hills. After her first son was born she left to run her own small project space on Abbot Kinney Boulevard in Venice.
"At that point, I wasn't intending to develop a program," she says. "I always liked being the bridge or the vehicle, and I like putting on shows. Then within a couple of years, I needed more space. The building that I was in on Abbot Kinney would've fallen down if I'd hammered anything into the walls one more time."
But the Abbot Kinney space had its share of successes—one of video artist Jeremy Blake's final shows, including "Sodium Fox"—and Fraser had built up a reputation as a sharp facilitator. Scharf met Fraser's husband Stavros Merjos, a private art dealer, when Merjos purchased a work of Scharf's from dealer Niels Kantor in 1998. "I went to your wedding in 2005," Scharf tells Fraser.
Fraser laughs. "You went to our wedding?" she asks incredulously.
"I didn't know you," says Scharf. "I knew Stavros."
Which is all to say that Fraser had been living with several of Scharf's works for years when she finally visited his studio. They arranged a show at Fraser's Johnston Marklee-designed space on La Cienega Boulevard in Culver City. The 2009 show that resulted, "Barberadise," was filled with Scharf's Jetson-inspired paintings, and it raised his profile greatly in a city that had sometimes shunned him for being so associated with the downtown New York art scene.
"You know it's funny, being born-and-raised here but making my name in New York, I'm always looked at as a New Yorker to the local artist community," says Scharf, who moved back to L.A. in 1999. He also has a home in Bahia, Brazil. "And I'm like, 'Well, yeah, but I'm from here, and I live here.' I find that I have to assert myself so much about my local-ness, because I feel like what I would like people to see me as is someone who brought an L.A. aesthetic to New York instead of me bringing my New York-ness to L.A."
But the show marked a sea change. Suddenly, Scharf was everywhere in Los Angeles, culminating in a huge mural taking up the lobby of the Hammer Museum in 2015. On top of all that, Scharf had been experimenting with car modifications by painting vintage, retro-futuristic cars and adding colorful vintage toys to the dashes. While painting a mural in Mobile, Alabama, for a group show at the Centre for the Living Arts in 2013, a passer-by asked him to paint on their car. He posted a picture of the character he'd painted on the car on Instagram, advertising his services for free to anyone who wanted what Scharf calls "Karbombz!" Now, approximately 170 Scharf-adorned cars, most of them in L.A., are on the streets of America.
"I like this project because it's money-less," says Scharf. "One of the things that I've been unhappy with since I started showing in the art world in the early '80s—albeit, we all need to make money, there's nothing wrong with that—but I remember back then, even though the '80s were a big money time, people actually seemed to focus on the art and what the art was about and why it was important. Over the years, with the auction houses gaining power, I find that people don't talk about the art itself, and they're talking more about how much it sold for, and I hate that. So one of the things I like about the car-bombing thing is that there is no value attached to it, which is forcing people to confront art in a way that has nothing to do with money."
Scharf's democratization of art goes hand in hand with the conservationism that is another of Scharf's everlasting themes. "The more political side of Kenny's work is often missed actually," says Fraser. "The political aspect is very much centered on the earth that we're living in. I think of [Scharf] as an environmentalist."
Scharf has never really shied away from taking a political stance, and a recent work posted on Instagram of the word "TRUMP" shaped into a tower adorned with a cross and a swastika triggered heated dialogue in the comments section. Environmentalist notions abound throughout his studio. For the "Tv Bax" series, which he has been making since the late '70s, Scharf takes discarded televisions, coats them in a primer, adds plastic toys and objects, and paints on them.
"They're a 3-D painted collage," he says. "They're painting, they're sculpture, they're collage. They cement my obsession with plastic garbage. It's pretty much limited to plastics for many reasons, and one of them is that they last forever. They're light, easy and they're also made out of petroleum."
Scharf is producing several "TvBax" and paintings of his signature characters for a new exhibition at Honor Fraser opening in March. Fraser will also show older works in a solo booth at Frieze London.
Meanwhile, those videos that Scharf eventually finished with Fraser's help? They ended up in "Born Again" at the gallery in 2015 and Ron Magliozzi, a curator at New York's Museum of Modern Art, caught wind of the videos from Scharf's old cohort Ann Magnuson, who brought Magliozzi to Scharf's L.A. studio to watch the videos. "And he said, 'We want to buy these tapes. And we want to do a show about Club 57, and I looked at him, and I was like, 'Can I give you a hug?'" says Scharf, of "Club 57: Film, Performance, and Art in the East Village, 1978– 1983" which will open at MoMA this Halloween. "I just fell in love with him. They've been working on this show, and they're amazingly thorough. They know more about Club 57 than I do."
With the show at the gallery and the upcoming MoMA exhibition, Scharf is further entrenching himself in a history of L.A. art, though in many ways his work contrasts with the typical Light-and-Space work or the theory-based practices born from L.A.'s art school system. Fraser occupies a similarly highbrow/lowbrow space, something relatively uncommon for Los Angeles. Which is to say, you can't pigeonhole Scharf and Fraser as quintessentially L.A., but they're making themselves inextricable from the city's artistic landscape. And they're having fun doing it.