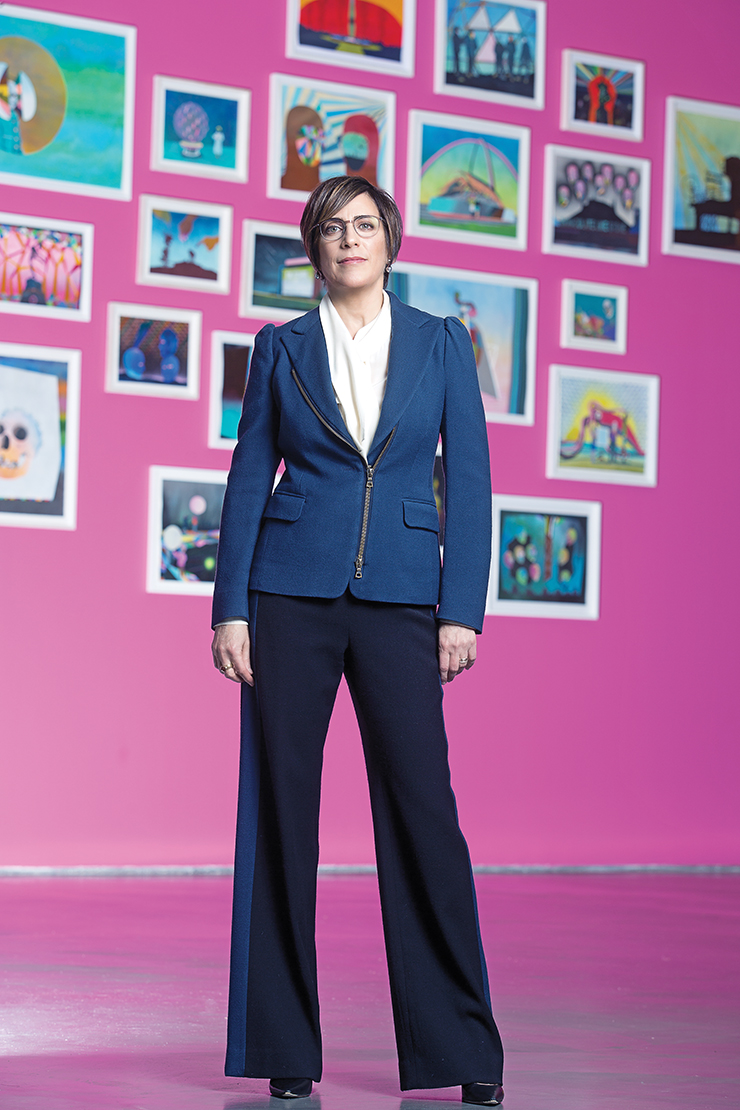 Madeleine Grynsztejn, the director of the Museum of Contemporary Art Chicago, is so enthused about renovating her institution that she is not even slightly seduced by the invitation to talk about herself. A svelte aesthete with a dress sense to rival the most sophisticated fashionista, Grynsztejn is the kind of nerd who always does her homework. Few journalists have spent time in her bright, orderly office, which overlooks one of the city's many bijou parks.
Next October, MCA Chicago will celebrate its 50th birthday. In June, the museum will unveil 12,000 square feet of re-designed public space within the current envelope of the building. "This internal jiujitsuing is not about growth, but about being smart and responsive to our audiences," says Grynsztejn, who is fervent about serving greater Chicago. In her opinion, contemporary art museums have for too long been either navel gazers or stargazers, or both. "In the wake of the openings of the Guggenheim in Bilbao and Tate Modern in London, the recipe for a successful museum was for it to be global first and local second," she explains, with a pen in one hand and a stack of documents in the other. "Recently, that has flipped. Now, we need to be locally necessary and that, in turn, makes us internationally distinctive. We are already so networked and connected. The museum as a sensual, physical space is something to embrace."
Grynsztejn herself happens to be exceedingly global. A Latin American Jew, born in Peru, she learned to speak fluent Spanish, Dutch, English and French–in that order. She went to elementary school in Caracas, high school in London, and university in New Orleans, New York and Paris. Her Polish father and Hungarian mother met in the Dutch Antilles after the war. "The experience of moving around a lot makes you a postmodern person," says Grynsztejn. "It makes you aware that there is more than one perspective through which to understand the world."
As a fledgling art historian, Grynsztejn's first love was Edouard Manet, the nineteenth-century realist painter. Later she developed a taste for contemporary art and a soft spot for Latin Americans such as Doris Salcedo and Alfredo Jaar. Then Kerry James Marshall, an African-American artist from the South Side of Chicago, became a favorite. "I hate historical blind spots and love it when an artist's trajectory corrects art history," she explains. "A good curator asks, what do we need to see in order to grow as human beings now? The answer was Kerry James Marshall." MCA Chicago initiated Marshall's acclaimed retrospective, which travelled to the Met in New York and opens at MOCA Los Angeles on March 12th. Grynsztejn is a "gracious power broker" who is "crystal clear in her drive," affirms Marshall.
Grynstejn has collaborated with Olafur Eliasson, the renowned Danish artist, ten or so times. "I treasure our friendship because I trust her judgment deeply," says Elliason. On their first studio visit in 1997, the artist was taken aback by Grynsztejn's "intensity," but grateful for the way she insisted that he make an effort to say something "important." "I'm an immigrant. I'm a striver," she admits. "Although I'm not religiously observant, I believe in the Jewish concept of tikkun—to fix a broken world is the reason why you are here for as long as you are here."
Grynsztejn is part Mary Poppins, part Lara Croft, part brass tacks administrator. She is nervily ambitious and notoriously generous. "Madeleine loves to share," says collector and MCA supporter, Marilyn Fields. "She has enriched our lives in so many ways." Grynsztejn is keen to encourage educable frames of mind. "If you are curious and empathetic," she says, "the world of contemporary art will unlock for you."
Re-thinking museum audiences is Grynsztejn's current obsession. "Fifty years ago, contemporary art museums were making history by showing people art that they did not yet know they wanted," she says. "If you walked into the museum and saw Chris Burden lying under a pane of glass and you didn't get it, we didn't care. But all these years later, we do care." Making art history with programs such as their "Ascendant Artist" series (which offers artists their first museum show and catalog) is still part of MCA's mission. But Grynsztejn is also keen to offer museumgoers more empowering experiences. Referring to a National Endowment for the Arts study, she states that over 70% of art audiences nationwide go to museums to look at a work of art with someone else, "with someone they love or want to love," she says, "and they use it as an experience for growth and self-education."
Grynsztejn believes in the ability of art museums to restore social bonds and engender a sense of community. Citing Ray Oldenburg's concept of the "third place" – a site of civic engagement that is neither home nor work—she asks, "Why should the commercial sector–Starbucks, the Apple Store, the lobby of the Ace Hotel—own the 'third place'?" With the help of L.A. architects Johnston Marklee, the museum is re-purposing a large portion of its real estate as a learning and engagement zone, a kind of winter garden called "The Commons," designed by Mexican designers Pedro & Juana. Additionally, a restaurant with a large-scale mural by Chris Ofili, a British artist of Nigerian descent, will be on the ground level. The renovation's June launch is accompanied by a retrospective of Takashi Murakami's paintings, which she describes as "a perfect mash-up of the rigorously scholarly and the accessibly attractive." Grynsztejn became an American citizen in 2009 and was knighted by the Republic of France in 2015. "If we do not become better informed and compassionate citizens," she says with palpable emotion, "we are going to have a lesser life going forward."