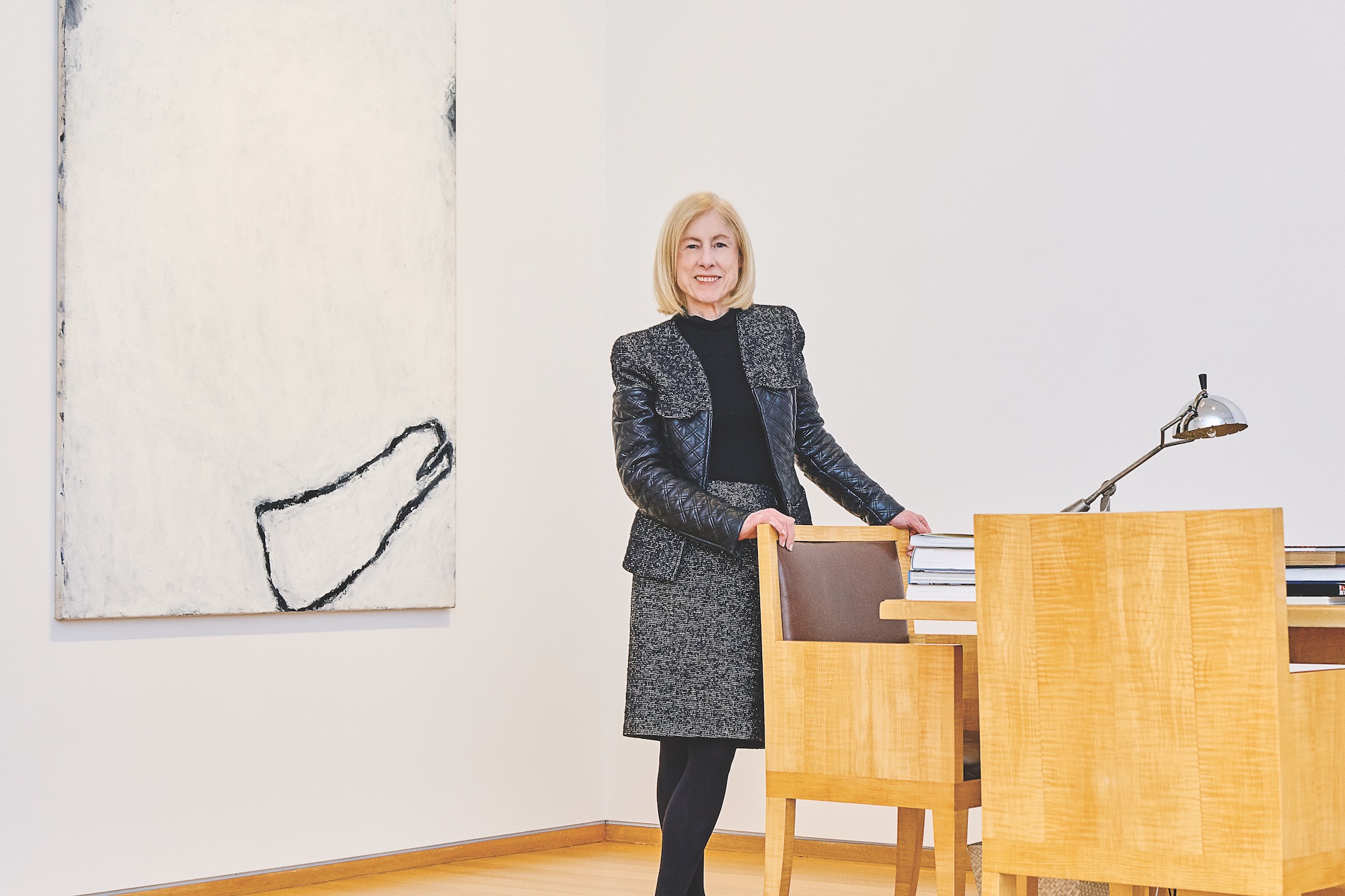 In 1975, Angela Westwater's first desk at the New York office of Sperone Westwater was a door laid across two filing cabinets. Today she sits behind an Art Deco-inspired table created by star architect Alan Wanzenberg. On a Monday in December, the gallery that she helped co-found with Gian Enzo Sperone and Konrad Fischer is empty, making it easy to admire the sleek interiors of the Norman Foster-designed high-rise on the Lower East Side. The building, like the desk, was made for Westwater and is only the second building the Pritzker Prize-winning architect has constructed in New York. It makes sense: blue chip dealer, blue chip roster, blue chip architects.
Westwater always dealt with the best of the best, starting in the 1970s when she was a "gallery girl" at John Weber Gallery. During her first few months, she met what she describes as a very macho group—Robert Ryman, Dan Flavin, Donald Judd, Sol LeWitt, Bruce Nauman and Richard Serra. John Weber Gallery was strategically located at 420 West Broadway, an address shared with Leo Castelli and Ileana Sonnabend, where she recalls, "There was one elevator that occasionally got stuck."
Not long after taking her first gallery job, Westwater transitioned out and became the managing editor at the then fledgling Artforum. "It was an office of five people, so we kind of did everything. I was spell-check," she says of the era. Westwater left publishing in 1975, but continued to play the role of editor. She linked up with Sperone and Fischer, whose impressive roster of European artists like Gilbert & George and Richard Long informed their gallery's early programming. "At the time we started, there were very few places that regularly showed European art," Westwater explains. "That was part of our original mission. Now, things have changed." Flipping through the Sperone Westwater archives, one sees the strength of the overseas influence; the 1970s and 1980s read as a who's who of Arte Povera, early Conceptualism and European Abstraction, from Joseph Beuys and Mario Merz to Cy Twombly and Gerhard Richter.
Sperone Westwater seems to have doubled down on their historical expertise, hosting recent shows like 2013's "Radio Waves: New York 'Nouveau Réalisme' and Rauschenberg" or "Early Minimal Work: Andre, Flavin, Judd, LeWitt," an exhibition which looked at the beginnings of the 1960s movement in 1977. "The only problem that arose in that show," says Westwater, "is that Don didn't want Dan's lights reflecting off his white sculptures."
The one thing missing from Westwater's early days as a dealer were other women. "We didn't show enough," she admits. A handful of shows by Louise Bourgeois and Brenda Miller were the exception to the rule. These days, females feature much more prominently. A painted stampede by Susan Rothenberg commands a wall in Westwater's office. "It actually came straight from her studio," Westwater says of the imposing canvas. "Susan always grew up looking up to Jasper Johns, and he had told her to always save some of her work. Aren't we lucky she did!" In the 2000s, the gallery picked up Tom Sachs, Jonathan Lasker and Laurie Simmons, who added a new context to a program that continued to produce nostalgic fantasies with regularity.
This January, Westwater revisited her history with Katherine Bradford. The two met in the 1960s and remained in touch over the years. "Our career paths took very different trajectories: Angela founded a top gallery and I struggled as an artist," Bradford explains. "But after buying a painting of mine last spring, Angela came to my studio in early September and reached out about showing some of my work. It seemed the perfect time."
For the exhibition, Westwater decided to spotlight Bradford's recent swimmer series, which remind her of a favorite Francis Bacon expression. "He said something like, 'Good painting is a direct assault on the nervous system,'" recalls Westwater. "Her work gives me that kind of jolt."
Angela Westwater is President of the Louis Comfort Tiffany Foundation.