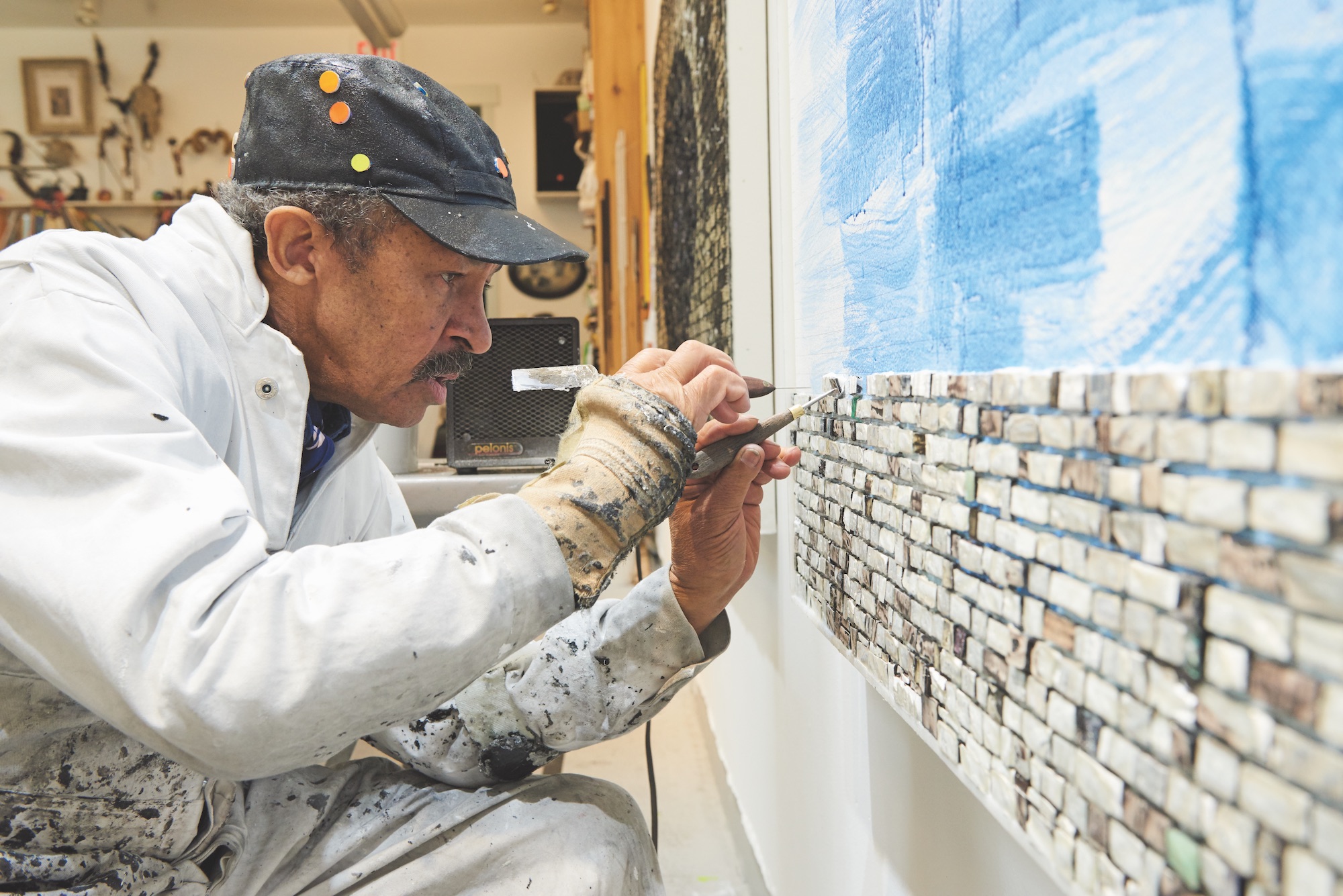 "We live in some very strange times,"Jack Whitten says, calmly sipping a mug of tea in his Woodside, Queens, studio the week before the inauguration of Donald Trump. The country might be in the midst of a moral and political free fall, but the painter—a fiercely mustachioed raconteur sporting a pigment-spattered white jumpsuit, Nike sneakers spray painted a reflective silver and a baseball cap dotted with a constellation of colorful dots—is enjoying a gray days professional revival. Whitten's debut solo show with powerhouse gallery Hauser & Wirth, spotlighting recent paintings, is on view in New York through April 8.
A more historically oriented follow-up opens at their London outpost in September, and now at 77, Whitten is poised to claim a canonical position he has long deserved: Last fall he was awarded the National Medal of the Arts by President Obama. He jokes,"I got in under the wire."
Given the state of the nation, it's no surprise that the artist's exhibition in New York revolves around notions of escape—rifts or slippages in the cosmos that might allow access to parallel dimensions. That includes a quintet of paintings from his "Quantum Wall" series—massive affairs that resemble brickwork interrupted by yawning and ethereal apertures—and works from Whitten's "Portals" series, which can also read as entryways into an alternate plane. Like most of his prolific output since the 1970s, these are composed without heavy reliance on traditional tools, like brushes.
Indeed, Whitten aggressively prefers to say that he "makes" or "slabs" paintings, rather than paints them. Decades ago he innovated a manner of pouring paint into leveled-off masses, raking the surface with various implements, including a 12-foot-long wooden contraption he dubbed 'the projector.' The end results were Richterian, squeegee-style abstracts that famously pre-date Richter by a handful of years. It was an experiment that once attempted, proved fruitful and provided a way out from the gestural abstraction that Whitten had previously been pursuing.
To understand the breadth of the artist's influences and obsessions since then, it helps to linger a bit on the wild sprawl of photographs, clippings, quotations and other ephemera dotting one wall of the converted firehouse studio he has occupied since 2004. There are heroes of African-American history, from Malcolm X to James Baldwin, who are both immortalized by Whitten in his decades-long "Black Monoliths" series; a new, abstract homage to the late Muhammad Ali from the same series is currently on view at Hauser & Wirth. There's a framed cover of The New York Times, following Obama's 2008 win—"Racial Barrier Falls in Decisive Victory"—along with reproductions of Malevich paintings, a babes-with-cars beefcake calendar, a handwritten quote from poet Adrienne Rich warning against art that "simply decorates the dinner table of power which holds it hostage" and various mementos from Crete, where Whitten and his wife have decamped to a village every summer since 1969. There, for a few months each year, Whitten takes a break from making paintings to carve wood. One of the unexpected advantages of partnering with his new gallery has been one of logistical resources: Hauser & Wirth facilitated the shipment of decades of Whitten's wood sculptures to New York. He's never shown them before, barring a 2011 D.I.Y. one-off exhibition staged in a former German army bunker on Crete, where Whitten paired his carvings with blown-glass works by a local artist and friend.
Despite these regular sculptural diversions, Whitten remains solidly devoted to the malleable potentials of paint. These days, he primarily fancies himself a collagist of sorts, one informed by a quasi-scientific process that exploits the possibilities of acrylic pigment and gel mediums. His first lessons as a young New Yorker were gleaned from Abstract Expressionists Franz Kline and Willem de Kooning. He often begins by pouring acrylic into non-stick Teflon baking trays. After that, "anything might happen," Whitten notes. Industrial-strength cutting machines—the "strong commercial stuff that average workers use"—might be used to slice a slab into discrete rectangular quadrants. Or Whitten might choose to load the mass of paint into a special deep freezer, afterward obliterating it with a hammer and letting chance determine the shape of the resulting bits.
These shards or intricately cut squares, around 1/8 to 3/16 of an inch thick and flexible, become what Whitten terms tesserae. He fondly recalls a formative experience with one particularly stunning example at Saint Catherine's Monastery on Mount Sinai in Egypt. These tesserae, some smooth and luminous, others rough and unlovely, are methodically affixed to a canvas generally after Whitten has laid down a basic translucent underpainting using Japanese hake brushes. Watching him labor on one of these in the studio—spearing each square of dried acrylic with a sharp awl, smearing its underside with medium gel and setting it into place like a well-chosen puzzle piece—starkly underscores his distinction between painting and making.
While he notes that the cornerstones of his process have been in place since the 1970s, there's no predicting what the restlessly curious septuagenarian might innovate next. That's until you glimpse a handwritten note, tacked to one wall of the studio, courtesy of none other than that ever under appreciated art-historian, Yoda: "You must unlearn what you have learned."
"I wanted to take the team a little further, to make sure we're working with branding, with who's operating the hotel, with the restaurateur and so on. I find it far more fun to work with everybody on the team, not just our little portion."