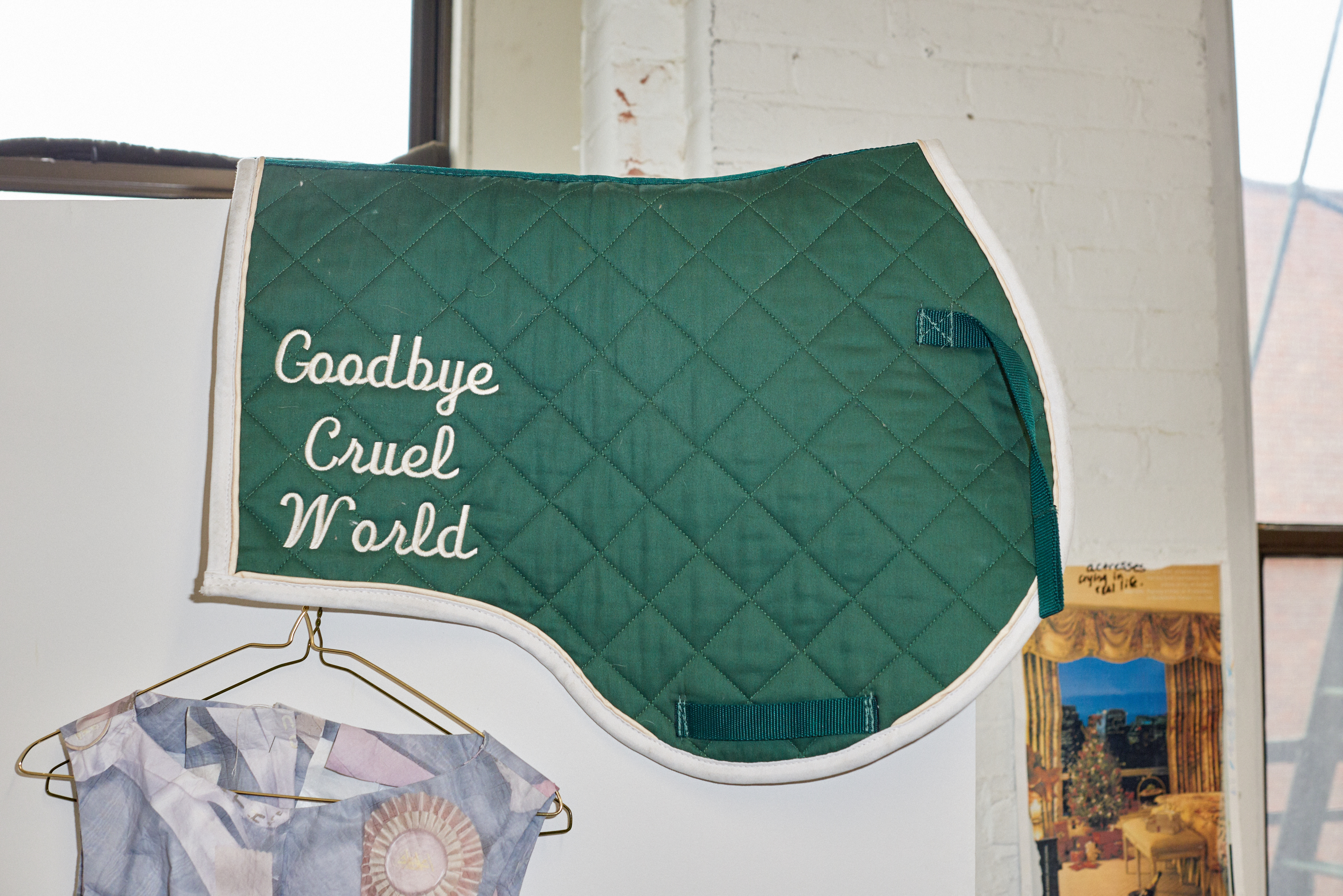 Cynthia Talmadge's studio occupies a cozy cobblestone street in Dumbo, New York. To get inside, one climbs a dreary set of stairs to find oneself in a bright little box. The sight is a remedy for grey Monday mornings as is Talmadge's disarming dark humor.
Prints from the artist's "Leaves of Absence" series line one wall. "Ideally, I'd like to stage them like this one day," she says. "As one line." The images depict Talmadge's conception for a rehab dorm room inspired by her research into high-end facilities like McLean, an famous psychiatric hospital in Belmont, Massachusetts, USA, and Hazelden, an alcohol and drug treatment facility in Minnesota. Talmadge staged each version in her studio. The process took her four years.
She unfurls the backdrop she used in the Hazelden set: a wintry stock image.
"I got these at the RISD picture collection and I had them printed on this fabric they use at trade fairs. I wanted a very idealized version of each season."
In one corner of the space, Talmadge is working out new ideas including a series of paper dresses patterned fourth and fifth place equestrian ribbons. "I learned how to sew in this weird class in Brooklyn. I learned just enough to make these possible."
Paintings consume one side of the studio. "The first one I made it's suppose to be snowing, It's this idea of an effect over an effect over an effect," Talmadge says of her pointillism. "I had this idea of painting winter break at the Seven Sister schools when everything is dead and miserable."
A cover for Tom Wolfe's Bonfire of the Vanities served as an image source for Talmadge who used it to create a sand painting.
Admiring the sparkling topographies, Talmadge gives us insight into the painstaking process, which begins with a giant laser sticker and ends with the artist revealing each section individually, powdering it and shaking off the excess.
Evidence of Talmadge's meticulousness can be found everywhere, but she is the first to admit that attention-to-detail is not something that comes naturally.
Before leaving we pour over her newest experiment, a desk-top full of fake Retin-A and Vitacid. Talmadge remade each box and plans to photograph them as a group. "If there is one guiding principle that I could apply to everything it is the fraudulence one feels when life aligns with cliche."