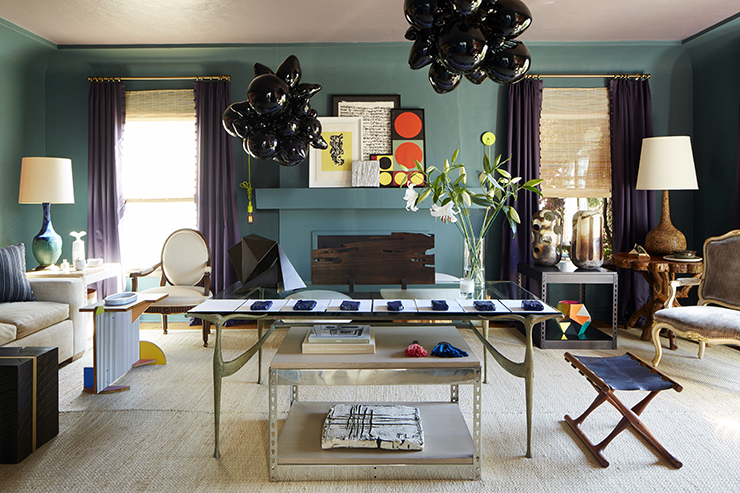 The Culture Creative has applied a boundless approach to the discovery of emerging talents in the decorative arts and has established itself as a prominent link between the consumer and the creator since 2010. Founded by Sean Yashar, the firm is further revolutionizing the relationship between the designer and the client with the launch of AUX, an un-gallery that aims to bring experimental ideas to life. Kelp Forest is the product of intensive creative labor by Oliver M. Furth and Tanya Aguiñiga — and is the third installment from AUX. Sean Yashar and Oliver M. Furth discuss their collaboration, inspirations and upcoming ventures with Cultured.
What triggered you to launch AUX? How did you come up with the idea? Sean Yashar: I started The Culture Creative in 2010, to champion the careers of talents in the decorative arts. Over the years we recognized a need within the design industry for more experimentation. Even the most revered design brands are often too focused on what they know, and at best, what they don't know. What I found widely missing is a third focus: what we don't know that we don't yet know. I believe an unlocking of all possibility is in this third pillar of knowing – the not knowing. I began to wonder what would happen if we posed thoughtful questioning to the design industry. AUX was born as a catalyst for a new way of thinking about material culture. We're about questions, agitation, boundary breaking, and dreaming of what could be.
What distinguishes The Cultured Creative from other L.A firms? SY: We manage design talent. There's precedent in adjacent creative communities for managing artists, actors, singers, musicians, and writers. I was determined to create a management firm for designers, makers, and decorative artists in a similar spirit. As a creative agency, The Culture Creative also offers branding, marketing, and PR services, but unlike other firms, we also seek and discover emerging design talent, we invest in an incubation period with our clients, and we help to build and guide careers from scratch. We only take on those who will take a journey of introspection with us. As our experimental production arm, AUX is another example of the extra steps our company takes outside the core services other firms offer.
I love the idea of AUX being an un-gallery, what are some of the other ways in which you are redefining the norm?SY: As a physical space, AUX exists halfway between the artist and the gallery system. The AUX space is referred to as an "un- gallery", in that the space is not a gallery but rather collaborates directly with artists and supports their representative galleries. As the name suggests, we provide auxiliary support to designers, artists and makers, by not just advising in the consultancy sense, but by physically doing: be it engaging commissions of new works in advance of the immediate needs of the market.
The purpose of the AUX space is to show works in progress, as well as, crucially, failed projects. I believe that looking at failed attempts, at say a chair or table prototype, can be as thought-provoking as looking at finished work. I like the idea of galleries as temples for the heights of execution, while a platform like AUX can offer insight into an artist's thinking. In our age of transparency, the AUX model is akin to the same curiosity satiated by visiting an artist's studio; it's an invitation into the process.
What other AUX projects do you have in mind for this year? Any designers on your radar? SY: We're developing a project with a candy maker based in creating edible materiality for design. We're also working on a scent project with an olfactory artist, exploring ancient herbs with psychedelic properties for the home. As an experimental platform, we're intimately involved with failure. Some of the best projects are the ones that never materialize.
How would you describe your creative process? SY: Creating solutions to problems that don't yet exist.
When did your love for interior design begin? Oliver M. Furth: Since I was very young, I've always been a visual person and I've always been interested in homes. I first got a subscription to Architectural Digest for my 9th birthday. I started my career when I was 15, working in architect Marc Appleton's office.
How did you decide on the final materials used to create Kelp Forest? OF: The frame and structure are made from industrial shelving supports that I had plated in a matte-black nickel. These industrial pieces (plated and repurposed) are something I specify often for bookcases and tables. As for the weavings themselves, Tanya and I liked this mix of textures all unified by their color. So she included a lot of different elements in the weavings -silk, wool, jute, cotton, hemp. All those materials layer, and they add to the depth of the piece.
How was the making of Kelp Forest different from any previous project? OF: Much of my work as a designer is akin to being a conductor of symphony. I collaborate with artists, craftspeople, makers, in order to create the best possible performance, and I'm also coordinating several different "instruments" for the purpose of one unified harmony. In the case of these consoles, Tanya and I worked closely on the concept, but there were also (4) other vendors involved –not to mention AUX who's initial idea served as muse -almost like a client.
Was this your first time designing with Tanya Aguiñiga? OF: No. Tanya is a fellow member of LA's community of artists and designers, and has become a friend. I have a few of her pieces in my own home, and she and I have worked together on several other projects over the years. Recently, I commissioned a set of felted dining chairs for private clients. Several years ago, Tanya made a chair for LACMA's permanent collection, for a Contemporary Design initiative I helped to put in place.
What was it like collaborating with AUX? OF: I don't think there's anyone in our industry who's more thoughtful, innovative, or hardworking than Sean Yashar. We have been trying to find the right project to work on together for a while. When he had this idea to bring Tanya and me together for a piece of furniture that takes weavings "off the wall," it seemed like the perfect opportunity.
Photos by Stephen Busken.