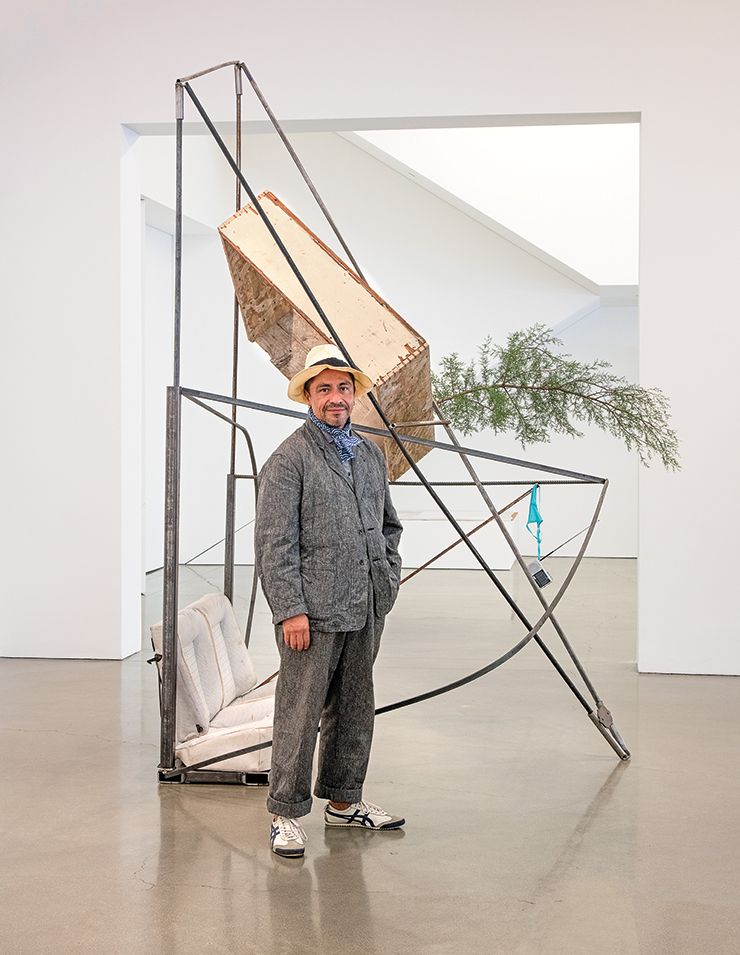 Mexican artist Abraham Cruzvillegas has a very diverse list of people and things he considers to be his main influencers: Antonin Artaud, Günter Grass, Pier Paolo Pasolini, Miguel Covarrubias, Werner Herzog, the huasteco (a style of Mexican music) falsetto, William Carlos Williams, Juan O'Gorman, Dylan Thomas, Julián Carrillo, Jorge Cuesta, Rainer Werner Fassbinder, herbology, gastronomy, aboriginal communities, ivory carving, colonialism, imperialism, the structure of scientific revolutions, asthma, falconry, punk, animism and erotic Japanese art.
They might help to explain the kind of sculpture he creates, as part of a process where improvisation has a predominant role and a heterogeneous range of materials, most of them recycled, is commonly present. As a result of this mixture of reclaimed or neglected elements like wood, plastics, feathers, glass, plants, cement or cardboard, his work acquires an air of something that is about to be made—or unmade.
He is best known for his Autoconstrucción (roughly translated as self-construction) series, where he explores the possibility of building sculptures inspired by the resourceful and intuitive way the inhabitants of Colonia Ajusco—his childhood neighborhood in Mexico City—build the houses in which they live. Due to the constraints of poverty, they reuse materials and produce structures without an architectonic plan to support them, at a moment when, as Cruzvillegas explains, "a visual will, an urgency for comfort, functional inventiveness, and monetary shortage come together." It is not that he is interested in "presenting poor-people architectural models" for the art world audience; instead, the idea is to produce a kind of sculpture that calls on circumstance—it is not the result of a previous design but of the pure contingency to work with what is out there. Or as Cruzvillegas' father would say, "with resources, without resources and despite resources." How to build something without consuming.
At the beginning, his work seemed to be evidently related to Mexico, but he explains that it wasn't really about that. It had to do much more with a condition associated with his own experience: living in a self-constructed house. A condition that, as he describes it, "is sister to the unequal distribution of wealth, the corruption and the hybrid building forms that arise from people's urgency to solve their immediate problems, all over the world, with different names—favela, shantytown, slum, villa miseria, settlement, comuna, bidonville, misery belt, geçen doku, township, ghetto. They are united socially and economically, in spite of their cultural differences." He often travels empty-handed, so that he has to ask for local help, and adapt his sculptural resources to the specific working possibilities of each place.
Last year, he was invited to create a piece for the Tate Modern's Turbine Hall. He built an enormous grid of triangular planters called Empty Lot, where a huge amount of soil was transplanted from 36 sites all over London in order to produce a landscape of different textures and colors of earth. Cruzvillegas expected that weeds, grass and fungi could sprout randomly, here and there. Until now, he had kept his work on a scale that one could call modest, so when asked about the challenges posed by working inside this gigantic hall, he confessed that he actually felt very comfortable and protected by a big team of technicians, who allowed him to develop a project that acted as a representation of hope that life could come up and "something could actually happen at that place," he says. "Somehow I just designed an educational device, in which I was the one who learned the most. In 'The Art of War,' its mythological author states that there is no small enemy, and because I tend to literally follow that strategic motto, I dealt with that circumstance as I would with any other, no matter the scale or visibility it represents."
He chose a similar approach for his most recent show at Los Angeles gallery Regen Projects, where he mixed elements associated with his own identity, or what he envisions that could be. "It's an imaginary narrative of what I perceive to be my evolution, built mainly with desires, urges and juvenile idealizations," he says. He turned to California flora, looking for plants whose seeds, flowers, leaves, bark, fruits or petals were edible or used in teas, remedies, ointments, balms and healing nectars. Iron bars were randomly welded together to provide structural support to the works, "with numerous references to the development of three-dimensional art languages," he says. Many sculptures in the show also featured rear seats of vehicles that he or his family have had since he was born (in 1968) and portable radios turned to local stations. He mixed all that "with native plants and dental floss thongs."
He is now working on a sculpture inspired by the flamenco dancer and choreographer Israel Galván, to be presented in a museum in the South of France. The work will be activated by two professional folk dancers, who will tap dance on it to turn on sounds and vibrations. "It will be improvising, no rehearsals," he says. He's also preparing a couple of books, "writing protest songs and learning to sing."