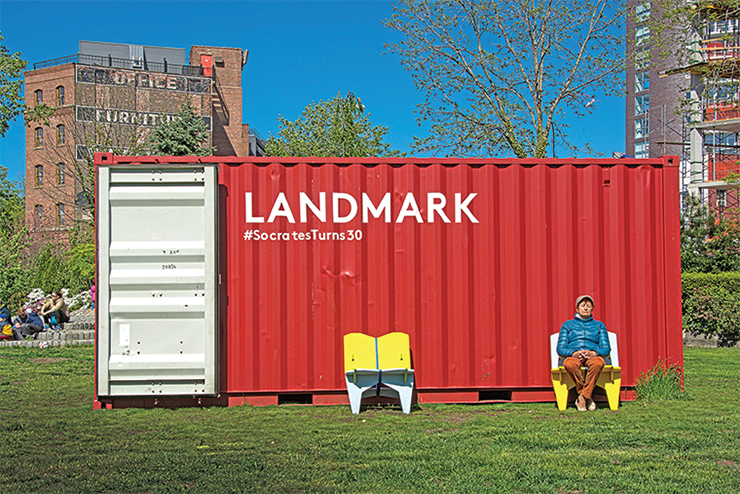 Over the past 30 years, a five-acre stretch of waterfront along the East River in Queens, New York, has gone from derelict to inspirational. The site of today's Socrates Sculpture Park was where piers once stood as shoreline docks for unloading brick, masonry and stone.
The property was eventually abandoned and turned into an illegal dumpsite, but it has since blossomed into a renewal project that promotes art, its creation and the broader neighborhood. At the heart of the effort is Mark di Suvero, the eminent sculptor whose vision gave luster to Socrates Sculpture Park. By 1986, di Suvero, whose studio sits just yards away, thought it was worth saving and founded the park that year. He saw its potential as a public arts space and hired local residents who pulled out rusted cars and other debris to reclaim the neglected land. Di Suvero also partnered with the city, which owns the land, making it an early model of a public/private non-profit arrangement.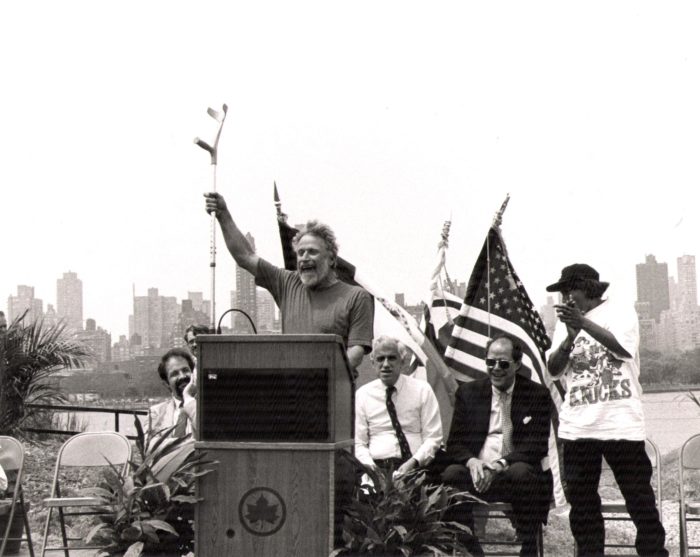 In the last 30 years, the park, which is free and open 365 days a year, has supported more than 1,000 artists and continues to deepen their commitment to the community. "We are an art organization, but our tentacles are broad," says John Hatfield, executive director of the park. Socrates has fostered long- and short-term partnerships with more than 50 organizations to provide a variety of vibrant programming from kayaking, dance and film to arts education workshops and residencies.
Now on view through March 13, is the annual "Emerging Artist Fellowship Exhibition," which showcases the work of 15 artists who spent June through September at an on-site studio to produce their pieces for the show. Hatfield says that transparency to the creative process remains key. "People get to experience the work being made as well as the install, and they start asking questions. You engage in some pretty fundamental discussions about what you're trying to do. On most sites you have to start work at midnight and close down at 8 a.m. Nine times out of 10 that work is 100-percent fabricated elsewhere. We connect the community to things happening in the landscape or ideas or content being generated by the artists. There's an immediate understanding. It's almost mentoring not by explaining, but by doing."
The previous show, "Landmark," held over the summer, featured art that links Socrates to its origins of reclamation and renewal. Meg Webster's Concave Room for Bees (2016), the centerpiece of that exhibition (it continues through March 13), combines urban fragments and flora. A six-foot-high, 70-foot-wide geometric and concentric wall of mesh steel opens through a central hallway to reveal a sloped interior "bowl" filled with 1,200 pollinating flowers, herbs and shrubs that attract pollinating creatures. The space becomes multi-sensory and aromatic. As a mark of the park's ethos, the 400 cubic feet of soil used in Webster's piece will be relocated throughout the park as much needed topsoil. "With each artist there's a narrative, implicit or explicit, that connects it to this site and this organization," says Hatfield. Concave Room for Bees is an "exercise that mimics the history of the park. It is a harsh, minimalist, geometric form that clearly announces itself as a manipulated, orchestrated object, and then you enter this amazing garden. That's a little bit parallel to the park itself: It has a beginning, middle and end but in a way, it's also a permanent work."
Socrates will soon add their first permanent structure to the site. The Cubes, a 2,640-square-foot building designed by LOT-EK, expands on a design originally commissioned by the Whitney Museum of American Art; it was donated to Socrates when they moved to their new location near the High Line. As the park celebrates its 30-year anniversary of thoughtfully assembling nature, art and shared ideas, the institution—with di Suvero at the helm—continues to look ambitiously toward the future. "When I started working in this area, the land was a wreck of a pier. Now it is a magnificent park, a working space for artists, and a safe haven for the community," says di Suvero. "Culture is essential to civilization, and Socrates Sculpture Park is a cultural commons for the people, for the artists and for New York City. It is about people working together through art to change the world."