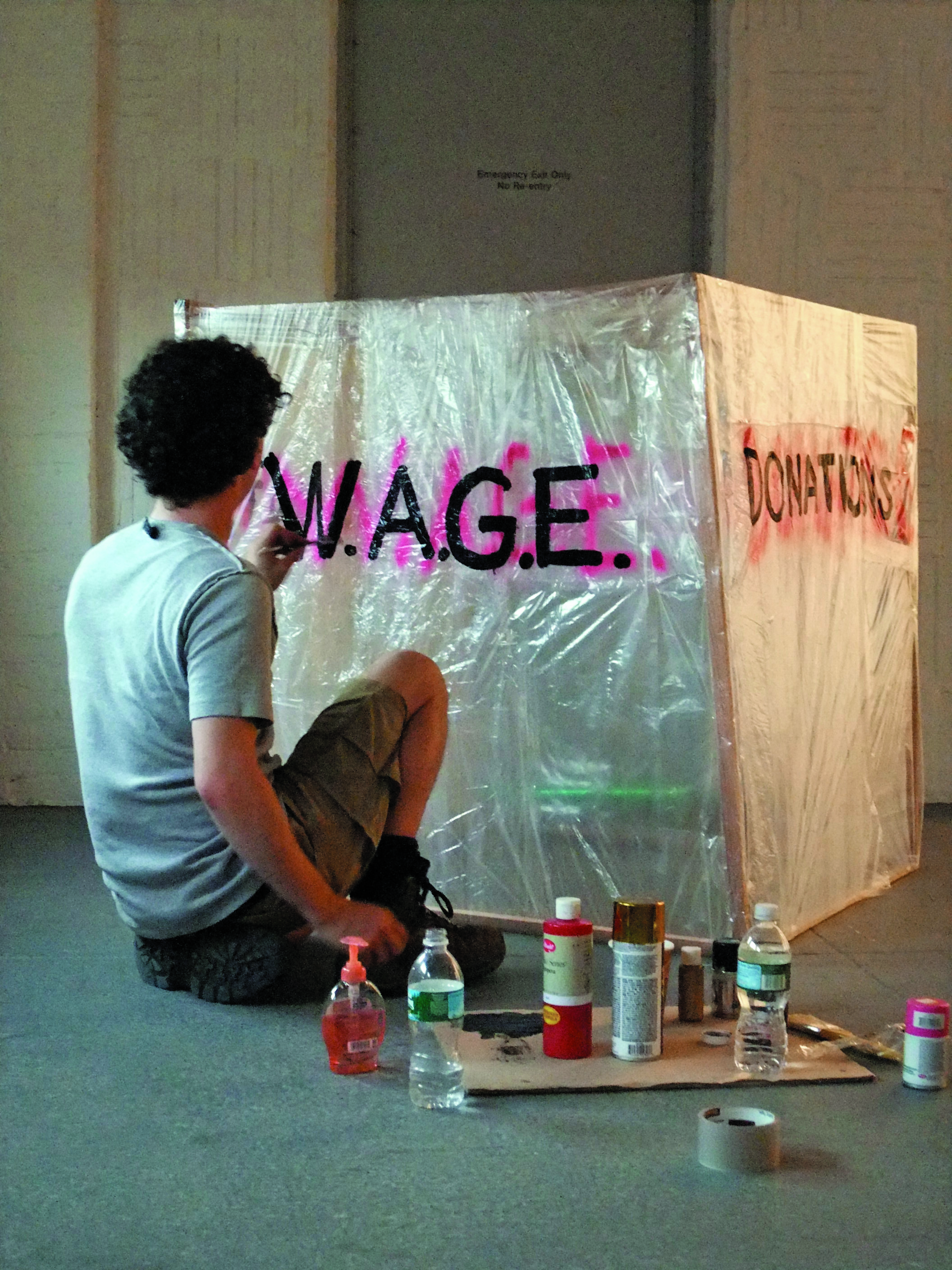 As record-breaking auctions for artworks become increasingly common and museums continue to set strong attendance figures, it would be easy to forget that not all in the market are enjoying the spoils of our insatiable cultural hunger. Lise Soskolne, a Canadian-born artist who lives and works in New York, has been an organizer within W.A.G.E. (Working Artists and the Greater Economy) since its founding in 2008 and the core organizer since 2012.
W.A.G.E. is a grassroots activist organization that began as a group of artists and curators who became aware that they were being paid in exposure and not money and were all interested in the effort to be compensated for their work. As part of the manifesto reads, "W.A.G.E. demands payment for making the world more interesting."
Over the past eight years, W.A.G.E. has been compelled to help enact a fairer system of artist payments by doing the legwork on complicated research behind putting together a picture of where money goes and how much artists are getting paid. They promote an economy that rewards those who generate the value, with the goal in mind to provide support for artists and hold nonprofit institutions—whose expenditures are made public and thus more readily traceable because they receive public funding—accountable for doing so. A series of talks, events, interviews, teach-ins and workshops helped to raise the initial public consciousness. Then in 2010, the group distributed an anonymous survey to collect data around artists' economic experiences. Nearly 1,000 individuals participated and contributed to W.A.G.E. establishing minimum fees (called "Floor W.A.G.E.") for various categories of work. At its most basic, these fees are based on a percentage of an organization's total annual operating expenses.
W.A.G.E. also began to certify institutions on a self-motivated basis. Those already on the list include Artists Space, The Soap Factory, Swiss Institute and Threewalls and Art League Houston. Institutions can apply for W.A.G.E. certification every quarter by sending a letter of intent and documentation that demonstrates the organization's voluntary commitment to pay artist fees at a minimum or greater. W.A.G.E. continues to set standards. This November, the organization will launch WAGENCY, a broad-based coalition and artist certification program intended to provide working artists with the necessary agency to withhold content and services from institutions that refuse to pay them fees according to W.A.G.E. standards. "The idea is that we need artists to find a way to put pressure on organizations. It's about building a coalition," says Soskolne.