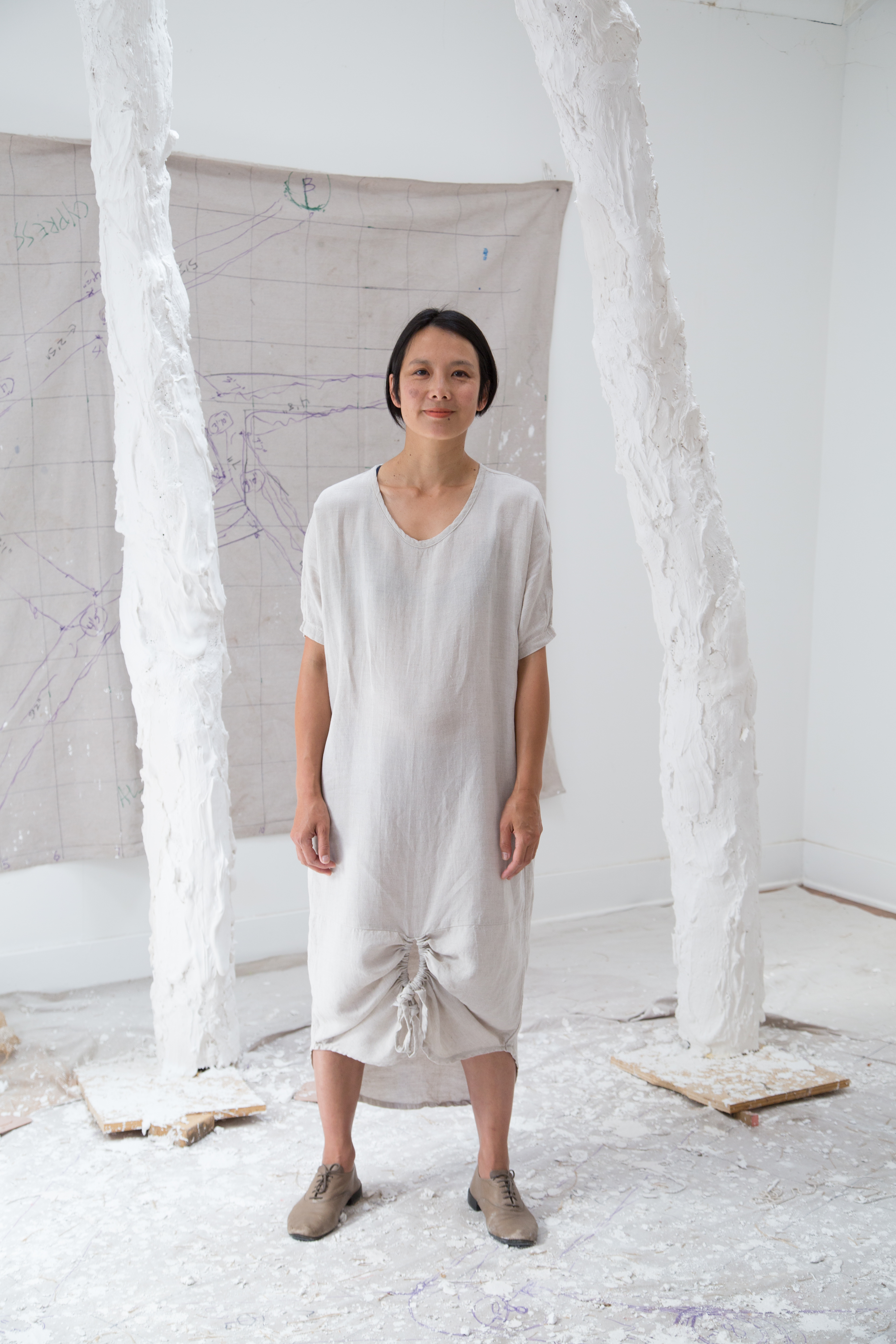 Though Anna Sew Hoy's mother taught art in Auckland—and befriended top Kiwi practitioners like Terry Stringer and Robin White during her daughter's infancy—becoming an artist wasn't really an option for the younger Sew Hoy as a teenager in Santa Monica, California. "I was steered toward classical violin and to be a doctor or something," says Sew Hoy, "that Asian immigrant cliché."
Her orthopedic surgeon father did, however, give her some creative license with his stainless steel hip replacements as a child. Years later, he cast her wrist and ankle for POW!, Sew Hoy's 2008 installation at LA><ART that featured the two life-size plaster casts (visitors signed the wrist and tagged it with "Vote Obama" slogans). "It was to show the passing down of manual knowledge and how this cannot happen through reading," she explains. In a subsequent opening at the Art, Design & Architecture Museum at the University of California, Santa Barbara, visitors inked the ankle cast with lines of scripture that were later crossed out (causing a minor controversy).
"It's sort of like a public square for two hours. If you did it today it would all be Black Lives Matter and Trump signs," says Sew Hoy. Her works have certainly skewed more conceptual since she studied with Lynda Benglis and Alice Aycock at New York's School of Visual Arts: tumbleweeds made of Sapporo beer cans; stoneware dreamcatchers; faceted orbs that contain viewfinder-esque holes that are glazed on the inside, wrapped in cloth, and filled with sunglass lenses and hangers made of extruded clay, dressed in denim. Still, everything for the Chinese-American artist goes back to the body and her early love of Rodin.
"In art school these days we talk about de-skilling, but my sculpture is handmade so it's made to be viewed in the round, and it's definitely made with the person looking at it in mind—it anticipates that," says Sew Hoy, whose recent shows at L.A.'s Various Small Fires and New York's Koenig Clinton feature examples of her Mirror Blob, a work fitted with mirrors inspired by those in the rafters of Shinto temples. Meanwhile, the artist's Psychic Body Grotto, a new bronze "figurative gazebo," is destined for the Los Angeles State Historic Park this fall.
"There's going to be a multiplicity of surfaces," says Sew Hoy of the flowing, wasabi-like texture of the Grotto, which she first mastered with plaster while creating a piece representing the sushi condiment at SVA. "It's a lookout place for unexpected things to happen and it's against the Cartesian," she says, asking, "Why do rooms always need right angles?"