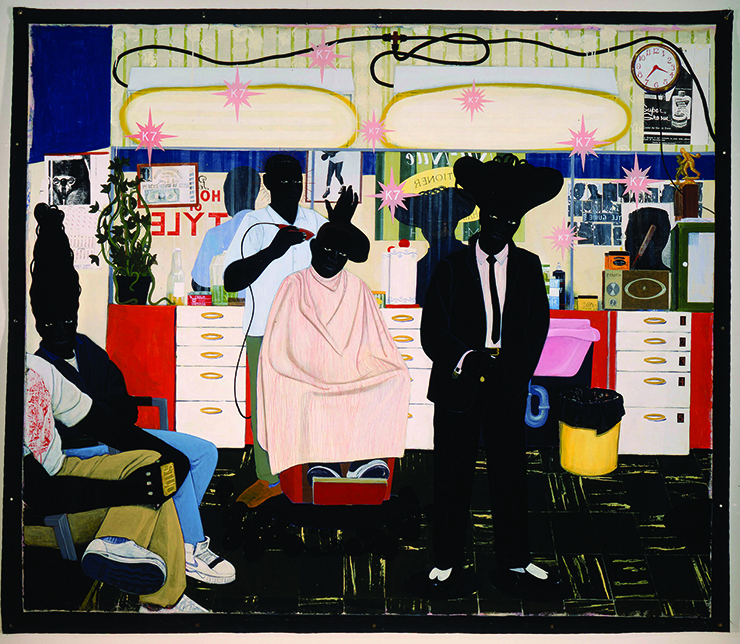 For all its high-minded rhetoric about culture and politics, the international art world is not as diverse as it wants to be. And yet, with the work of talented people like Kara Walker, Martin Puryear, Mickalene Thomas, Kehinde Wiley and others, there has been a steady flourishing of African-American painters, sculptors and multi-media makers.
In that context, the Kerry James Marshall show coming to the Met Breuer at the end of October feels like a significant milestone. "Mastry" has 80 works, 72 of which are paintings, and the location—an outpost of The Metropolitan Museum of Art, with the treasure-laden mother ship just a few blocks away—suits Marshall to a T, given his ambitions.
The Chicago-based artist has spent his life patiently honing his skills and fashioning a space for himself in the grand painting tradition. "You can't match the power and the authority of some of these great, big, narrative figure compositions," says Marshall, 60. He has found a way to push the genre forward dramatically with complex, layered canvases featuring monumental black figures. The paintings comment on and digest the past, creating a vivid life of their own.
The show, which was organized by the Museum of Contemporary Art Chicago and appeared there over the summer, features big tableaux like Our Town (1995) and School of Beauty, School of Culture (2012) that show off Marshall's control of both line and composition.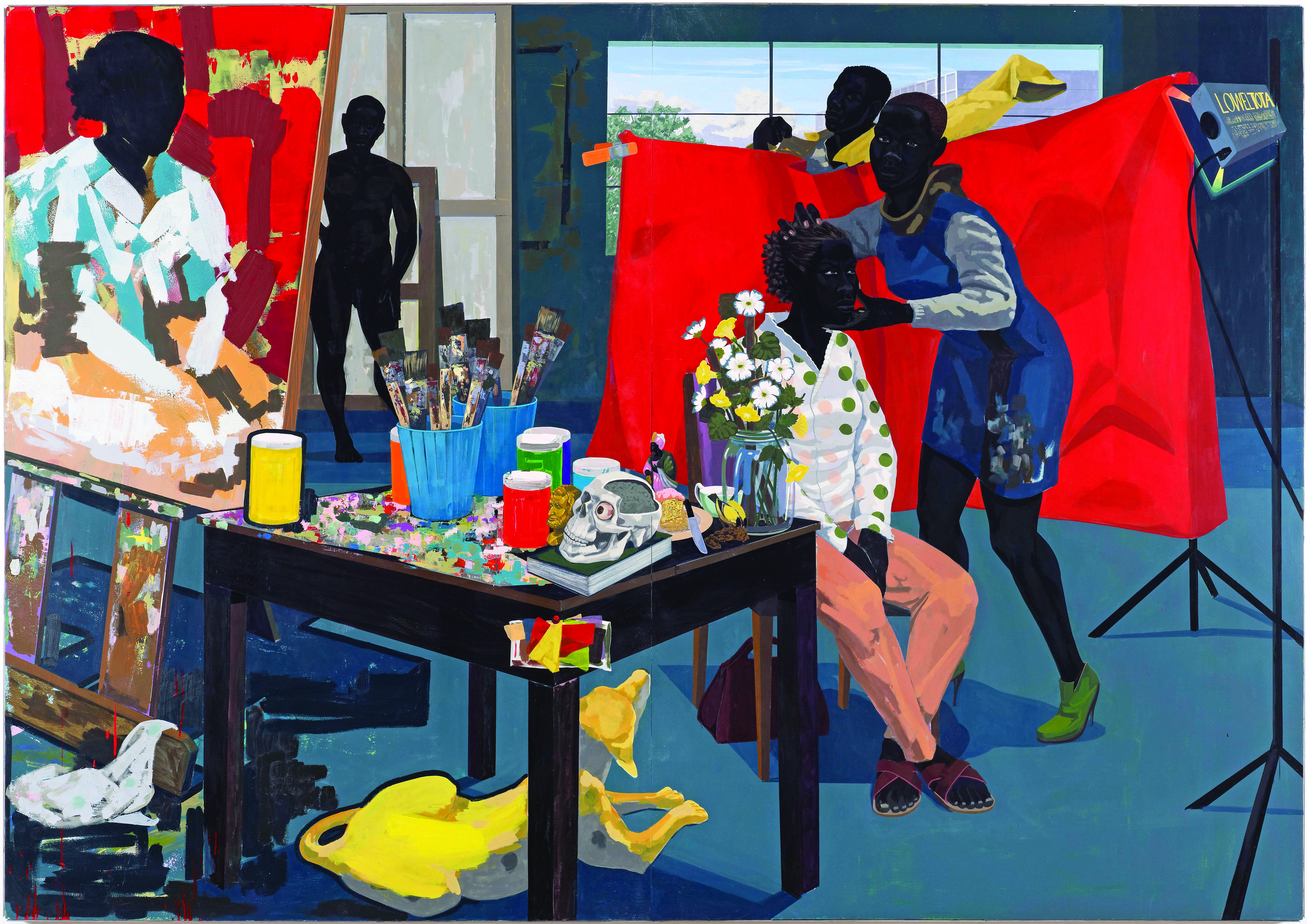 His talents extend to his ability to articulate the thorny issues of race in the art world. He has the skill to talk in complete, lucid paragraphs where other artists might hem and haw. "In one way or another you have to say that every black person who is making art is engaged in the same project, and that project is to bring more visibility to black people across the diaspora and secure a place in the center of the mainstream conversation," Marshall says. "I don't know a black person making art who is not doing that."
The exhibition title "Mastry" is Marshall's own term. "The spelling I use is actually meant to, in some ways, undermine the conventional understanding of what the term means and make it more available," he says.
Marshall is a Los Angeles native whose first art experiences came in that city, beginning with discovering the Los Angeles County Museum of Art, and his interest blossomed from there.
"The first art book I ever bought was one of those great, big, oversized monographs on Leonardo da Vinci, in junior high school," he recalls. "Back then, my father would go to used book stores and magazine shops a lot and I liked going with him." Going through da Vinci's life and work was transformative. "That book was $19.95. I remember exactly." He paid for it on an installment plan with his allowance.
Among its many lessons was that draftsmanship was at the core of da Vinci's artistic achievement. "The real value of having that skill was that you could use it to explore things," says Marshall. "That book really shaped my whole concept of what it meant to be an artist."
His other artistic icon may be surprising, given his first choice. "Coming across Marcel Duchamp was also kind of a revelation, because he was kind of like the modern Leonardo da Vinci," says Marshall. "He was using artwork to explore the idea of what it meant for a thing to be a work of art. That meant he did everything."
Both of those artists had studios that were more like "laboratories," in Marshall's words, which parallel the scientific precision to the way he works. "I like equipment," he says, chuckling a bit at the understatement. Perhaps the most out-there tool he keeps around is a computer-assisted microscope with a video assist on it; he uses it as an optical printer.
For Marshall, tools are freedom, giving him "the skills and the ability and the means to do anything you want to do without having to ask permission." And he spends a lot of time in the studio, "from sunup to sundown, every day that I'm in town," he says. He used to have an assistant but is currently working solo.
Marshall attended L.A.'s Otis College of Art and Design in the 1970s, when painting had supposedly "died several deaths." But he was able to find teachers to help him dig deep into the mechanics of the genre. He says they showed him "how to break these great paintings down and separate all these layers out and find out why they work the way they do. That was, to me, the answer to everything."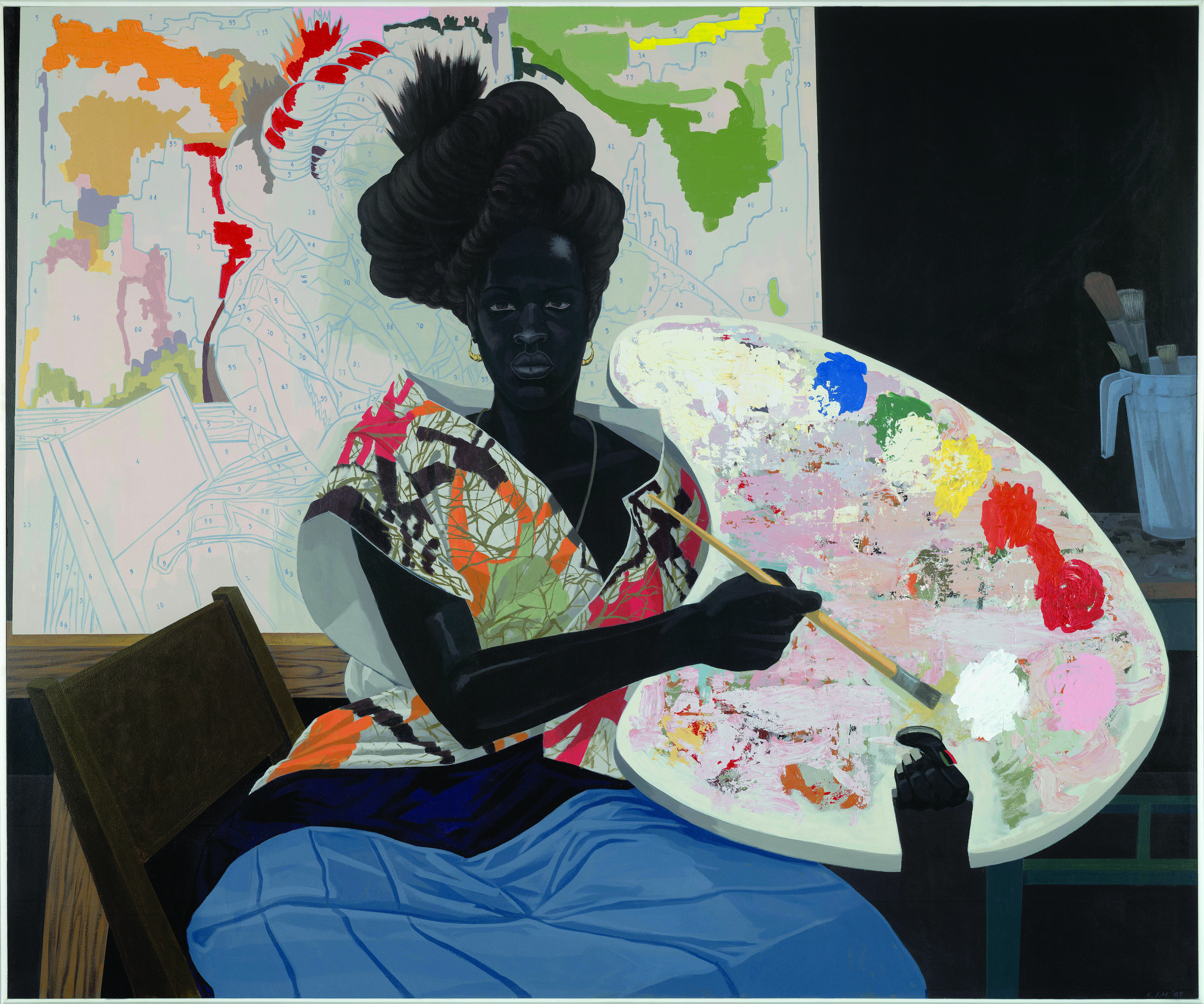 Finding his own style didn't come right away, but by all accounts it arrived with the 1980 A Portrait of the Artist as a Shadow of His Former Self, depicting a grinning, toothy black man on a black background, playing with the idea of "blackface," and notions of invisibility. Marshall showed the painting, which is in "Mastry," with his first dealer, Koplin Gallery. It sold right away, confirming that he was onto something.
Inevitably, he moved to New York, but his time there was largely marked by what he didn't do. "I didn't spend a whole lot of energy trying to get in the art scene," says Marshall. "I figured all of my energy had to go into trying and do the work." He buckled down and disappeared into the studio for six years without another show.
Playing the long game was wise: He eventually won a MacArthur Foundation "genius" grant in 1997, and these days he shows with dealers Jack Shainman and David Zwirner. Another example of his patience was in 2003, when he rebuffed the first proposal for a big retrospective of his work. "I said it wasn't time for a retrospective show because it wouldn't be deep enough," says Marshall. He preferred to wait.
Now that the show has happened and is touring the country (the last stop will be next year at the Museum of Contemporary Art Los Angeles, in his hometown), Marshall is unabashedly savoring the achievement. "It's an affirmation of the discipline I put in and the commitment I made to stay with the figure, even though at some points it was unpopular." It's hard to argue with him when he adds, "It finally paid off."