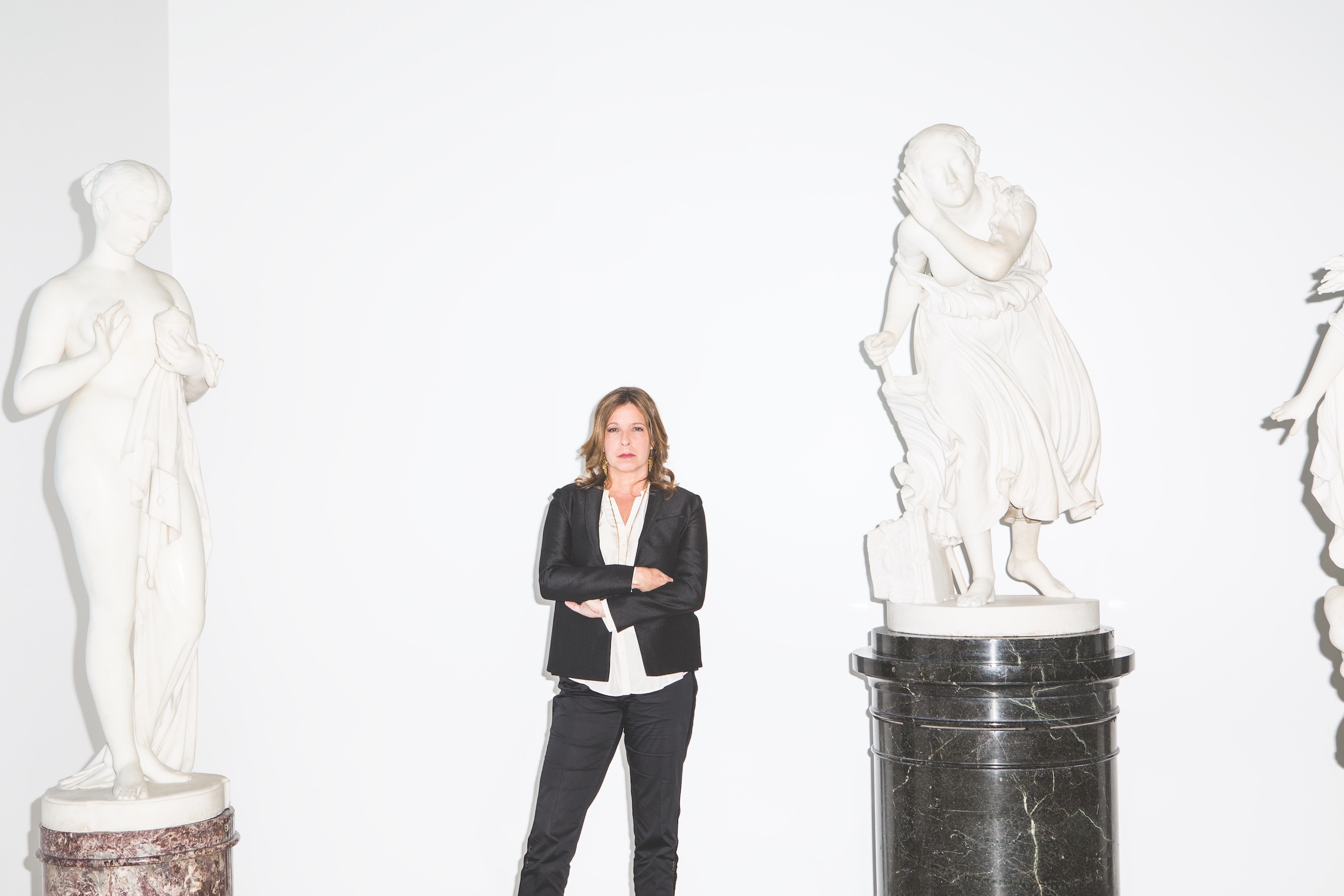 It's late afternoon on a Thursday, and Anne Pasternak is in the middle of another long day—she often works until midnight in her relatively new position as director of the Brooklyn Museum.
In her outer office, she sits under a Modigliani portrait and slips off her white Maria Cornejo shoes. Barefoot, she descends a secret staircase from the executive offices into the museum's galleries of American art. The guard who is stationed there looks at the shoeless boss but remains unfazed.
Pasternak, who took over last fall after serving over two decades as director of the nonprofit group Creative Time, is jazzed about the extreme makeover she and her team have given to the American collection—famous for its treasures but snoozy, and quirkily installed in the past.
"Look at this!" she says, standing amid some great examples of Native American pottery. "You look one way, Charles Willson Peale's portrait of George Washington. You look the other, a Mickalene Thomas picture."
It's a fresher, more inclusive and more contemporary way to look at the American story, and just one example of how Pasternak has already put her own stamp on the institution as the first woman to lead an encyclopedic New York art museum.
"When we reinstalled the American collection, it wasn't a conversation of just rolling out the masterpieces. It was a conversation of, 'Who is American?'" she says.
Now, works from indigenous peoples are front and center, instead of "sidelined off to the basement or to a side gallery," she says. "This is not your typical story of American art."
The re-thinking of the American collections was one thing, and the speed at which the project was accomplished was quite another. "We didn't take five or six years to do it like most major institutions would," Pasternak says. "We did it in six months. I said to the curators, 'It won't be perfect but nothing is perfect, and we can change it again.'" That in itself is a far cry from what most museum directors might say.
Even her office isn't typical: It was transformed by Stephanie Ingrassia, a vice chair on the museum's Board of Trustees. Lush pink-velvet barrel chairs and a long wall of eye-popping graffiti wallpaper from the Brooklyn company Flavor Paper reflect an unexpected workspace.
Pasternak is used to working nimbly, and she has no intention of running the Brooklyn Museum differently. "Yes, I want to take steps immediately," she says. "I'm extremely hungry and impatient."
At Creative Time, which stages public art projects, she had 30 employees; at the museum, it's more than 300. But the dynamic Pasternak is unbowed by huge upsizing. "Actually, I find it easier to lead a large group of people than a small one," she says. "In a small group you're a family, so there's a lot of dysfunction and fewer people to do things. In a big group you can really mobilize them to do incredible things."
Those feats include more than the American overhaul. The museum's lobby never displayed major art installations before, but Pasternak regarded that as a waste and exhibited boom boxes by Tom Sachs. "We took down all the corporate banners," she says. "We took out the stanchions. Guess what? People know how to wait in line."
Fall 2017 will see several exhibitions, among other public programming, celebrating the 10th anniversary of the Elizabeth Sackler Center for Feminist Art. (Sackler formerly served as the board chair of the museum, and was key in hiring Pasternak.)
"It's not so much about women and feminists. It's about this larger conversation," says Pasternak, who is excited to show the work of her friend Marilyn Minter in the mix next fall. "In a time when people are questioning sexuality and traditional notions of gender, the museum has sort of pulled back to take a look at this moment."
Pasternak's hiring was a major break with tradition, in that she's never worked for a museum before. One thing she did right away was hire the highly regarded Nancy Spector, formerly of the Guggenheim, as deputy director and chief curator.
"People who didn't know me so well thought, Oh, God, a contemporary art person leading an encyclopedic museum," Pasternak says, laughing. "I understand that but I studied art history. I'm passionate about culture and art from all around the world from all periods of time. It's an extraordinary privilege to have 5,500 years of human creativity here. It's a big responsibility, and one I take really seriously."
And as for being the first woman in such a role—well, Pasternak has an anecdote that illustrates what all women in the field are up against.
"I remember not long ago being in Aspen at the Caribou Club, and I met a lovely gentleman and his wife—trustees of a major institution in the Midwest," says Pasternak, discreetly keeping its identity private. "I said something along the lines of, 'It's so interesting how very few women have led museums with budgets over $20 million.' He said, 'Oh, but Ms. Pasternak, I'm sure when a woman is qualified she will be considered.'"
Here, Pasternak pauses to savor the ironies: "I thought I was going to die."
Having reached the pinnacle that some thought unlikely, she is digging in with an impressive fervor. "I'm full throttle every single day," she says. "I'm getting here at 6:30 in the morning and I don't go home until midnight." Relationship building takes up 70 percent of her time, she estimates, a large portion of which is fundraising. The Brooklyn Museum already has wonderful supporters and friends, she says. "We just need to make more of them."
Occasionally, she escapes to her Putnam County weekend house to detox with her husband, the artist Mike Starn, who works with his twin brother, Doug. Luckily, she says, "Mike's a workaholic, too."
As she talk about her plans for year two, it's clear that Pasternak's take on the long scope of art history is a nuanced one that does reflect her contemporary background, in that a bit of confrontation is a comfortable place to be.
"Art doesn't have to just be joyous and hopeful," she says. "It can also tell us very difficult truths about ourselves. Artists don't shy away from the realities of history. They reflect them."