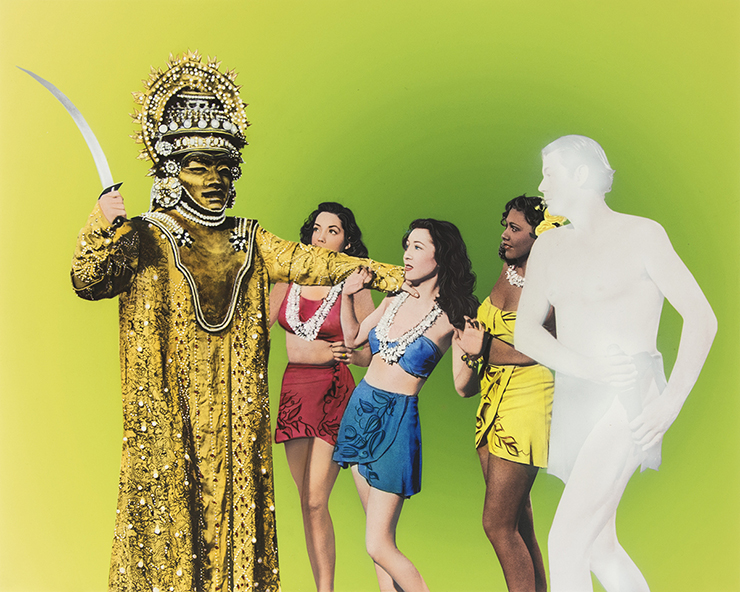 There was plenty of buzz during Mexico City's recent Gallery Weekend surrounding Jonathan Hernandez's sculptural re-appropriations of narco assets covering the floors and buried inside the walls at Kurimanzutto, the alchemical experimentations of Fritzia Irízar at Arredondo\Arozarena and even Candida Höfer's new photographic series of Mexican architecture at Galería OMR. However, the sprawling multimedia exhibition at El Cuarto de Máquinas—from promising homegrown talent Cristóbal Gracia—proved to be one of the weekend's most rewarding discoveries.
"For me, everything started with this fascination I have with Acapulco," says Gracia, 29. The show, "Aquatania part I," incorporates sculpture made of organic and classical materials, hand-painted c-prints and canvases, and an 11-minute video exploring the complicated seaside resort town's intersection with Tarzan and its troubled star Johnny Weissmuller. As Gracia sees it, Acapulco is "a very decadent and nostalgic place, filled with excess, social contrast, corruption trying to play the idea of a scenario of a paradisiac beach destination while it is ruled by the violence of the drug war in Mexico," he says, noting it's also one of the most dangerous cities in the world.
That said, Acapulco once provided a backdrop to numerous films, including Edgar Rice Burroughs's 1948 B-movie classic, Tarzan and the Mermaids. Weissmuller, who played the lead in 12 Tarzan films, died nearly destitute in Acapulco, living out the final years of his life in the Hotel Los Flamingos. "He was lost in his own decadence and the frenzy of his character and he used to scream in his last days, thinking he was actually Tarzan," notes Gracia. To this day, some people still claim to hear the actor's ghostly gasps inside the hotel.
Attracted to the post-colonial exoticism of Mexico, Hollywood execs assumed Acapulco could easily substitute for Africa, and as such Gracia sees the film as a larger metaphor for the political intervention of the United States in Latin America. "I took some of the scenes of the movie that I consider most iconic of this [trope] and did a reinterpretation in the same locations it was filmed back in 1948," says the artist, who employed local fishermen as his actors. "I wanted to use the same social roles the film has in it."
The main video, Aquatania. A man should stand where God places him – jungle trails or Hollywood streets – and fight for those things in which he believes, which plays in the back room of the gallery was shot at the original locations from 1948 near a tourist beach called Playa Condesa and a small island called "Farallon del Morro." Gracia's version features the local fisherman from Playa Hornos playing the natives who ply their trade in the shadows of the resort towers and pray to the fake god Balu as he waves pool noodles atop a rocky, graffiti-tagged summit. "Balu is a fake god taking advantage of the people of Aquatania, then he is unmasked by this ghostly presence of Tarzan embodied by his voice after taking his mask off and appearing as a phony to the same people that he once ruled destroys him," explains Gracia. "It was funny because the nickname of the fisherman that played Balu is 'the Squid' and I dressed him up as some kind of octopus with the tentacles so in some way he was meant to be this character." There is also sculptural iteration of Balu made from the kitschy costumes and props in an adjoining gallery. The film is meant to serve as a reference point for the hand-painted photographs taken from the original film and some others from the video, tinted with a technique for coloring photos that would have been used during the time of the film. There are also sculptures hewn from chainsawed palm tree trunks embedded with modernist steel forms — opposite corresponding red minimalist paintings that reference those very sculptures — that were meant to evoke the paintings as well as the abstract (and anachronistic) set designs for the 1948 film by painter Gunther Gerszo.
"Gerzso described his work as 'interior landscapes', the sensible or sublime representation of the space. He would often go to the Mexican pyramids to start his landscapes, he understood prehispanic art in a sensible way not considering the social and political condition of the indigenous groups in Mexico but at the same time accepting his condition as an outsider from this place/culture as some kind of tourist in these spaces just like I am in Acapulco," says Gracia, who utilized color in a "very direct pictorial way" and the pink hue on the walls and paintings is meant to match that of the Flamingo hotel. "So I wanted to use this notion of representation of a space or landscape in a more abstract and emotional way that could also refer to some ideas of the colonialist eye and at the same time of the eye of the tourist, Gerszo started his paintings by tracing some lines, just like I did, Gerszo traced this lines bases on the golden section, instead of using this I based my lines in the original locations and trips that I did in Acapulco, as a kind of cartographic map. One of the most important scenes of the video is the cutting of a palm tree with a chainsaw, then the pieces of this fallen palm tree were brought to Mexico City to become the sculptures."
Considering that Gracia is currently applying for an MFA at CalArts, it's not hard to imagine how his cinematic, political pop fantasies might follow in the footsteps of the school's most subversive alum, and one of the young artist's great inspirations: Mike Kelley, an artist who never really forgot his Detroit punk roots, but still opened his mind back to the gray matter to soak up all the possibilities of LA. (Their work actually dialogued this January in a Mexico City group show appropriately titled Punk Povera.)
As Kelley recalled his of first journey to LA in one of his final interviews before his 2012 death, "I was driving into Los Angeles and checking it out and discovering a really interesting art scene." Perhaps Gracia will drive his own complex brew of heritage (and baggage) north of the border some day soon and make such a fateful discovery for himself. Much like Kelley, he has no intentions of abandoning his true home.
"We have to be aware of how the dynamics of power try to shape our identities," he concludes. "I would like people to take a look at Acapulco, at what it was and what it is right now because it is a hotspot of the social condition of Mexico. We can´t leave Acapulco as the forgotten paradise now lost in its decadence and violence."