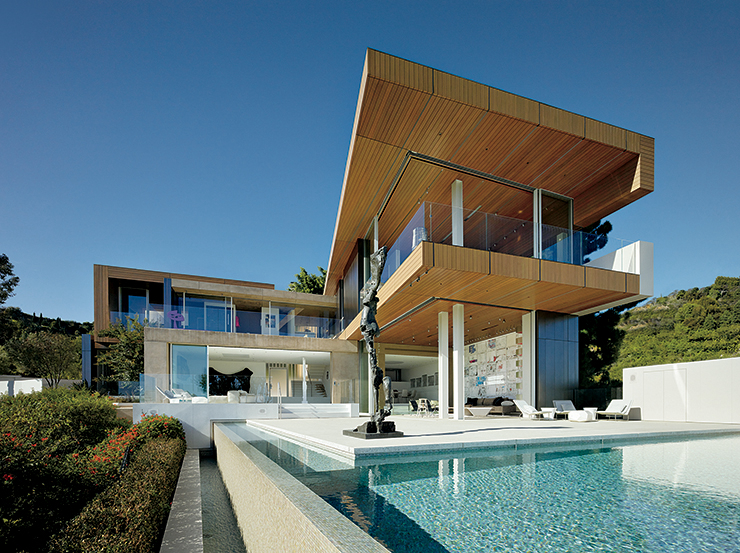 With five homes across the Bay Area and Los Angeles and a spectacular collection of modern and contemporary art, Chara Schreyer spends a good deal of time thinking about ways to display her favorite pieces—all 400 of them—for maximum enjoyment. "I lie in bed moving them all around in my head, creating different dialogues between them," says the collector and philanthropist, who is on the boards of the San Francisco Museum of Modern Art, the Hammer Museum and the Los Angeles Museum of Contemporary Art. For the past four decades, Schreyer has worked closely with San Francisco interior designer Gary Hutton to create ideal settings and stunning, elegantly low-key living quarters for her collection. This fall, Assouline is pulling back the curtain on those interiors in "Art House: The Collaboration of Chara Schreyer and Gary Hutton."
Your collection is quite varied and thoughtful, ranging from American Modernism and Minimalism to Conceptualism, with a lot of work that deals with race, gender, the body and trauma. Can you put into words what it is that makes a work of art appeal to you? It needs to be rigorous, poetic, historically driven, and it needs to extend the dialogue of art history with pathos and push the boundaries. Also, I always say you collect unconsciously and psychoanalytically. You collect things from your own mental and personal history.
How has your personal history played into your collecting? Having been the child of Holocaust survivors, I'm drawn to works that relate to violence, murder. Like Gerhard Richter's Eight Student Nurses. And work by German artists like Joseph Beuys and Martin Kippenberger, for example, who speak to the horror of Nazism.
Do you have a favorite artist or work in your collection? They are all like members of the family to me, but Duchamp is my hero. I also love Eva Hesse's Top Spot: It was one of those amazing things that you lay your eyes on and say, 'Oh, my God.' Like Beuys and Duchamp, she explored new ways of art making and it's very rigorous, but also very feminine and body-oriented. And it uses found construction pieces, like electric wire. I love that.
Have you and Gary Hutton ever designed a space to accommodate specific works? We never do that. We deal with the house as its own work of art. With my house in Los Angeles, though, I walked in and told my husband, 'We are buying this for the Donald Judd stack [Untitled, 1969].' It's pink on one side and orange on the other. I had had it in my Tiburon house in the corner in the gallery, but in L.A. the light comes in from both sides, which makes it glow and change throughout the day.
Are you still collecting? Oh, yes, a collector never stops collecting. I hate to put things in storage—that's heartbreaking and I haven't had to do that yet—and I'd never sell anything. Right now what's sort of saved me in terms of space is that my older daughter just bought a 14,000-square-foot house in L.A. and we're working on her collection, as well, so if I find things and I can't make sense of them in my dialogue, they work into hers.
What was the last thing you bought? We were desperately missing a great Sigmar Polke painting, to enlarge the conversation about German art. My consultants, Ruth|Catone in New York, searched the world and we found a great '80s Polke for a price that made sense. It's in the Tiburon house opposite the Duchamp Boîte-en-Valise.
Images Courtesy of Matthew Marks Gallery; Paula Cooper Gallery; The Estate of Eva Hesse; DeWain Valentine.