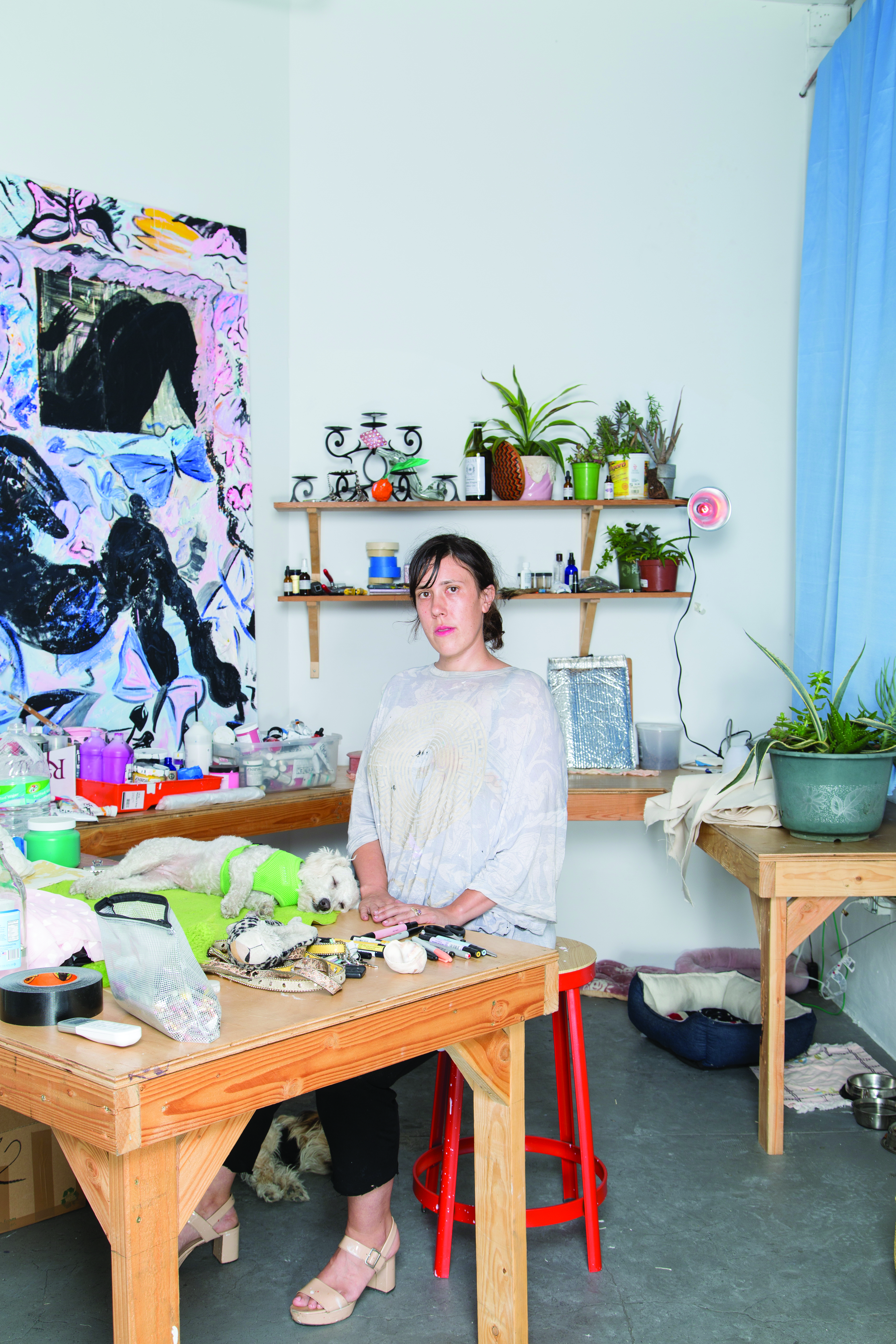 In an era when identity politics are so prevalent, specifically in the U.S., it's easy to trivialize the travails of our neighbors to the north. Imagine the journey of a Black-Mi'kmaq-Caucasian Canadian painter born to an absentee father and a single mother who enlisted a craft-crazed grandmother to watch her child while she earned a living as a graphic designer for a television station in Victoria, British Columbia.
"My nana was a knitter. She made crazy shit around me all the time, blankets and sweaters and hats with so many colors and patterns, but I felt really strange growing up," says Sojourner Truth Parsons. Her name was picked out by her mother who was visiting a Judy Chicago exhibit in 1984 when baby Sojourner kicked as she was passing a reference to the 19th century abolitionist and activist.
Though she wanted to "be a star" as a child, Truth Parsons' younger sister—now a professional dancer and choreographer—proved the more talented performer. "I would always draw out the things I wanted to be," she explains of her early sketches of legs doing splits or turns. "I just pull from my life. My dad wasn't around much when I was growing up so I had all these watercolors of this black man. It's always been an expression of a personal journey."
After graduating from the Nova Scotia College of Art and Design and burning through a few Canadian galleries, Truth Parsons' journey ultimately led her to a residency at New Mexico's Santa Fe Art Institute in 2014, where she used sand, acrylic and ceramic to make collaged canvases with warm colors and pink poodles to tackle notions of rejection and shame. That year she also connected with Davida Nemeroff and Mieke Marple, the founders of Los Angeles' Night Gallery, who invited Truth Parsons to show these works in "Hot House," their 2014 pop-up show in Harlem during New York's Frieze Week. A year later, she ducked out to Mexico City "to get away for a bit," but Nemeroff encouraged her to come back to the States and check out L.A. for a few months in order to make a new body of work.
"When I first got here, I was out at the Beverly Hills Hotel and the Chateau Marmont and I was really overwhelmed. I'm sober so I'd just be talking to these beautiful lips, mouths and cigarettes. That's what was coming at me, these glamorous, weird experiences," says Truth Parsons over a kombucha in her new light-and-flower-filled loft studio overlooking Downtown L.A. Evoking the single point perspectives of Matisse interiors, Tom Wesselmann's early Pop Art icons, the sex appeal of Patrick Nagel posters, and the dark beauty of Hollywood glitz, her sand-covered acrylic collages and canvases were an instant hit with collectors and earned Truth Parsons shows this year at New York's Tomorrow Gallery and Night, where she will make her solo debut September 16. While she could easily forge a factory from her recent works, Truth Parsons lives by the Rosemarie Trockel adage: "The minute something works, it ceases to be interesting. As soon as you have spelled something out, you should set it aside."
"I don't think the world needs more objects. You don't need my painting in that way. What I can offer is my feelings and emotions towards the world," she says. "I'm looking at art through my heart. Maybe that's selfish, but I want to find something I didn't know was there."
While this "selfishness" led her to painting scenes of women looking away from the viewer for Tomorrow—reflecting her retreat from the Hollywood fast life into a more domestic existence in Pasadena—Truth Parsons is showing an entirely new body of work at Night about "women, women, women and the sun," she says. "I want to find the painting, I don't want to make it. It's so much about vibes."