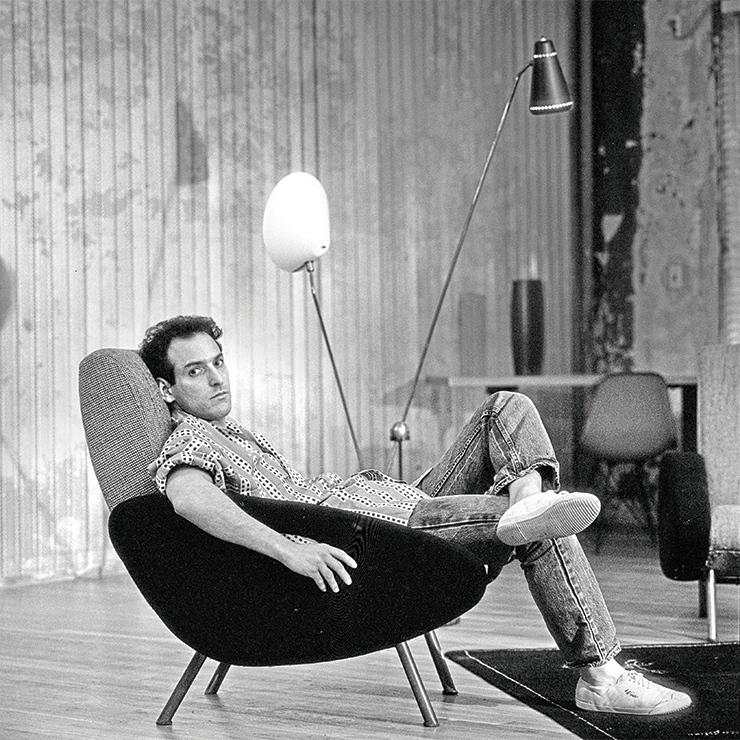 The East End of Long Island is famously friendly to great paintings—think of the canvases of William Merritt Chase, Jackson Pollock and Willem de Kooning, among many others who made a home among the hydrangeas and dunes. Mostly, painters don't start out there, but they eventually gravitate toward the area's unique light and landscape.
One of the most surprising art exhibitions anywhere this summer features a trio of painters who have homes in the area but whose trajectory has shaped the whole course of contemporary art: "Unfinished Business: Paintings from the 1970s and 1980s by Ross Bleckner, Eric Fischl and David Salle," at the Parrish Art Museum in Water Mill.
With 40 works, the show, on view from July 31 to October 16, chronicles not only three major art careers, but also a friendship that started when the three were in school at the California Institute of the Arts in 1970s Los Angeles. They all gained fame and success in the following decades and have managed to stay "very close friends," in Salle's words.
The Parrish's director, Terrie Sultan, explains that the show, organized by adjunct curator David Pagel, has the relationships at its core. "It suddenly occurred to me that these are some of the longest-standing friendships among contemporary American artists—they are still friends and still influence each other."
In the long-ago days when Bleckner, Fischl and Salle met, painting was thought to not only be dying, but dead. "They pushed back against the onrush of conceptual and appropriation art that was happening at the time, but they managed to absorb the best parts of it," says Sultan.
All three painters, now in their 60s, had strong personalities that came through on the canvas even in a time when that very idea was outré. "You still see the hand of the artist with them," says Sultan. "You'd never mistake a Ross Bleckner brushstroke for anybody else's—ditto Eric and David."
These painters certainly have different styles. All use figuration in different ways, and Bleckner was and is the most abstract among them. For the artists themselves, looking back on their early careers is a mixed blessing. "It's fun to see what David and Ross were doing when we were a lot younger," says Fischl. "And it's funny and painful to see myself when I was just starting out."
The friendships weren't just about hanging out, either. They have supported each other in real and measurable ways. "They've both been helpful to me," says Fischl. "They were responsible for making Mary Boone focus on me and get me into the gallery." Indeed, the show's secondary storyline could be the preeminence of Boone in the 1980s art world. The legendary dealer represented all three artists as they took off, and Bleckner still shows with her.
"She was extremely important to us," says Fischl. "Certainly, aspects of the '80s couldn't have happened without her. She understood the zeitgeist."
As much as they all valued their CalArts education, the eastward move of the trio isn't too hard to explain. "The gravitational pull of New York in the '70s was irresistible," says Salle.
What is a bit more surprising is just how close geographically they have stayed. "For 20 years, I lived on one end of White Street and Ross lived on the other end, two blocks away," Salle adds. "And in the '90s we both had houses on Daniels Lane in Sagaponack—it was a comedy of proximity."
According to Bleckner, although they differ aesthetically, there's a kinship among this trio that even trumps geography. "Folded into the friendship is this overlapping interest in painting," he says, even when that was uncool.
And that moment of crisis is now baked into the cake for them, intellectually speaking, not that it scares them off. "Painting is always in doubt," Fischl adds. "All three of us are interested in doing something while simultaneously doubting it."
While the swirl around the show will be festive and fun—in the Hamptons way—Salle, Fischl and Bleckner already see each other socially, so the most significant emotional impact for them may come from what hangs on the walls. The works for the show are comprised of loans from all over, meaning they have been out of sight of their creators for a long time. "I'll be seeing paintings of mine I haven't seen for about 30 years," says Bleckner. "It's like revisiting old friends."
And he says he looks forward to the acid test that all makers of artworks must face. Simply put: "Seeing if they stand the test of time."