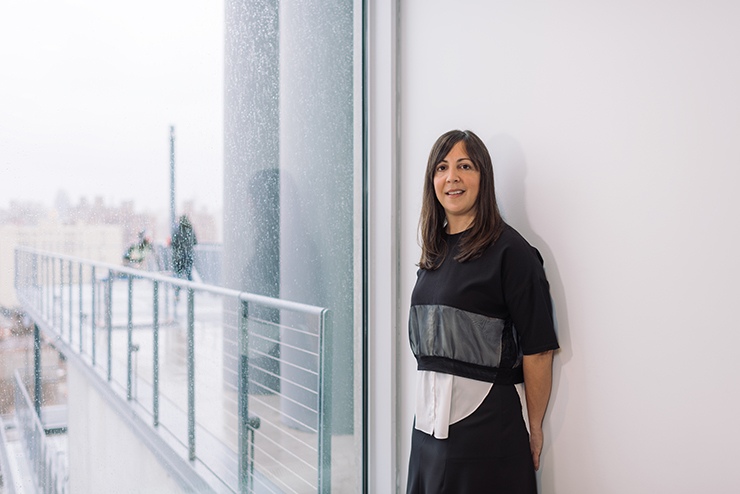 The Whitney Museum is advocating for five mostly young, mostly Brooklyn-based sculptors this summer, putting the museum's eighth floor in their hands. The result is an exhibition that shuns the values of mammoth studio production and the shiny objects it churns out in favor of the intimate and hand-touched. "It's an honest reflection of what artists are doing right now," says the show's co-curator Jane Panetta.
"There's a heavy emphasis on the making of these works," Panetta explains, drawing a contrast with the sort of "slick sculpture we've seen a fair bit of in the last few years." If that polished product of the recent past served "physically as a shield," as Panetta suggests, the works in "Mirror Cells" represent a wound. "A lot of these works have a vulnerability to them," she says. "There's a materiality to them—an honesty about the making. Christopher Lew, my co-curator, and I felt that."
Twenty-something Maggie Lee "isn't a sculptor in the traditional sense," according to Panetta. Her biggest project to date is the feature-length film Mommy, which the Whitney will show three times during the course of the exhibition. "It touches on her own life, her mother's very sudden, tragic death, her father and her sister. Lee's sculptural installations add to the film and together are living memories of these people," says Panetta.
The film "gives itself up to being open to mistakes," says fellow Brooklynite Elizabeth Jaeger, whose work also appears in the show. "She's not telling you how to mourn, she's just showing you exactly what she went through. That felt really powerful. It's messy, and this exhibition is about people being more comfortable being messy then giving one refined answer."
Jaeger's contributions include black ceramic vases atop blackened steel sawhorses, which produce an anthropomorphic silhouette. "They're made like pinch pots, so you can see handprints on them," Jaeger says, explaining that the works are named after her grandfather, Jack Jaeger. "They're these closed-off things with just a sliver that's open, which connects them with the process of trying to get to know someone, trying to see who they are, but finding they aren't there or they're fleeting in a way," she says.
Jaeger's grandfather suffered a stroke resulting in dementia, just as she was returning home from college, yearning to better know him. "It's kind of the experience of getting to know anybody—you never fully know another person," she says.
"The personal, the tactile, those were taboo topics" in recent art cycles, says Panetta. "It still feels taboo!" adds Jaeger, but conditions are changing. Rochelle Goldberg, another artist in the Whitney show, says she is probing "contemporary conditions" and asking: "What are the vernaculars of our time?" Her contributions to the exhibition, which came out of that inquiry, involve chia seeds.
Goldberg chose chia as her primary medium because of the active participation it required. "It has the potential to just grow," she explains. "But it has to be subtracted too because the hyper accumulation will lead to intense rot and waste." So as Goldberg's chia, which is planted in the gallery's industrial carpet, is reaching full development, the growing vegetation will be removed and more seeds planted. "It's almost as if the entire installation has a quite legible temporality. You can see that it's one week old, that it's two weeks old, a month old, six weeks old. Then we have to remove it. There's no consistent time across the field; it's all different time cycles."
The other two artists in the exhibition are Win McCarthy and Liz Craft. "Liz is a slightly older generation of artist but has come back on the scene recently with different work, in a different way, so we saw her as re-emerging," says Panetta. "She's also from Los Angeles and that was important to us to not just have this be a New York-based group of artists."
Though each artist brings a unique experience, the works are all interconnected. The title of the exhibit was birthed after taking into consideration the intimate nature of all the sculptures. "Given that a lot of these works have a vulnerability to them and implicitly convey an empathy about the world or about people in their personal orbit, the artists and Chris and I all liked the title, 'Mirror Cells,' " says Panetta. It refers to mirror neurons in the brain that enable people to experience empathy for others. "I hope people will leave with some sort of unconscious or unarticulated feeling," says Jaeger.
"There might have been a coldness to some of the high production work we've seen in the past," Panetta admits. "But you'll have some feeling about engaging with a lot of this work—I hope."