At his show which recently ended at David Kordansky Gallery, Aaron Curry is embracing formal minimalism. "I wanted this show to be straightforward, almost Modernist," says the artist from his Hollywood Hills studio, which is filled with the colorful ephemera (stacks of cereal boxes line one wall) we're used to seeing in his work.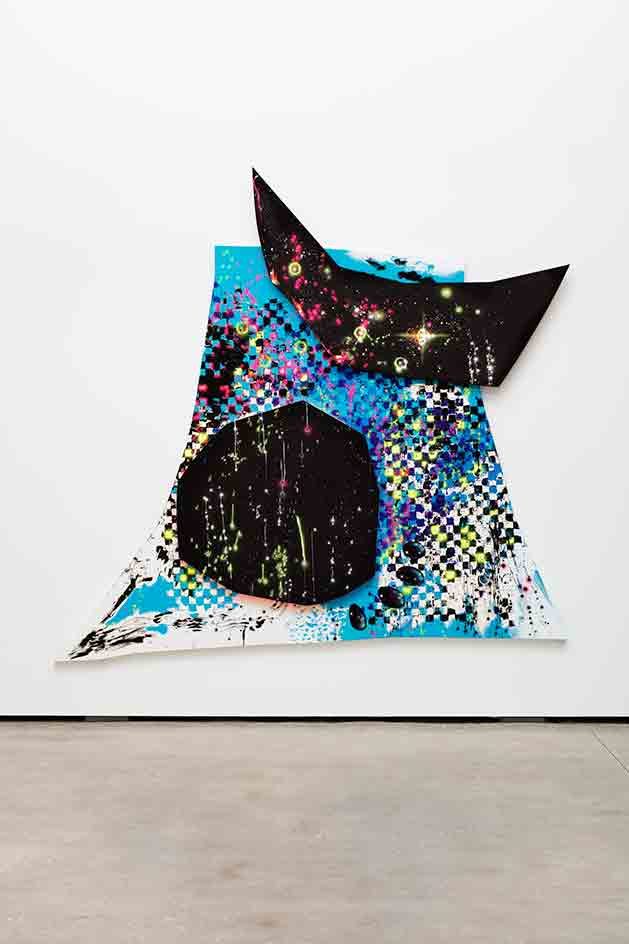 Bearth, 2015, from the "Starfuker" exhibition at David Kordansky
"For the paintings, I didn't do any digital printing or collages and the sculptures are just black. You're only thinking about the form." Curry's studio is a mini-complex (including an office for his assistants) located behind the residence he and his wife, a former elementary school teacher, call home. "I've always dreamed of having a studio at home. It's not huge but I like being intimate with my work," says the San Antonio, Texas-born artist, whose gentle voice can seem a surprise as it emanates from his audaciously full beard. He bought the place in 2010 from the family of an Italian artist, Salvatore Cartaino Scarpitta, who built the Spanish-style house in 1927. In his workspace, Curry is completing a trio of paintings all at once, works that look as if galaxies had collided and set off extraterrestrial firework explosions. "They are these cosmic orgies… I've been on this cosmic thing, reading Carl Sagan and Neil DeGrasse Tyson," he says.
Cosmicgasmatical, 2015
Curry leads the way up to a second floor, where he pulls up a series of images that illustrate the process of his large new abstract metal works on his computer. There are scans of paper cuts ("I've been looking a lot at Matisse. I cut pieces of paper and play around until one feels alive"), 3D renderings and images of the works-in-progress done at his fabrication studio in East Los Angeles. "A lot of the time when you start doing metals you lose the sense of the hand. I try to keep the crudeness," says Curry, who came to greater attention when he was 34 years old in a show at the Rubell Family Collection. "I wasn't one of those 20-year-olds who come out of school and they are ready to do it."
Curry—whose next show is at Alserkal Avenue in Dubai opening March 2016—says he finds the restraint he's explored in his new work both fulfilling and challenging. "I always try to make it difficult for myself. I still feel like I'm always laboring, I feel defeated all the time, but that's a good thing I think."
Installations images courtesy of David Kordansky Gallery.