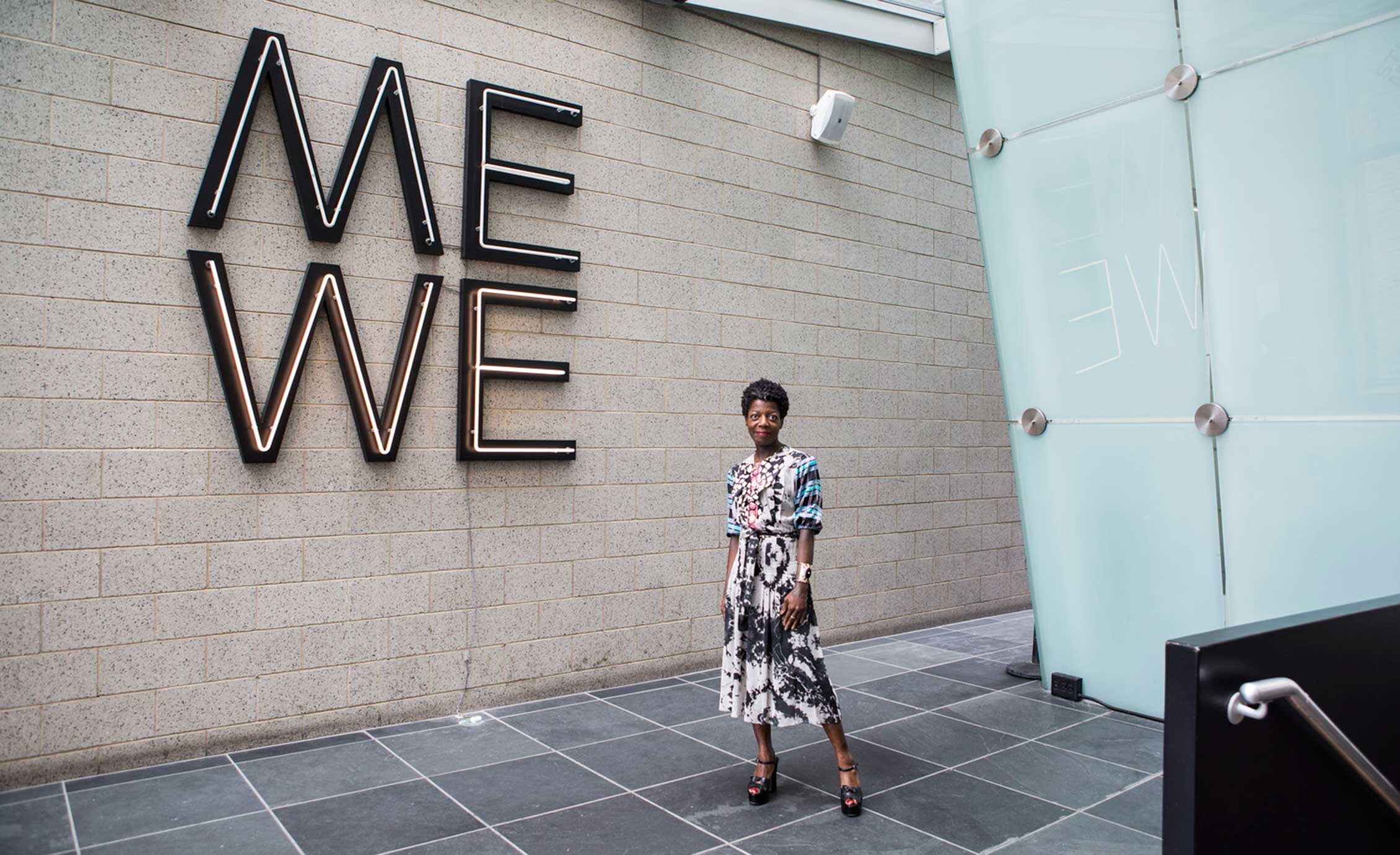 Museum directors just aren't celebrities. Even the best-known, Biennale-hopping, TED talk-giving, billionaire-courting directors have civilian lives that presumably allow them to visit the dry cleaner or deli unrecognized. Thelma Golden is comfortable being the exception to the rule.
"Hey, Museum Lady!" people call to her on 125th Street in the upper Manhattan neighborhood where she lives and runs the Studio Museum in Harlem. "I'm in the Best Yet Market and people talk to me," she says, "or over at Serengeti getting my morning tea, or the ATM or the Red Rooster having dinner. I love it when they talk to me about what we're doing right; but I also love it when people suggest to me what they'd like to see us do and why. They come at me with broad existential questions about art, and very specific ones, like, 'You open today?'"
Golden is many things. She's the driven exhibition organizer who, at 23, became the first black curator at the The Whitney, where she championed young black artists and orchestrated the game-changing 1994 show, "Black Male." She's been a guiding force in the careers of artists who've entered the canon under her watch, including Julie Mehretu, Kehinde Wiley and Glenn Ligon, among others. She's the on-message "cultural ambassador" the White House tapped to sit next to President Obama at a state dinner last year when French President Francois Hollande arrived dateless. She's the gamine darling of fashion editors, married to Nigerian-born, London-based lawyer-turned-designer Duro Olowu, whose supporters include the first lady and Anna Wintour. And for the last 15 years she's worked at the community-centric Studio Museum, dedicated to artists of African descent, where she began as an intern in her Smith College years. She's been its powerhouse director for the last decade. Here, a candid conversation with Golden, following her exclusive photo shoot for Cultured.
What will your contributions to the Obama Foundation Board include?
My entire career has been about looking at the ways in which art and culture help us understand ourselves—our past, our present and our future. This project [the Obama Center] will have an impact on the history of this country and the legacy of this president.
What are your priorities in terms of designing and utilizing the added space you'll get with the expansion, and how are you going to raise all that money?
The primary role of this institution is to engage with the educational community throughout the city, as well as art lovers from all over. We are aiming for enhanced studio spaces for our artists in residence, and functional education spaces as well as spaces where we can show our collection in new ways. We hope we'll be open more [than the current 4 days per week]. Our amazing board is working toward a building campaign and expanding our endowment.
The Studio Museum in Harlem. Photograph by Dominic Hackley
"Studio" is in the museum's name and you've said it's central to your mission—how so?
The ideal of our founders was to support artists of African descent and literally create space for these artists to work in the museum, to nurture and advocate for their careers. Bringing them into the program of this institution and the collection are important parts of how we see our contribution. It's often the beginning of a relationship that lasts throughout artists' careers; and we are really proud of being able to have those ongoing relationships and for artists to see this in many ways as their home.
People often talk about race when they talk about the Studio Museum and your trajectory. What about gender? Has it complicated your career?
Some of my most significant mentors have been women. Mary Schmidt Campbell, former director of this museum, Lowery Stokes Sims, the director who hired me here, Marsha Tucker, Kathy Halbreich, Lisa Phillips and Elisabeth Sussman, who were curators at the Whitney when I was there. I've had the advantage of women who really changed this field and made me understand that this is a field where issues of gender need to be addressed, particularly when we talk about leadership roles.
Where does your interest in fashion come from and do you plan to do more exhibitions with fashion?
When I was young, growing up in Queens, reading newspapers and magazines and trying to understand the things that were going on in the art world, I was equally reading fashion magazines. My parents were deeply engaged with African American culture through theater, the arts and civic involvement, and I read the publications that were in our home, like E
ssence
and
Ebony.
Those two magazines educated and inspired me concerning the work of African American fashion designers, like Willi Smith and Stephen Burrows and Jon Haggins. Those interests led me to organizing the Patrick Kelly exhibition [at the Brooklyn Museum in 2004]. I loved his work, and through great effort and saving as a college student I even bought a dress of his. But, I am not a fashion or costume curator. All of my efforts now are tied to the expansion. I hope in the future to work on the range of ways fashion and art come together.
The Store at the Studio Museum had a wildly successful retail collaboration with Glenn Ligon's support recently. Might we see more?
Our collaboration with MZ Wallace was such an amazing project! Glenn Ligon did a beautiful drawing that was adapted for the bag, and all the proceeds went to support our high school program called Expanding the Walls, which provides in-depth hands-on experiences for students in art and photography. Monica Zwirner and Lucy Wallace Eustice, who are MZ Wallace, were incredible, totally underwriting the bag's production and putting it out in the world. I would love for us to do more collaboration.
Stanley Whitney's Elephant Memory, 2014. Courtesy of Kim Heirston Art Advisory
It's often assumed that the museum's mission aligns entirely with your own. Does it?
I had the great advantage of growing up here in New York, participating in high school programs at the Metropolitan Museum and working as an intern there in high school. I went to college knowing I wanted to pursue a career in museums. But not until I came here to the Studio Museum did I see and create for myself a sense of mission around what my career in museums could be about. I understood, through its founding mission and director at the time, that institutions really could shift to more broadly engage with the many histories that allow us to understand ourselves. I knew I wanted to be a curator who made exhibitions that opened up that dialogue, and that created a space to see artists as important thinkers and to see artworks as a way to not only understand art history, but also to understand cultural history.
Where do you see yourself in 10 years?
I see myself continuing to do this work. I've always known I wanted to work with art and artists. What I'll be doing in ten years will be a result of the work I'm doing now. It's all connected and it's all been building during my career.