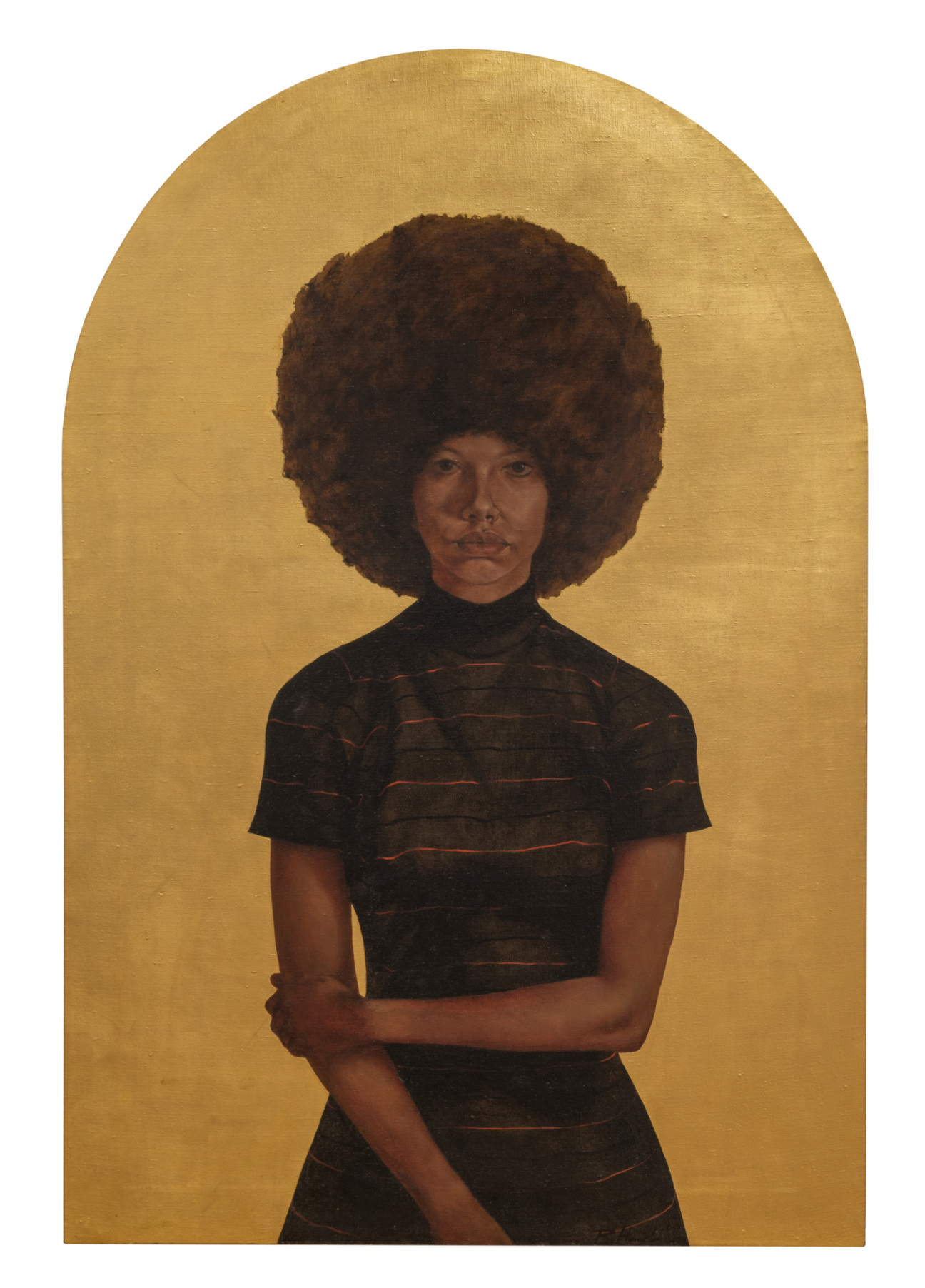 Welcome to This Week in Culture, a weekly agenda of show openings and events in major cities across the globe. From galleries to institutions and one-of-a-kind happenings, our ongoing survey highlights the best of contemporary culture, for those willing to make the journey.
New York
"Barkley L. Hendricks: Portraits at the Frick"
Where: Frick Madison
When: September 21, 2023–January 7, 2024
Why It's Worth a Look: This exhibition features some of Barkley L. Hendricks's most innovative portrait paintings from the late 1960s, including a set of limited-color palette canvases that highlight Black subjects wearing white against white backgrounds, and vividly colorful figure studies. Taking inspiration from European art traditions while also challenging those same notions, the late American painter's work revolutionized modern portraiture through its bold representation of Black identity.
Know Before You Go: Hendricks's portraits often reference traditional historical artistic techniques in a whimsical yet sophisticated manner. One of his earlier works, Lawdy Mama, 1969, uses gold leafing—a technique found in centuries old religious Christian art—for the backdrop of his cousin's portrait.
"Generalization" by Tania Pérez Córdova
Where: SculptureCenter
When: September 23–December 11, 2023
Why It's Worth a Look: This exhibition is the first and most comprehensive survey of Mexico City-based artist Tania Pérez Córdova in the United States and will include 24 of the artist's sculptures, as well as newly commissioned pieces. Made of traditional sculpting materials such as metal, ceramics, and glass, Córdova's works examine common objects that have an intimate relationship with the human body, such as cigarettes and contact lenses, prompting viewers to look more closely at the objects they play host to.
Know Before You Go: Along with Córdova's sculptural work, viewers can anticipate a slate of "barely perceptible performative actions" taking place in the galleries, a new take on performance art.
"Sing to Me of Many Turns" by Christopher Myers
Where: James Cohan at 291 Grand St
When: September 21–November 4, 2023
Why It's Worth a Look: American interdisciplinary artist Christopher Myers melds lived experiences with radical narratives in a thorough examination of Homer's Odyssey and New York migration history. Appliqué textiles, stained glass, and sculptural works are presented in an episodic-like rotation that cycles through stories detailing ICE raids to generations of fabric workers living on the Lower East Side.
Know Before You Go: The works in this exhibition are greatly inspired by the structure of Homer's Odyssey while acknowledging other major literary works including James Joyce's Ulysses and Derek Walcott's Omeros. In one work, Myers examines the various modes of escapism and destruction of Lotus Eaters, and in another, focuses on Calypso and her typical depiction as a thankless caretaker.
"Lithium Sex Demons in the Factory" by Candice Lin
Where: Canal Projects
When: September 22–December 16, 2023
Why It's Worth a Look: Candice Lin's site-specific installation recreates a lithium battery factory, allowing visitors to embody the scrutinizing gaze of a factory manager. Like much of Lin's works—which investigate themes of globalization, trade networks, materiality, and labor—"Lithium Sex Demons in the Factory'' focuses on the prominent use of lithium in global mass consumption and ceramic production. Work stations are here connected by ceramic fermentation vessels, tubes, whirring machines, and flickering lights, along with sound and video animations that tell tales about lithium sex demons.
Know Before You Go: Based on a short essay written by Lin, the exhibition presents a narrative about a sex demon's revival from the dead and reunion with their lover in the factory. The idea of sex demons is based on Asian myths and ghost lore, such as Malay menstrual-blood feeding creatures called penanggal, but Lin's story is also influenced by scholar Aihwa Ong's documentation of demonic-like possessions experienced by factory workers.
"Tintin, Nina & Disco" by Vivian Suter
Where: Gladstone Gallery 64th St
When: September 19–November 4, 2023
Why It's Worth a Look: Visitors will have the opportunity to see a selection of mixed media paintings from Vivian Suter's decades-long career. The artist's work is largely inspired by Abstract Expressionism, Color Field, and the nature that surrounds her Guatemalan lowlands home: think mountain peaks, wind, eroded soil, and sprawling plants. The exhibition aims to mimic this environment, placing Suter's works on the floor, walls, and ceiling, creating a biome distinct from the typical gallery space.
Know Before You Go: As part of Suter's creative process, she moves her canvases between the indoors and outdoors, exposing them to the natural climate and allowing it to infuse the vivid colored paint.
London
"Blur Ballad" by Nikita Gale
Where: Emalin, 1 Holywell Lane
When: September 22–December 9, 2023
Why It's Worth a Look: "Blur Ballad" is a solo exhibition of Los Angeles-based visual artist Nikita Gale's new works. Her practice, often guided by technology as an extension and amplification of the body, is organized by long-term obsessions with objects, such as barricades, microphone stands, and spotlights.
Know Before You Go: Gale's art echoes her interest in the political function of silence and noise. "When we speak of sound, we are speaking of touch," said Gale in a statement. "So when we speak of listening, we are also speaking of being touched and of feeling."
Paris
"Mythologies américaines" by Lee Lozano, Ser Serpas, and Mira Schor
Where: Bourse de Commerce
When: Opening September 20, 2023
Why It's Worth a Look: The Bourse de Commerce has selected four American artists from different generations and perspectives, all represented in the Pinault Collection, to deconstruct mythologies surrounding life and work in the States. "Strike," showcasing 13 works from Lee Lozano's short-lived but prolific career, presents the artist's characteristic flashes of violence. Artist, educator, and art critic Mira Schor is interested "in the return of visual pleasure as a feminist intervention in painting," for her first exhibition in France, "Moon Room." Viewers of 2019 CULTURED Young Artist Ser Serpas's "I Fear" can expect to find themselves surrounded by floating canvases inspired by photographs of old romantic relationships and the effects of plastic surgery, as well as ghostly looking sculptures covered in fabric.
Know Before You Go: The fourth installment in "Mythologies américaines," Mike Kelley's traveling "Ghost and Spirit" retrospective, is set to open on October 13, 2023.
Los Angeles
"NO MORE REALITY (FOR PP)" by Rirkrit Tiravanija
Where: 1301PE
When: September 16-October 28, 2023
Why It's Worth a Look: In August of 2020, artist Rirkrit Tiravanija began collecting American newspapers that continued to be published daily. He's using that archive in his latest exhibition, titled in reference to Philippe Parreno's art series from 1991-93. At 1301PE, Tiravanija showcases work that ranges from an expansive floor to ceiling installation of the printed matter to smaller, thematically similar pieces.
Know Before You Go: The newspapers in this collection vary in geographical origin, ideas, politics, and beliefs, emphasizing the impact of personal perspective in locally reported news. "Everywhere, we feel the shift of power under our feet; how can we not address it, even with our tongues in our cheeks!" said the artist in a statement.
"The Den" by Lisa Edelstein
Where: Anat Egbi
When: September 16-October 21, 2023
Why It's Worth a Look: Highly personal and intimate in nature, Lisa Edelstein's watercolor paintings capture moments from oft-repeated family stories and home videos. Her characters gather for meals in the dining room or sneak off with a bong to the basement. Pulling from the boom of amateur photography during the '70s, spurred on by the proliferation of affordable film cameras, Edelstein gives great attention to details originally captured on a whim.
Know Before You Go: The artist, most known for her film work, had her first solo exhibition only last year, with "Family" at SFA Advisory.