"It's a bit of an experiment. I haven't really done anything like this before," says Angela Dimayuga. The chef is calling from Hancock, New York, where they've been in residency for the past month. Dimayuga was introduced to Unclebrother, a collective creative experiment founded by art-world denizens Gavin Brown and Rirkrit Tiravanija in the mid-2010s, by painter and ceramicist Travis Fairclough. Unclebrother's ethos, much like Dimayuga's practice, sits at the cross section of art- and food-making, so it's no surprise that the residency is a natural fit. However, Dimayuga admits it's also been a welcome challenge and opportunity to reflect on their non-stop lifestyle back in New York—and to get their hands dirty in the ceramics studio while doing it!
The chef broke onto the scene in their 20s with tenures at staples like Vinegar Hill House and Mission Chinese Food, followed by a stint as creative director of food and culture for The Standard hotel group. In the past few years, they've leaned into their Swiss Army knife-like capabilities and taken on a litany of projects—from publishing their debut cookbook, Filipinx: Heritage Recipes from the Diaspora; to founding GUSH, an intersectional party that centers queer and trans BIPOC bodies; and acting as guest curator for the Serpentine's Synthetic Ecologies Lab Compendium on fermentation. Dimayuga has established themself as an essential alchemist and advocate for food justice, queer nightlife, diasporic visibility, and creative regeneration. Before their busy autumn, which will include a cocktail commission to mark their friend Wu Tsang's Of Whales installation at SFMOMA and a concept dinner and film screening at New York's Performance Space, Dimayuga sat down to talk prioritizing hobbies, DJing their first gig upstate, and maintaining a student POV.
CULTURED: Tell me a bit about how you got to Unclebrother. How did this opportunity present itself?
Angela Dimayuga: I've been trying to manifest a residency for the past year. My work life pre-pandemic was really insane. So I went a lot more internal, which was needed because my work is so community- and service- and caretaking-oriented. One of my first cooking mentors, when I was 20, was a rocker. She called me "Toots," and she would be like, "Toots, you have to make sure you have hobbies, as well as just cooking." I've always taken that to heart. I'm interested in so many things—a lot of them have to do with craft, storytelling around craft, and the importance of oral traditions and Indigenous knowledge. I try to think about these hobbies as a way to honor a sense of self while I became a professional chef.
Ceramics has been something I've liked since I was a teenager. Mid-pandemic, when things started easing up, I started taking woodworking classes, ceramics, and tennis—all things I'm bad at. I just wanted to use my hands in a different way. I'm nowhere near being able to show an object outside of my home. These are all precious things for me and my loved ones. Here [in Hancock], I want to make things that are utilitarian, like a rice bowl or a mug, but also things that can be observed and enjoyed for beauty. I want to do some fly-fishing—just for meditative purposes, not necessarily catching things—canoeing, and then today I just went on a solo chanterelle foraging adventure.
CULTURED: What have you been surrounding yourself with during this residency?
Dimayuga: In terms of music, I've been listening to OK Williams's NTS station for getting everything done, Maggie Lee's NTS episodes for driving, Fatima al Qadiri in the rainstorms, Cibo Matto while prepping in the kitchen, and Mongolian folk polyphonic shamanic musician Bukhu's The Journey album for crying. I also "DJed my first gig" at a late 1800s armory building called Castle on the Delaware. The dance floor was surprisingly open and without a DJ. I took charge and was proud to get the 20 people at the bar onto the dance floor, while making the owner and bartender really happy. I played a mix of drum and bass era Madonna, The Prodigy, Lesley Gore, INXS, Everything but the Girl, Evelyn "Champagne" King, Lenny Kravitz, Black Box... bangers only.
In terms of books, artist Travis Fairclough—who brought me out to Unclebrother—just loaned me an out of print book called Empty & Full: The Language of Chinese Painting to get me pumped to revisit one of my favorite places, the National Palace Museum [in Taipei], and wonder at the ancient Taiwanese ceramics, carvings, and paintings that make me cry! My partner gave me How Far The Light Reaches: A Life in Ten Sea Creatures, a collection of personal essays by Sabrina Imbler, a queer trans Asian from the Bay Area who is a writer and science reporter. I also reopened The Faggots and their Friends between Revolutions and played the two-part NTS series "Up the Beanstalk," where artists read passages from the book with musical overlays and interludes.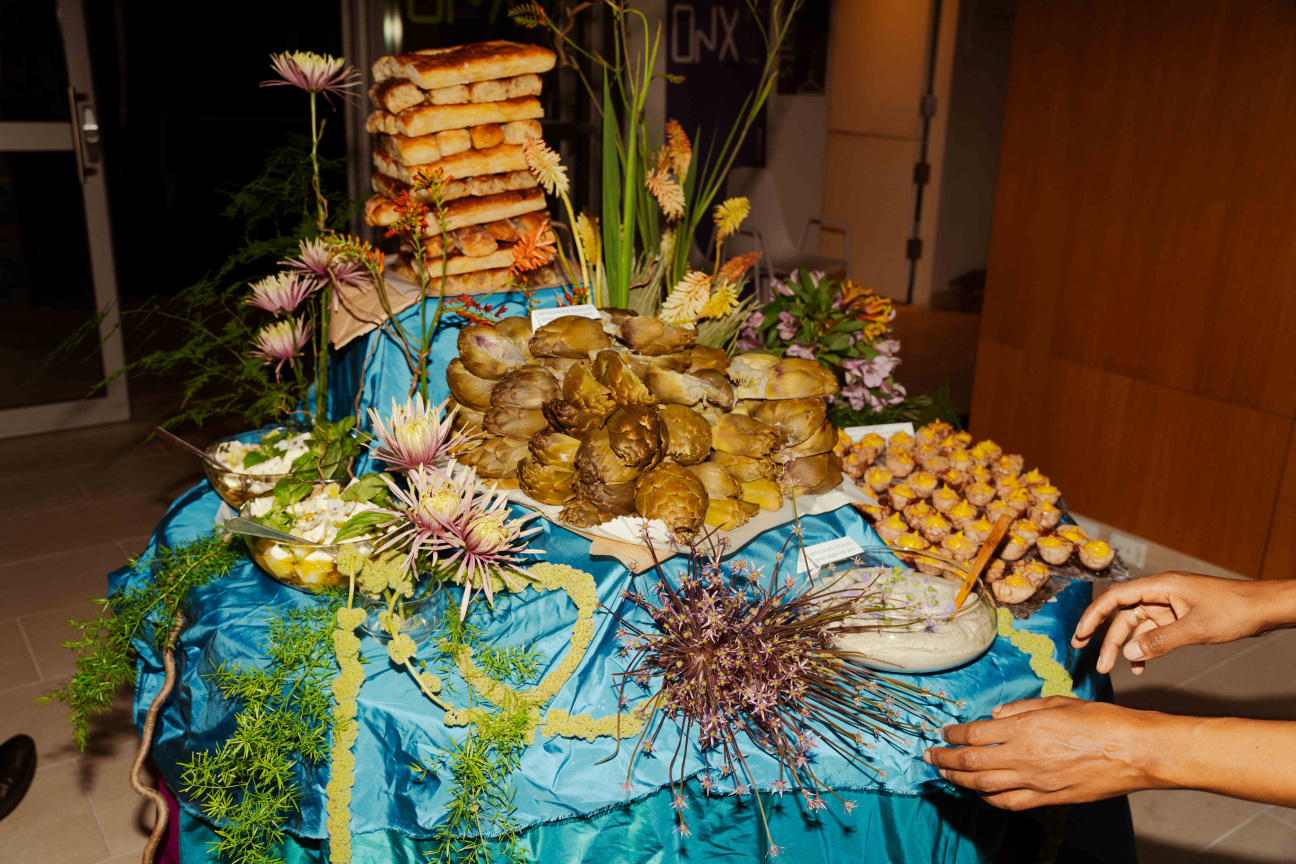 CULTURED: You moved to New York when you were 21. What advice would you give to a younger person coming in hot onto the city's culinary scene?
Dimayuga: Remember your younger self, and what you loved back then, as openings for a journey. It's important to make time to think about your personality, how you socialize, and to understand that that's important to apply to whatever it is you're doing because it's still a part of your essence. New York can be really busy, so you have to maintain outside inspiration while remembering what moves you to the next thing.
Another [piece of advice] is, if there are folks in your community that you look up to, cold call them! I've had folks write to me and say, "I want you to be my mentor," in a really earnest and honest way rather than, "Hey, I want to pick your brain," which is very one-sided. It's showing what the mutual relationship would be. My goal in mentorship is shifting the relationship over time to being co-conspirators. I always look for people that I also want to learn from. And another important aspect of learning is to try and maintain this POV that we're all students.
CULTURED: What is exciting you the most about food or cooking right now?
Dimayuga: I'm interested in food ideas that use the fewest ingredients possible. For example, I did a cooking lesson with my 12-year-old niece. I love this idea of skill sharing, and it was super fun to use technical language and explain it [to her]. Also being scrappy with leftovers, and using microwaves again! There are microwave people and non-microwave people, and I'm definitely a microwave person. With my niece, we had leftover red onions from a bagel breakfast, and I was like, "I think if we use oil, chop these up, and put them in the microwave, we can get some really crispy onions and some really flavorful oil." It turned out really well. And she was like, "Woah, I can do this at home."
Another favorite is to do concept cooking for event-based projects. I did a 7-Eleven concept at the New Museum for their DEMO2023 festival, and literally set up a cafe with my favorite Asian 7-Eleven convenience sandwiches and rice balls and stuff like that. I have such a fun time reinventing myself from event to event. It's about challenging that spectrum in front of me, and making things that are not always so intellectualized. I feel allergic to things that are really gorgeous but fall flat on flavor, because to me, flavor is the access point.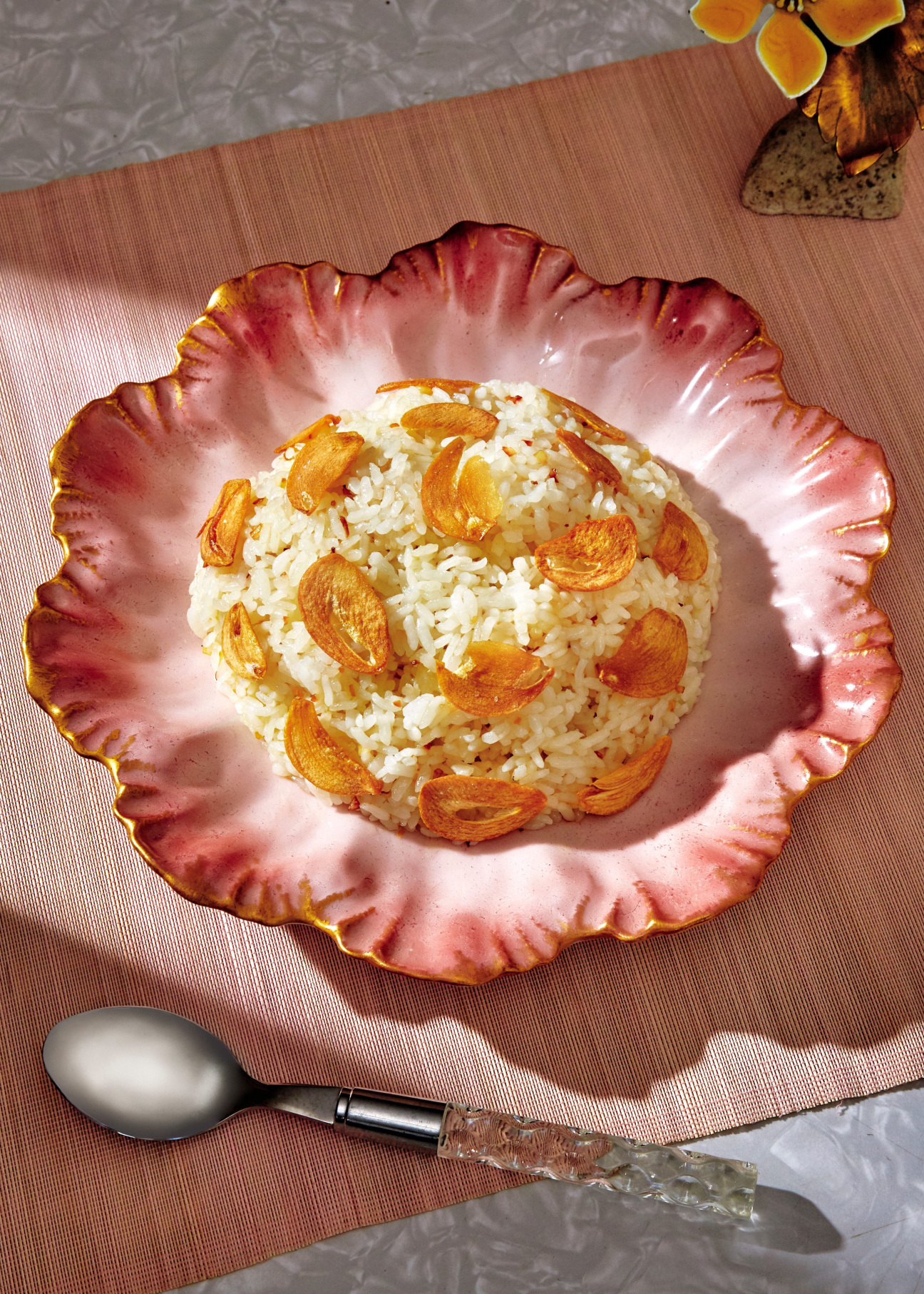 CULTURED: What is the most underrated ingredient or product in your opinion?
Dimayuga: Nattō. These sticky fermented soybeans are always overlooked because people are averse to the texture. But there's this deep umami that is unmatched, and lots of different applications besides just eating it sticky out of the container, like dehydrating it and making it into a powder or putting it in soups.
CULTURED: Do you have a go-to gas station snack?
Dimayuga: If I'm in 7-Eleven, either in Hawaii or somewhere in Asia, I always get the egg salad sando, because it's just a perfect cloud texture. Padma Lakshmi said, in an Instagram comment about going to 7-Eleven in Japan, that "egg sandos are the perfect combo of air plus mayo," and that's why we both think they are delicious. If I'm local and doing a long distance drive, my super, super, super guilty pleasure is getting the Snyder's Honey Mustard Pretzel pieces. To keep me awake as I'm driving, I'll just pour them into my mouth and accidentally eat the whole thing and have a stomach ache. The bad breath that you get from them is super offensive, so I prefer to eat them alone.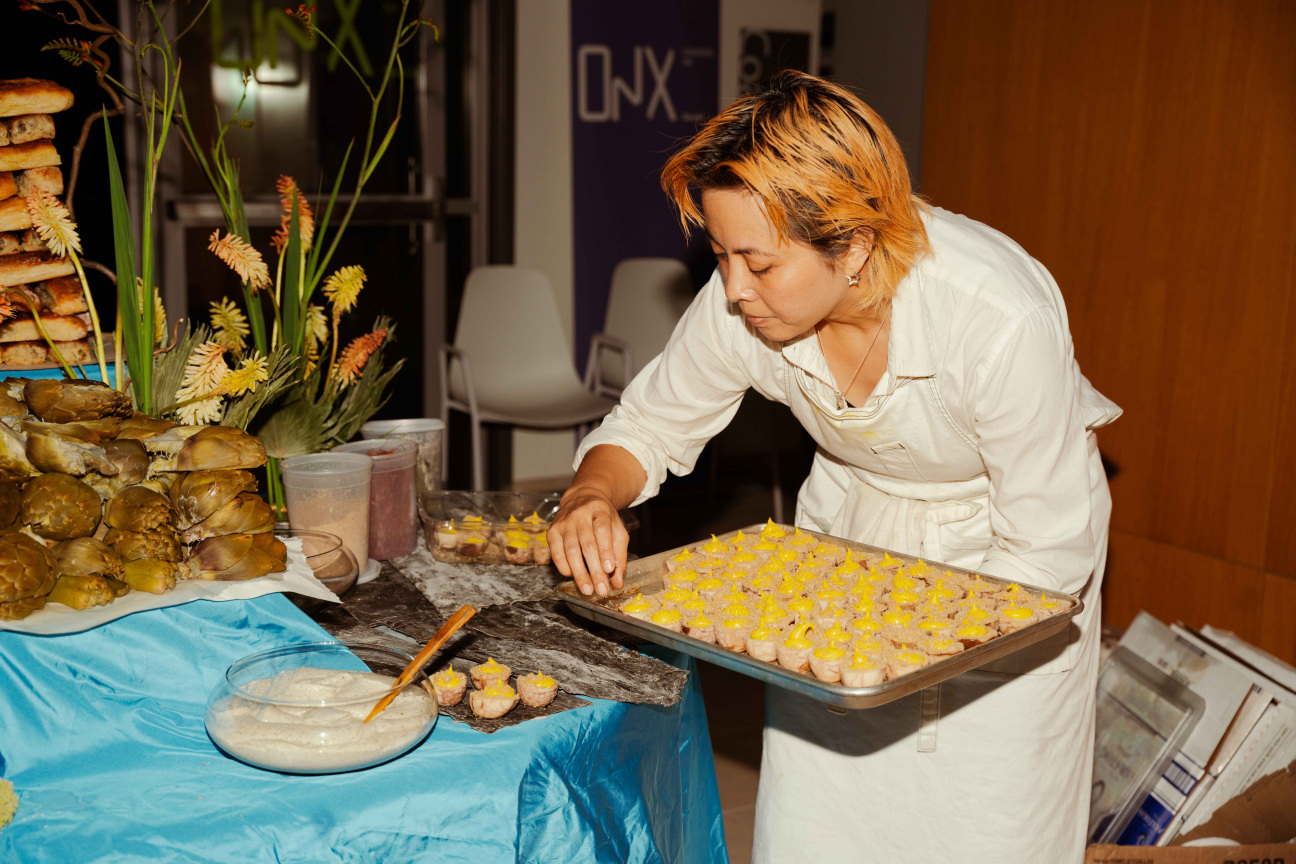 CULTURED: If you're hosting a dinner party, who do your first three invites go to?
Dimayuga: I would love to invite Alexis Pauline Gumbs [a self-described Queer Black Troublemaker and Black Feminist Love Evangelist]. Then my friend Megan Hicks, who's a doctorate professor at Hunter College; I'd love to see her quips at dinner. She's an interdisciplinary archaeologist who has a plethora of information about everything, like pop culture and land stewardship. Then I'd love to have Sandor Katz in the room, who is a radical fairy, and very old school home fermenter and approaches fermentation in a really non-fine dining way. Honestly, I don't even know how much we would talk about fermentation, but I'd just love to meet him and talk about his journey.
CULTURED: Is there a visual artist who's inspiring the way that you cook these days?
Dimayuga: Mire Lee was installing her show "Black Sun" when I was running the 7-Eleven inspired shop at the New Museum. We got to become friendly, and I even showed her a GUSH party! Her work is so sensory-oriented, tactile, and perverted.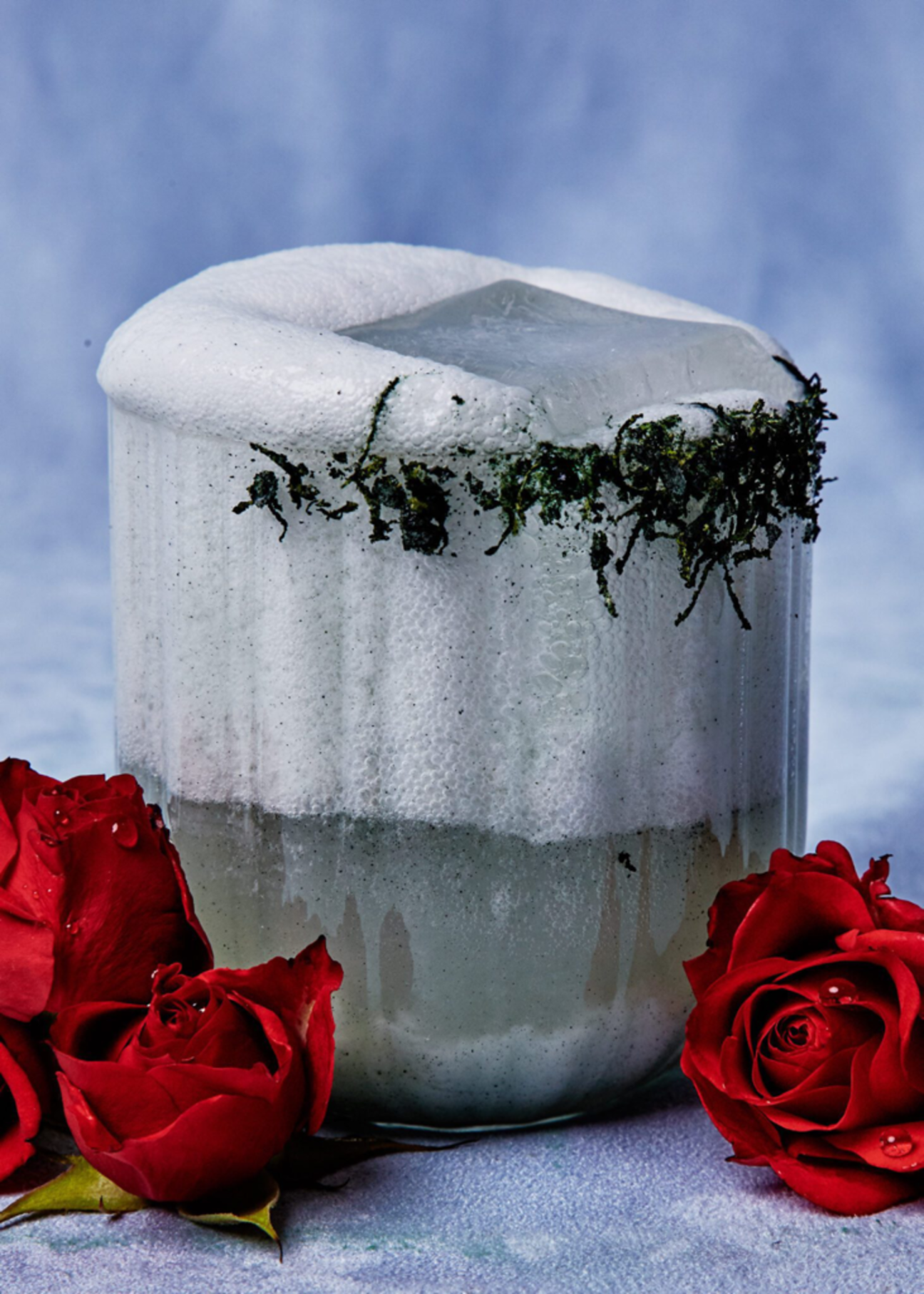 CULTURED: Is there a dish that represents where you're at in your life right now?
Dimayuga: There's this dish that I've been really loving utilizing a traditional ferment that comes from Pampanga, the town where my mom is from in the Philippines. It's called tagilo or buro and she never had it growing up, but when I saw a recipe, it just seemed like it would be really delicious.
It began with people wanting to reuse old rice that didn't get eaten. You just mix it with chopped up raw shrimp and salt and ferment that for a week. Before you serve that fermented rice, you make it into a really unctuous sauce by cooking garlic and onion until it's super soft and really clear. You dice the onion up really small so it has this hidden sweetness and then you add the rice and some water and you cook it to a risotto texture. You add fresh chopped tomatoes to it. And then you serve that as a dipping condiment with fried fish that I've been doing with masa so it's extra crunchy, and some pickles or leafy greens on the side. I had to tap into something that comes from my mom, and I just feel really connected to it.