This is The DMs, a rundown of all things Internet culture—from the viral to the very weird—directly from the creators and the creatives driving it forward.
Ben Oleynik had never been to New York before he came to the city from Wawa, Canada, in the late 2000s. Now, he can't get enough of it. The life-long skater, who is an alumni of legacy brands like Zoo York and PONY, founded Grand Collection in 201​8​. The brand has been championed by skaters—such as Spencer Hamilton​,​ Buggy Talls, and Brian Reid—and cool kids alike. An elevated take on sports and skatewear, Grand has collaborated with ​some of downtown NYC's most important cultural​​​ institutions, including Veselka and Iconic Magazines,​ in addition to releasing traditional drops of clothing. Here, Grand​'s founder tells CULTURED what keeps him interested outside of the skatepark.
CULTURED: Outside skateboarding, what do skaters post on Instagram?
Ben Oleynik: It's so different person to person. Some only post skating. Others post everything else. Food, traveling, what they're listening to, their partner. But skating is usually the main thing.
CULTURED: So who do you follow to see what they're doing NOT skate-related?
Oleynik: My homie George William makes fine jewelry out of his studio apartment and barely posts skating content. I always love to see his work.
CULTURED: Is there anyone surprising you follow online?
Oleynik: Let me look. Hmmm, nothing that shocking.
CULTURED: Or random?
Oleynik: Got it. Perrier. My fav sparkling water lol.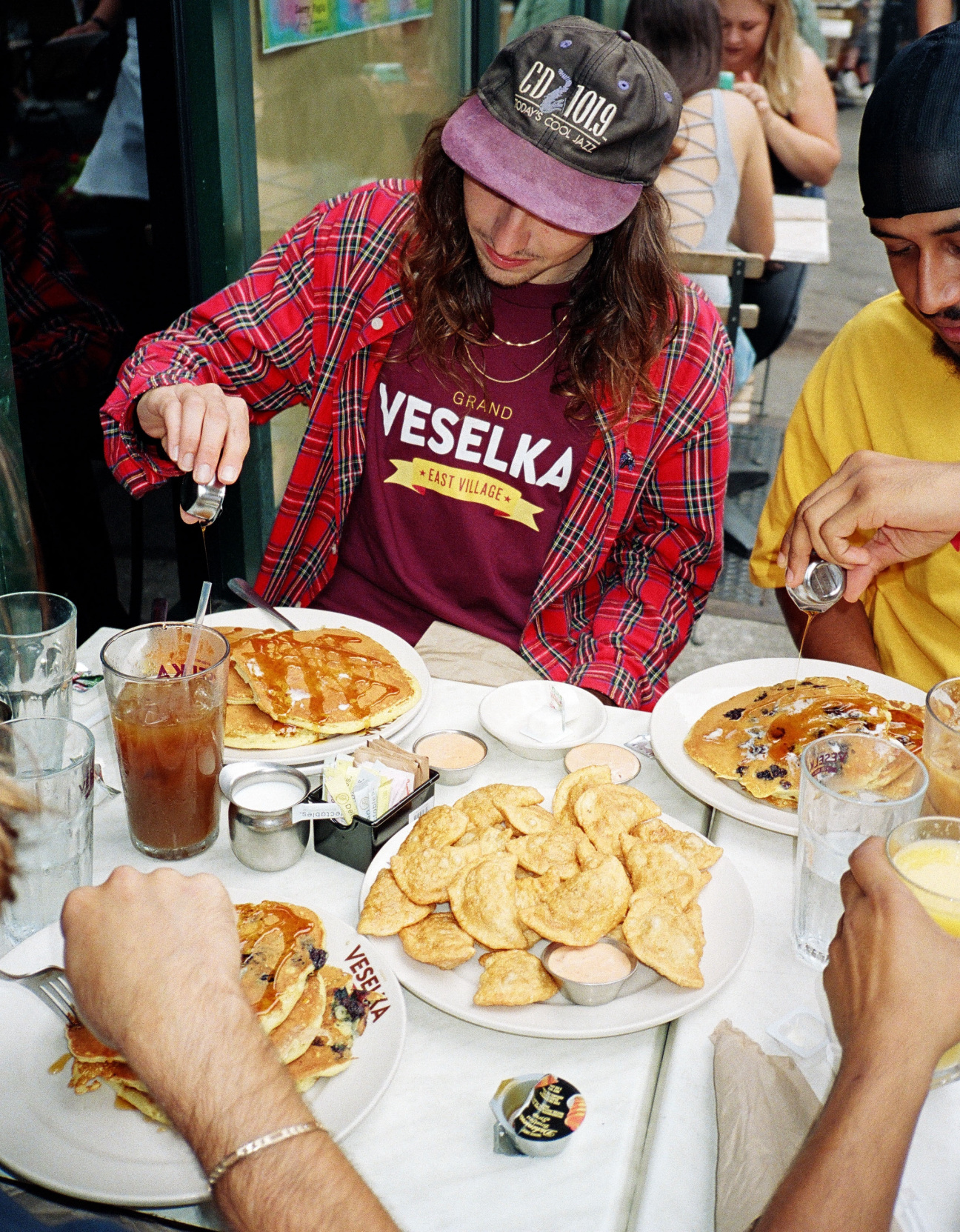 CULTURED: Hahaha. Grand pays homage to a lot of NYC landmarks. How do you do that online where everything is global?
Oleynik: We just try to do what is honest to us. And showcase the places we love. I skate at Tompkins multiple times a week and then eat at Veselka afterwards. I've been going to Iconic Magazines for over a decade. I try to show what is so special about each place and how they are a meaningful part of the city. So, if people live here or are just visiting, they know where to go.
CULTURED: That's awesome. Back to online. What's the last Internet hole or YouTube loop you've fallen into?
Oleynik: On some real nerd shit, I've been watching a lot of Marshall McLuhan videos lately. The medium is the message.
CULTURED: Why!
Oleynik: I studied media and communications in Canada. He's the leading thinker in that world so I've always been interested in his work, but for some reason lately I've been watching all the YouTube videos on him. It's wild to see how he predicted the ways the media would shape culture so many years ago.
CULTURED: Oh, interesting.
Oleynik: You asked for a YouTube hole!
CULTURED: Hahaha, touché. Is there one prediction in particular that resonated?
Oleynik: That the medium itself is more impactful on a society than the actual content. We need a whole other interview for that one. 💞
CULTURED: Hahaha. Thoughts on TikTok?
Oleynik: As someone that owns a brand I should be making more of an effort to be better at it. Are you on there?
CULTURED: Haha, I'm a voyeur, not a participant.
Oleynik: Hahah, love that.
CULTURED: Do you think every brand needs to be making content these days?
Oleynik: For sure, while understanding what content your community actually wants and the right way to give it to them per platform.
CULTURED: Do you think designers/creatives need to be active online in order for people to see their work?
Oleynik: If they aren't, someone on their team should be. Miuccia Prada doesn't have IG but her brand does. There's actually an account that shows what she's wearing.
CULTURED: I feel like skaters typically give off an "idc" persona. How do you think social media has changed the way people make it into that world/evolve?
Oleynik: I feel skating has evolved like so many subcultures have evolved. It's so diverse and varied. So many different people skate now and find their people within skating. It's beautiful. Social definitely has helped with that. It's like anything, you can find your people online.
CULTURED: What's the last fashion piece you bought online?
Oleynik: Prada boots for my wife.
CULTURED: What's the last one you thought about but let get away?
Oleynik: A vintage Burberry sweater I wanted as a fit reference. I almost never buy clothing for myself. I wear a lot of the same Grand samples and pieces over and over.
CULTURED: What is the weirdest message or inquiry you've ever gotten for Grand?
Oleynik: Nothing too out there. Just people asking for free pieces. Or I get kids that I haven't met before will tag me in every video they post of them skating haha. I always appreciate it though because it just shows they fuck with what we're doing.
CULTURED: What do you say when someone random wants freebies?
Oleynik: At this point I usually don't reply if it's someone I don't know. If it's a homie, I try to hook them up whenever I can. Even if it's just letting them know I'll add a gift to their next order.