Though perhaps one of the most cited, riffed on, and imitated designers, there is still more to discover of 1901-born French talent Jean Prouvé's oeuvre. His legacy as a furniture maker is enduring; the 1950 Standard Chair is a staple in chic interiors across the globe, from Laurence and Patrick Seguin's Paris apartment to Cliff Fong's Los Angeles abode, and his room screens, desks, lighting, and more still decorate homes, schools, and offices today. As ubiquitous as these pieces may seem, this fall, Vitra reissued a line of his furniture that includes—for the first time ever—a stool by Prouvé based on a sketch design never before physically seen.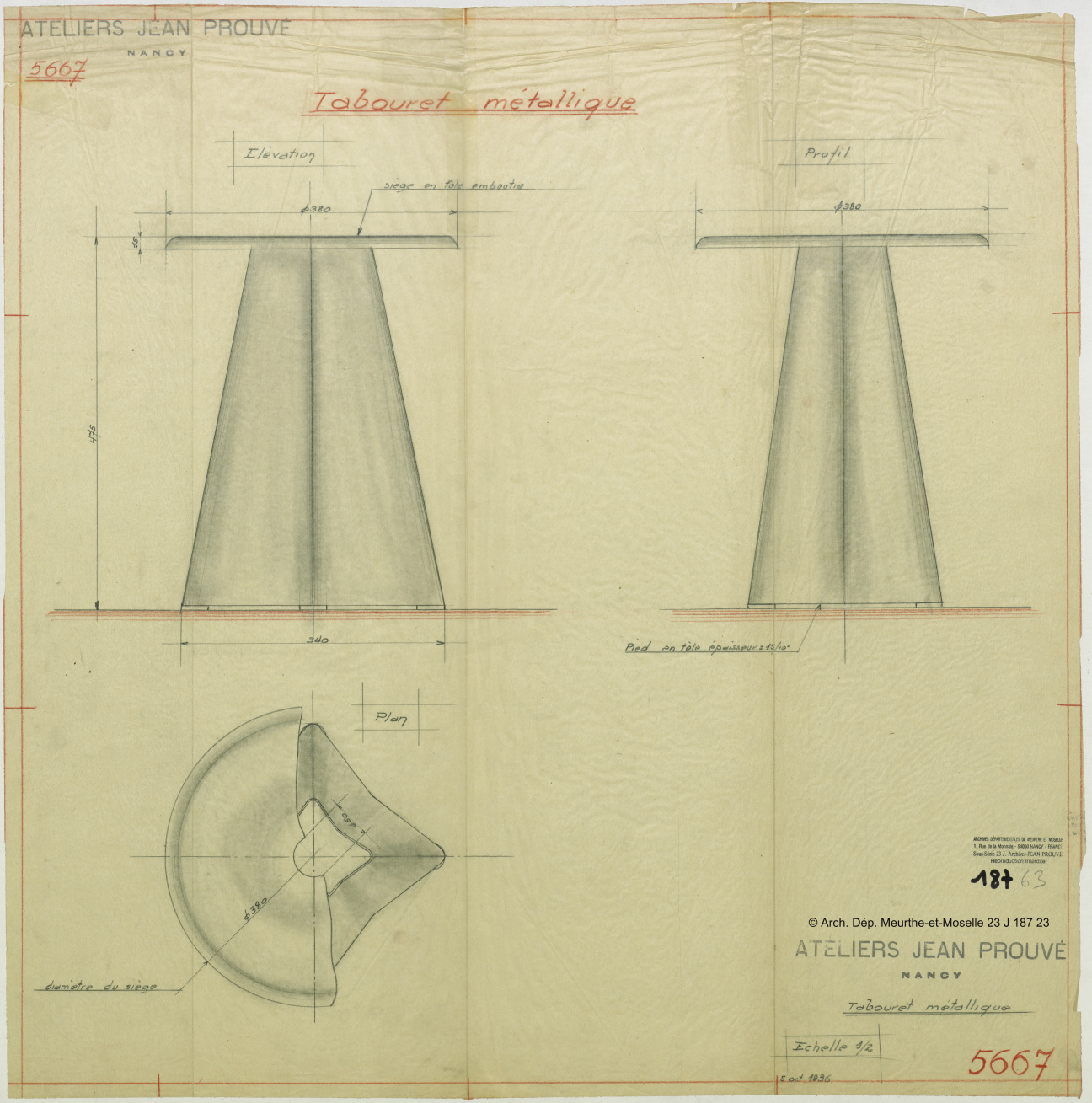 The 1936 drawing of this previously unknown tabouret métallique stool was found in Nancy, France, in the ADMM (Archives départementales de Meurthe-et-Moselle), the family-held archive of the talent's work. In fact, many of his designs were made in this small riverfront city, which is closer to Basel than Paris. Up a steep hill in a lush landscape of trees, Prouvé innovated with materials here; in the architecture of his self-designed 1954 home and 1957 studio, he perfected the construction principles upon which his practice was founded.
Prouvé's legacy as an architect is one that is often overlooked, but its impact is continuingly relevant. In all his work, he used materials readily available for industry—aluminum sheet metal, standardized wood boards, porthole windows—and produced them in his own factory with commercial-grade machines. He was interested in the promises of mass production as a means to provide high-quality habitats for everyone. His single-story home on the hill in Nancy has a simple rectangular plan for a family with children, constructed with prefabricated panels, steel, wood beams, partitions, and shutters by the architect and his friends over a summer. His 26-by-26-foot (8-by-8-meter) studio on the same site was salvaged and reassembled from Prouvé's factory in Maxéville, which he was ousted from in 1952 after a bout of creative differences with a metal company sponsor. "He said, I will build my house with leftovers," recalls his daughter Catherine Prouvé.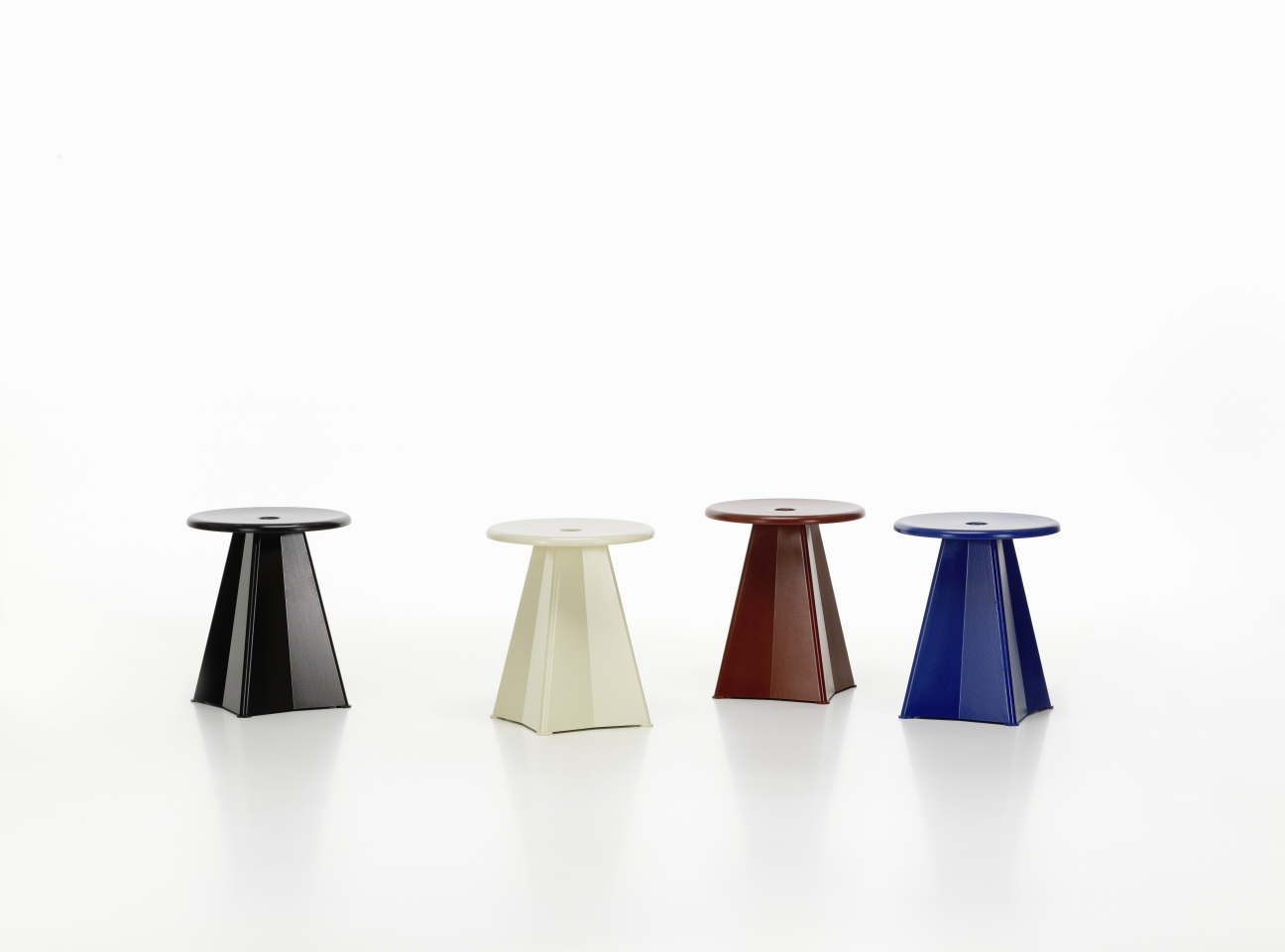 "Jean Prouvé never accepted why a house should be so expensive to build. He had observed the production of aircraft and cars and questioned why houses could not be produced in a similar way," explains Stine Liv Buur, Vitra Design Manager Classics. "He asked something that I think is still very relevant today: Why do we produce houses with components from so many different sources?"
Throughout his career, Prouvé was driven to design for solutions. His innovations in aluminum and prefabricated building elements applied "machine for living" standards to residential projects that are, in fact, quite homey, especially when decorated with his early modern pieces. In the 1930s when he first opened his atelier in Nancy, he designed a series of demountable houses; later, in 1945, 450 were provided to postwar refugees in Lorraine, France. He designed very few private residences but those he did were for family, friends, and acquaintances, which is why his furniture design legacy often overshadows his work as an architect. "Most of his designs came out of a need he saw in the market and the people, but also from institutions, such as universities and schools," says Liv Buur. Prouvé worked within "the flow of his principles," often experimenting with multiple versions of designs to perfect them. It's why it is so unusual that the origin request for the tabouret métallique stool has not been found, nor has it been seen before on the vintage market.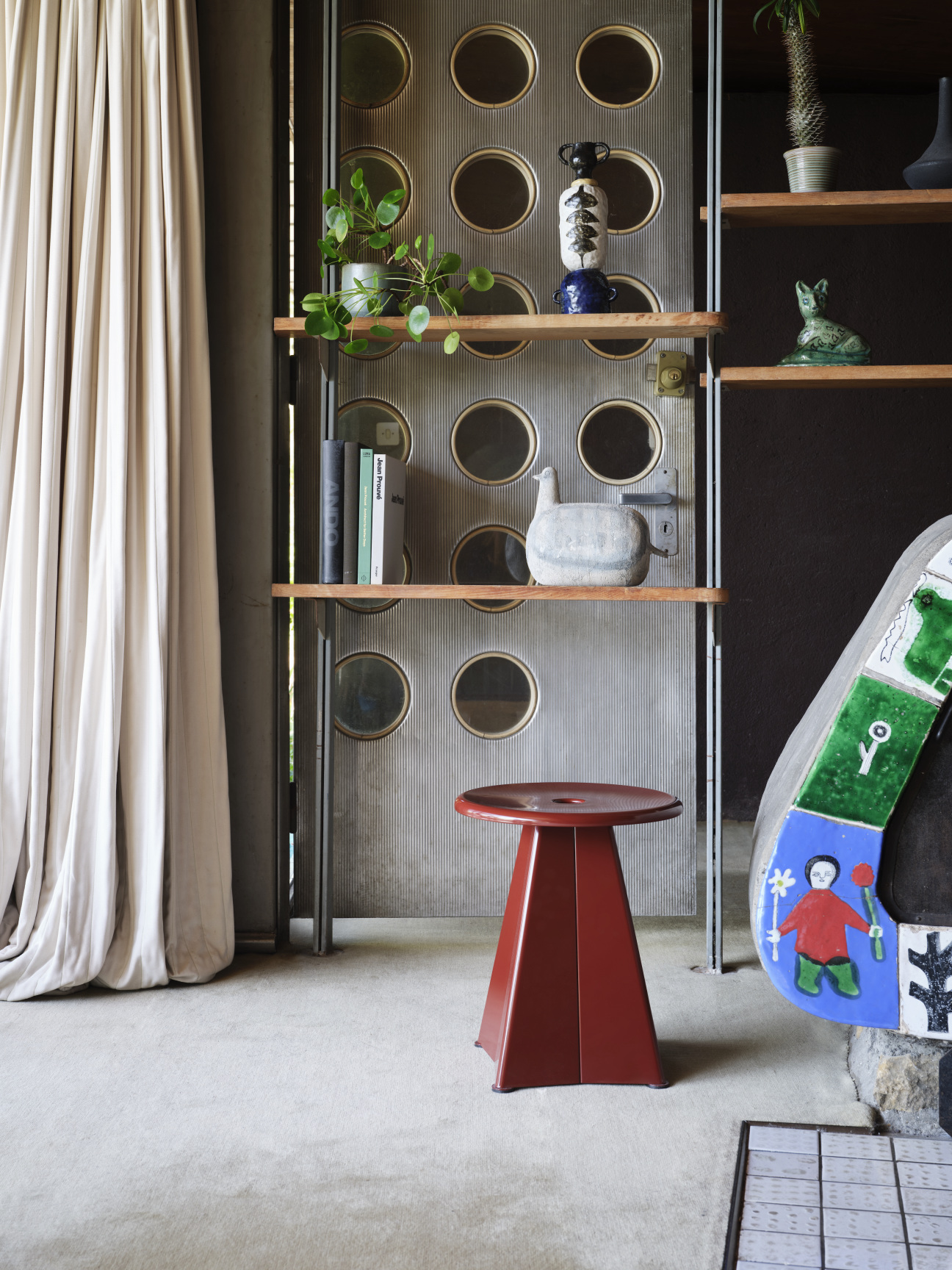 When visiting the Nancy archive—which contains work salvaged by "pure luck" from Prouvé's former Maxéville factory—Liv Buur and her team saw its technical drawing, so "we knew that it must have been produced," she says, noting that Vitra only reissues pieces for which they have designer specifications. She headed to the Bibliothèque Kandinsky in Paris, which holds the rest of the Prouvé archive, and saw it, for the first time, in three dimensions via a historical image. The bent metal parts seemed to have a white smooth varnish; today, it is being produced in four colorways, including the new Prouvé Bleu Marcoule.
Diving deeper into this archival discovery has introduced new questions about the designer's legacy and further revealed the continued relevance of his sustainable design practice, one that used local, standardized materials economically, with little to no waste. "At the time of their creation, his designs broke new ground with their forms and production techniques," says Liv Buur. "His furniture was ahead of its time and today it still outlives its competitors."