The days of letter-writing are largely over—and along with them, the joy and surprise of opening an envelope that doesn't reveal a medical bill or a new credit card. You may still send thank-you notes in the aftermath of a birthday weekend, or receive Christmas cards come December. But it's no longer common to receive something in the mailbox that feels more personal than a doctor's prescription. We made a deal with the tech companies for instant everything, and in turn, have almost entirely sacrificed the magic of a handwritten note.
Today, wife-and-husband Anna and Graydon Carter (of Air Mail fame) have launched Electragram, a digital mailing service that aims to return the personal touch of old-school communication to the Internet. Electragram enables users to craft customized cards, with a range of colors, icons, and illustrations—for reasons that range from thank-you notes to general well wishes. The project cuts out the, at times, expensive or too sluggish middleman of snail mail, but retains the charm of composing a handwritten message.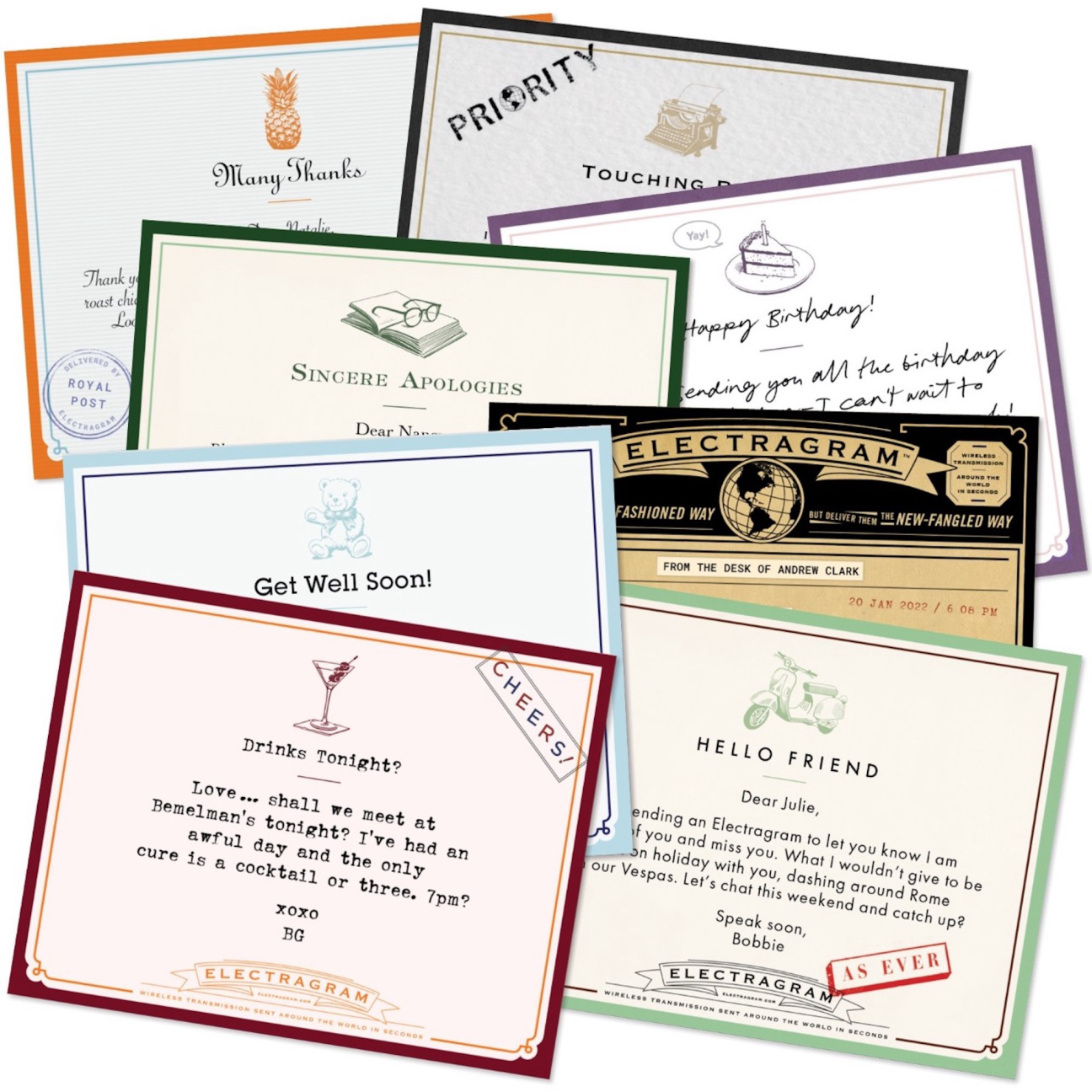 "Life is about communication and connection. In our hurried, technology-focused world, I felt that there was really no charmingly personal or sophisticated way to communicate online," CEO and cofounder Anna states. "I also love that it is, by definition, sustainable, in that it eliminates the waste of sending paper correspondence."
Electragram also allows users to collect their own archive of notes, serving as a kind of "digital memory box." After launch, the online company will release exclusive, limited-edition stationary designs by renowned artists, in addition to bespoke collaborations with luxury brands. Innovative creativity is in Electragram's bones—beyond Graydon serving as Chief Creative Officer, the project is supported by angel investors Sir Jony Ive (the former chief design officer of Apple) and designer Tory Burch. The brand hopes to establish Electragram as a "daily destination for editorial and creative content," offering an idiosyncratic answer to the modern question of correspondence.