Sarah Harrelson: Why did this feel like the right moment to give the Italian Pavilion over to a single artist?
Eugenio Viola: It was a long-awaited decision, despite the controversies related to it.
SH: Gian Maria Tosatti's work also seems particularly primed to complement the themes raised in Cecilia Alemani's "The Milk of Dreams" Biennale, which considers the invisible labor of things like motherhood and what the surrealist can teach us about optimism. How did you see Tosatti's work speaking to Cecilia's show?
EV: The meta-pandemic condition has acted as a powerful historical accelerator of social and economic processes that are now re-emerging with dramatic urgency and great uncertainty. Tosatti's "History of Night and Destiny of Comets" is built on this urgency, offering a sensational and unyieldingly optimistic vision of the present, creating a balance between the errors of the past and the prospects for the future. Indeed, the work does not express any dramatic position, but rather a proactive, optimistic one: the critical issues of the present are used and interpreted in a way that will help us take on the challenges of the future. Tosatti metaphorically opens a window onto a parallel world, reflecting aspects of the real world while always remaining unreal, and this is the main point of contact, I believe, with Alemani's vision.
SH: Will getting to this more optimistic perspective take a push?
Gian Maria Tosatti: I think we need more than a push. I even think that we can push ourselves. The change won't come from anywhere other than our own awareness. Education has a crucial role. An under-educated society will not understand the real challenges that we are about to face. An under-educated society is vulnerable.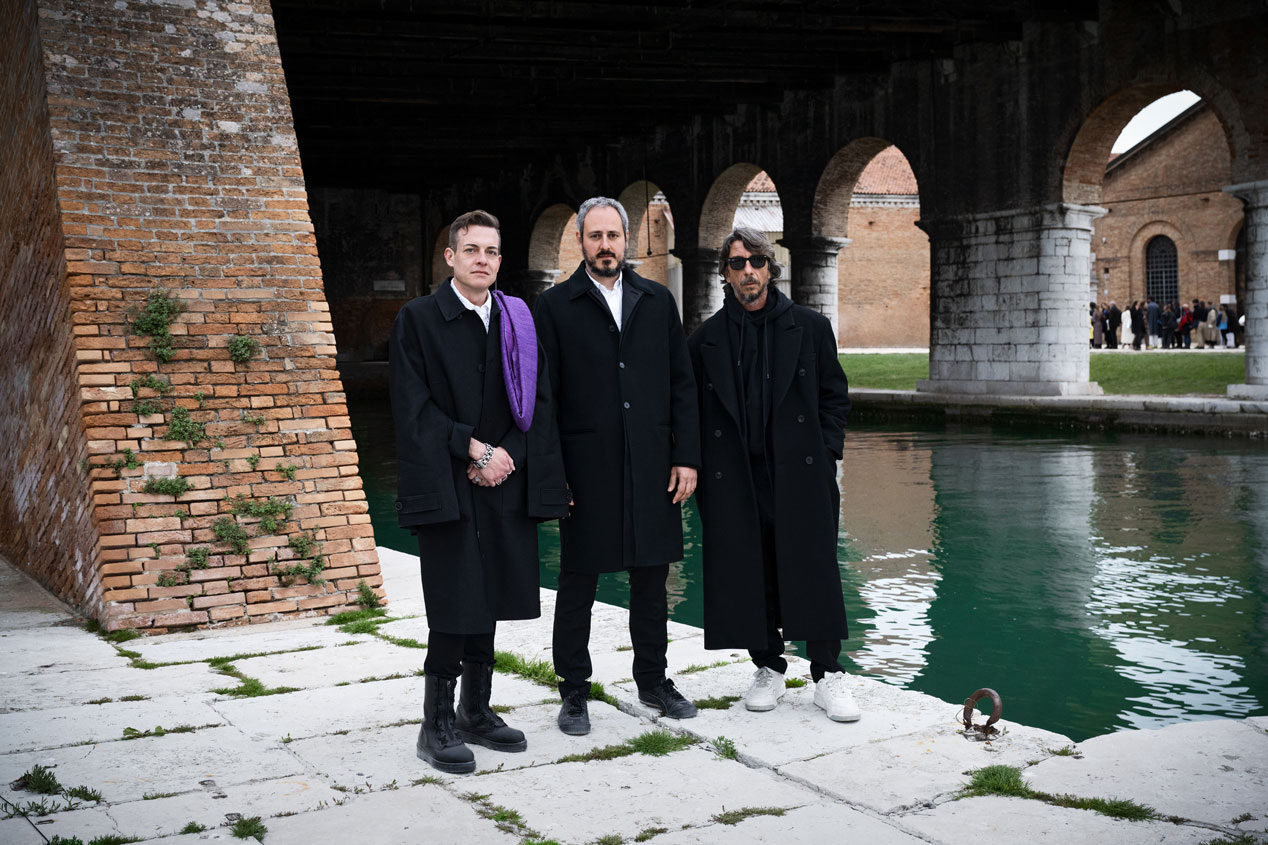 SH: Can change come from the fashion world? What is the importance of having Valentino as partner for this artwork?
GMT: Valentino is one of the many companies trying to align their research and production policies to the trajectories of real change in terms of their use of resources. Many players in the market are running faster than our politicians in this perspective. And, like I said, the path of change is one we must walk together.
SH: How do you see fashion's role in this future?
Pierpaolo Piccoli: While staying true to the purpose of creating beauty and allowing people to dream, fashion must be relevant for today. Tosatti's work talks about our history, memory, human fragility and the stubborn fierceness of nature. It questions our mistakes and gives hope of catharsis and reconciliation. This is the reflection I would like to associate fashion with.
SH: What do you hope your pavilion might spark globally?
PP: Democracy is based on debate. And in that, I don't include social network chats. That is the opposite of debate. That is talking into the void. A forum with many people taken from culture, industry and science, confronting themselves on important topics related to energy, garbage, recycling and art is a good contribution for an ecology of our thoughts.