I don't remember the first time my family went to the Porches Inn, but it had to be sometime in the late nineties to early 2000s when we were living in Concord, Massachusetts. Since then, it's been what my mother calls her "happy place." Utopia is a boutique hotel in North Adams that sits across the street from MASS MoCA, the area's pilgrimage-worthy contemporary art institution. MASS MoCA is a compound of decommissioned factories. The Porches Inn is a hotel composed of row houses. They are both mutants in their own way, but it is exactly that eclecticism that makes them so compelling.
This year, my sister and I took my Mom back to the art museum. She flopped into our favorite double-height suite in the hotel and asked us: 'Doesn't it just feel like home?' There is something about Porches that jogs my memory, one that is crystallized by our 1997 Christmas card—all of us laying in a pile of onion skin paper making snow angels. The paper was part of a huge work by Ann Hamilton called Corpus that transformed the largest hall of MASS MoCA into a flurry. Visitors like us were encouraged to frolic in the translucent pages, throw them up, ball them if you want. New sheets fell every minute or so from the ceiling. Microphones dropped down to read from a script but I was too focused on making angels and wondering how being inside changed the meaning.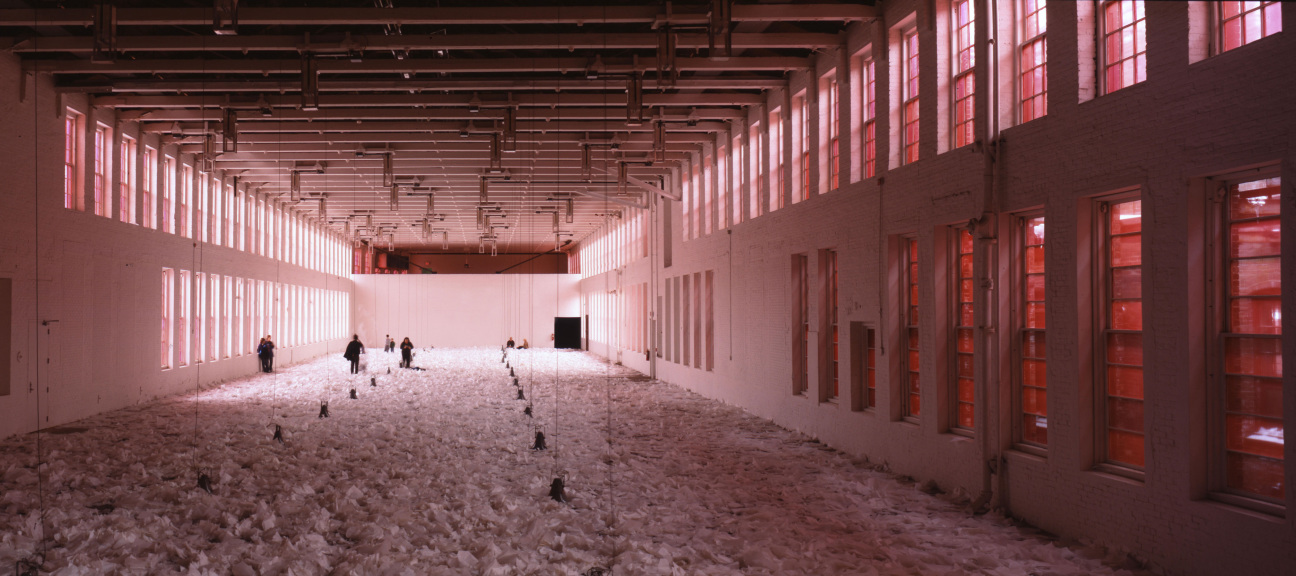 That evening, we took turns running between the Porches Inn hot tub and pool for polar bear plunges. I remember feeling ecstatic. It took me decades to make my way back to that contemporary art high. My mom likes to tease me about this; it's part of the tradition. I'm happy when she turns to me in the same hall, which currently holds a Glenn Kaino exhibition, and asks, 'Do you remember when you hated art?'
The photo my mom took of us laying in Ann Hamilton's snow was on our first digital camera roll. Now, I carry a version of it in my pocket. So much has changed and yet I found myself wondering upon my return how both spaces had not aged. I still found myself in the hot tub after the museum. I still found the halls of MASS MoCA to be transcendent and unlike anything in New York.
I think the success is their shared talent for understanding that greatness is about committing to excellence on a sustainable scale. MASS MoCA doesn't try to make their industrial sheds look like white cubes: they have context and let that context be a space to respond to. Porches Inn claims Scandinavian design but the hotel rooms still reveal the house underneath. This level of transparency is what gave me the ability to look at art in the eye for the first time and not be shy. It was what allowed my mom to melt away piques of stress throughout her life. Today, the be-all and end-all of luxury is supposedly allowing the client to tailor a flexible space, but the truth is that specificity can be grounding and provide a break from habit. It can feel good to revel in reality and the imaginative places we can take it.
Our plan going forward is to make a trip to MASS MoCA an annual reset. Mother's Day, here we come.