Youth culture and individuality are at the core of CELINE HOMME's Cosmic Cruiser collection. Creative director Hedi Slimane selected the work of 14 artists to adorn a variety of designs, including sweatshirts, bucket hats, skateboards and wide leg jeans. Blending a stick-and-poke aesthetic and an almost emo angst, the pieces in Cosmic Cruiser represent a mix of subcultural concerns. Created in the early days of the pandemic, the collection radiates energy, like a visual representation of the pent-up urge for stimulation. The artists selected include young, up-and-coming graphic designers, painters and musicians, all of whom work with an element of griminess. We spoke to four of them about their broader practices and inspiration for the works adapted by CELINE.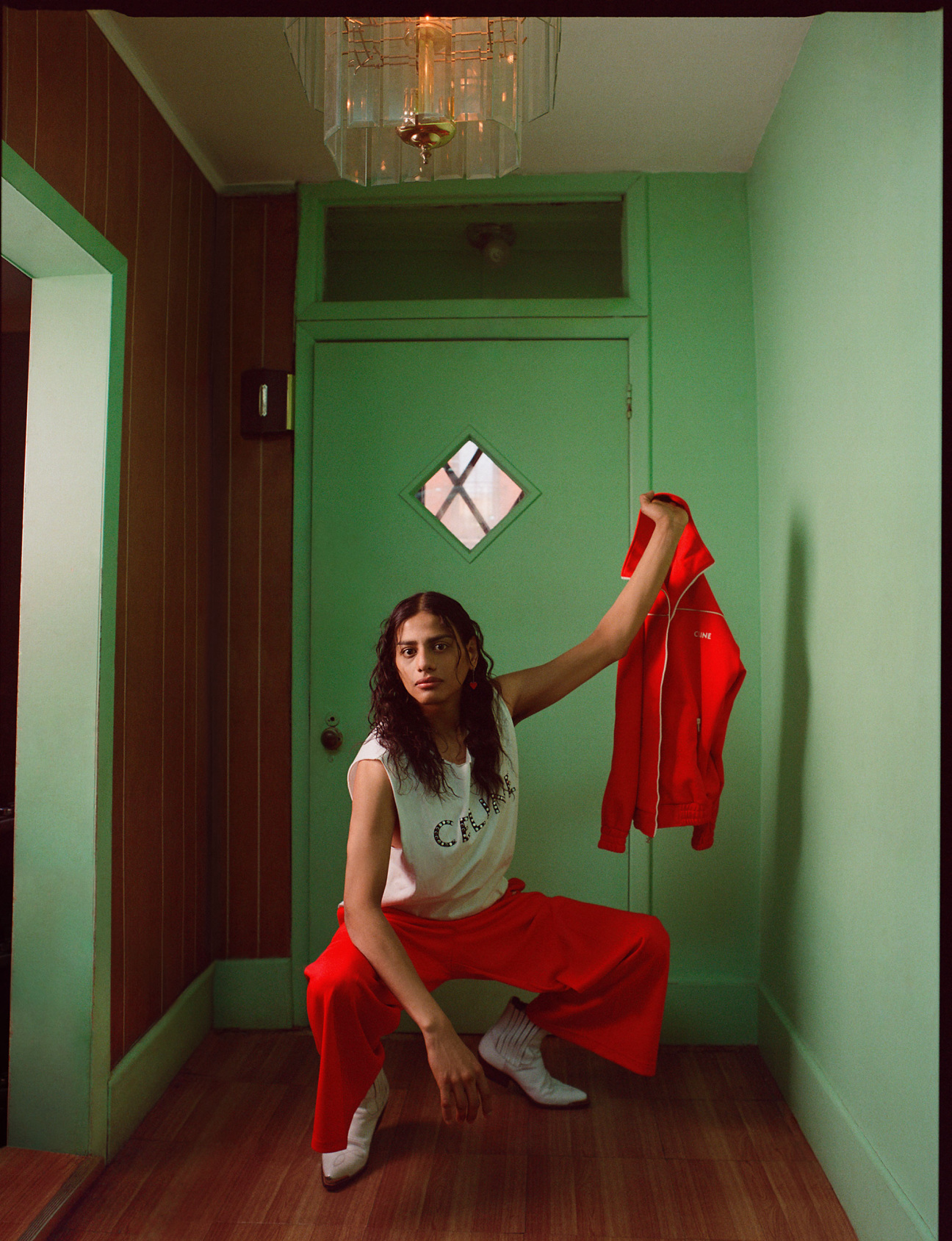 Sara Yukiko Mon
Sara Yukiko Mon wants her work to transport you. Like opening a time capsule from the late '90s/early 2000s, her drawings and prints are full of nostalgic references to classroom doodles, stickers, and the clash of corporate iconography and DIY culture, interests she honed while training in design and media arts at UCLA. Often using butterflies and cartoon animals—rendered in a dark, Xerox-like way—Mon also gravitates towards motifs that remind her of growing up in San Francisco and spending summers in her mother's hometown of Kumamoto, Japan. "I'm a very nostalgic person," she says from Brooklyn, where she now lives. "I use images that I have personal and emotional relationships with."
Reimagining this familiar imagery in slightly chaotic or off-putting collages, Mon seeks a mix of irony and sincerity. Often collaborating with her partner, Chris Lloyd, her work has been exhibited with several emerging galleries, including group shows at Gern en Regalia and A.D., both in New York. Mon's drawing for CELINE, a simple outline of a heart with the words "lucky lover" written inside, appears to have jumped off the page of a notebook. Festooning beanies, bucket hats and a skateboard, Mon's drawing crackles with youthful vitality. Though cheery, her heart, like much of her work, peels back the cuteness associated with a symbol of love, incorporating a toughness and nonchalance with its rough edges and sketchy handwriting.
Mon's collaboration with CELINE is one of the few in Cosmic Cruiser that incorporates text. The artist saw the words "lucky lover" written on a sign and thought of the phrase as "a reminder that through it all, it's important to feel lucky and thankful for the love you have." The simplicity of the phrase is earnest and heartwarming. "The original work was from a show with my partner, Chris Lloyd, at Gern en Regalia," she explains. "The exhibition explored our love and how it's communicated through animal processes."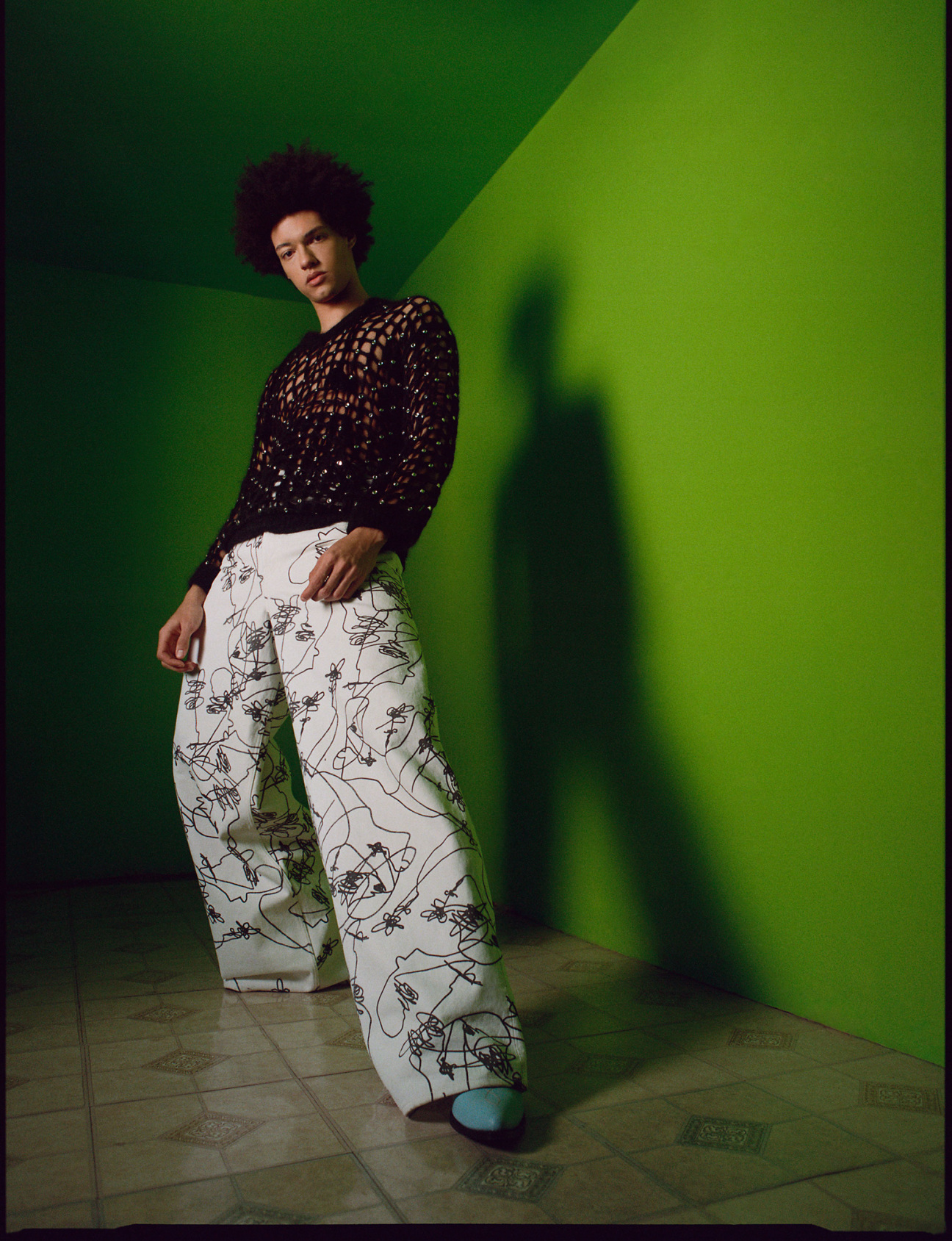 Emerson Snowe
In 2016, Emerson Snowe picked up a pen and started drawing. "It began as a practice in mindfulness," says the Australian artist and musician known for upbeat pop songs, synth-filled tracks like "Frankenstein" and "If I Die, Then I Die." "I would pass time writing in journals and then paired my writing with blind-line drawings on the opposite pages. They're all done as a stream of consciousness." Speaking over Zoom from his home in Berlin, Snowe flipped through his notebooks showing drawing after drawing, which he titles based on the day he made them. His piece for CELINE is titled 12th of August.
What began as a meditative process and a form of documentation became almost obsessive. The artist was constantly making drawings, experimenting with color and letting the movement of the lines take over. The simple act of repetition gave him a way to feel present. "I was at a point where I was sick of over-analyzing things and I wanted the process to be genuine," he says.
His buoyant drawings evolved, sometimes growing to resemble entire bodies. In others, the lines became frenetic. Snowe's work appears in CELINE's designs in two variations: dense, energetic drawings that resemble his filled-in notebooks, and bold yet sleek lines that form elegant faces. The former appears on white and denim pants, while the latter adorns a tan coat; thick, black lines stream across the surface in a simple yet powerful cascade of faces. The marriage of the drawing and the unembellished tan jacket feels like kismet. The garment's simplicity mirrors Snowe's creative practice, as he explains: "I reached a point creatively both in music and in art where I wanted to get back to the bare minimum without all these instruments or grand plans. Stripped of all of that, what was left was honest, genuine work."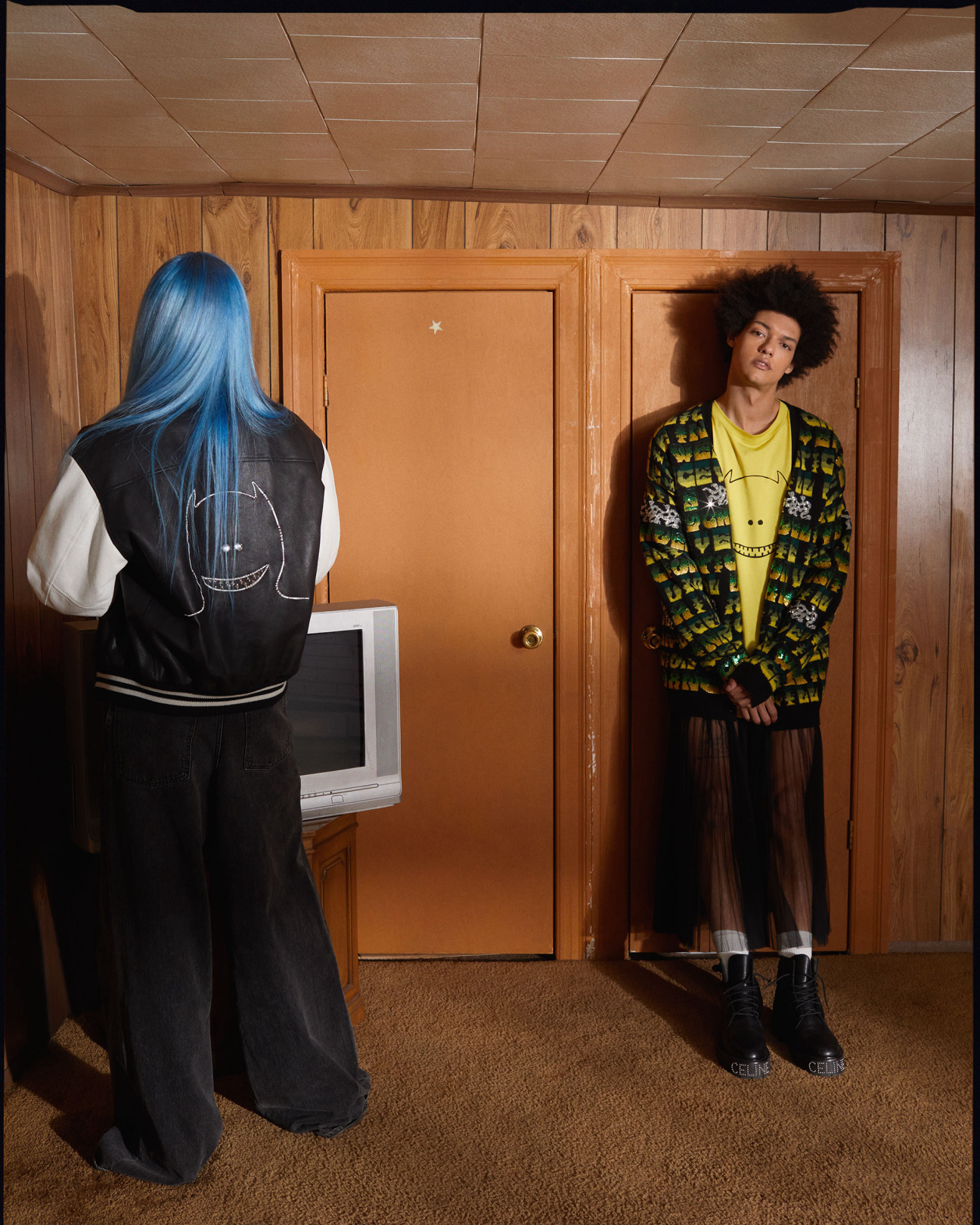 Scott Daniel Ellison
Monsters, vampires and supernatural beings populate Scott Daniel Ellison's paintings. Often looking back at the viewer with creepy eyes and toothy smiles, Ellison's creatures seem to be watching us, just as we're watching them. "As a kid I was obsessed with horror movies and the magazines that covered them," he says from his home in Beacon, New York. "I'm still interested in many of the same things and my mind just sort of fills in the blanks."
Skulls, snakes and cartoonish portraits of Freddy Krueger fill his artwork, which has been shown nationally and abroad, including at ClampArt in New York and Galerie DYS in Brussels. Painted in his signature flatness and palette of black and dark greens, with references to folk art and Scandinavian mythology, Ellison's works are like a mix of Edward Gorey and Tim Burton, creepy creatures with an endearing, storybook quality.
The imagery selected for CELINE, White Snake and Cripy Smile, happen to be some of Ellison's favorite paintings. "They chose images I was coincidentally quite attached to," he says. For the Cosmic Cruiser collection, small, beady eyes and oversized monster smiles appear on sweatshirts, jackets and shirts. Jagged teeth fill their uneasy grins, and one of the creatures has pointed ears reminiscent of Batman, or a cat. Though he weaves general references to popular films, Ellison approaches his work without an agenda. "In a way they just present themselves," he says. "I'm often surprised at the sort of conjuring."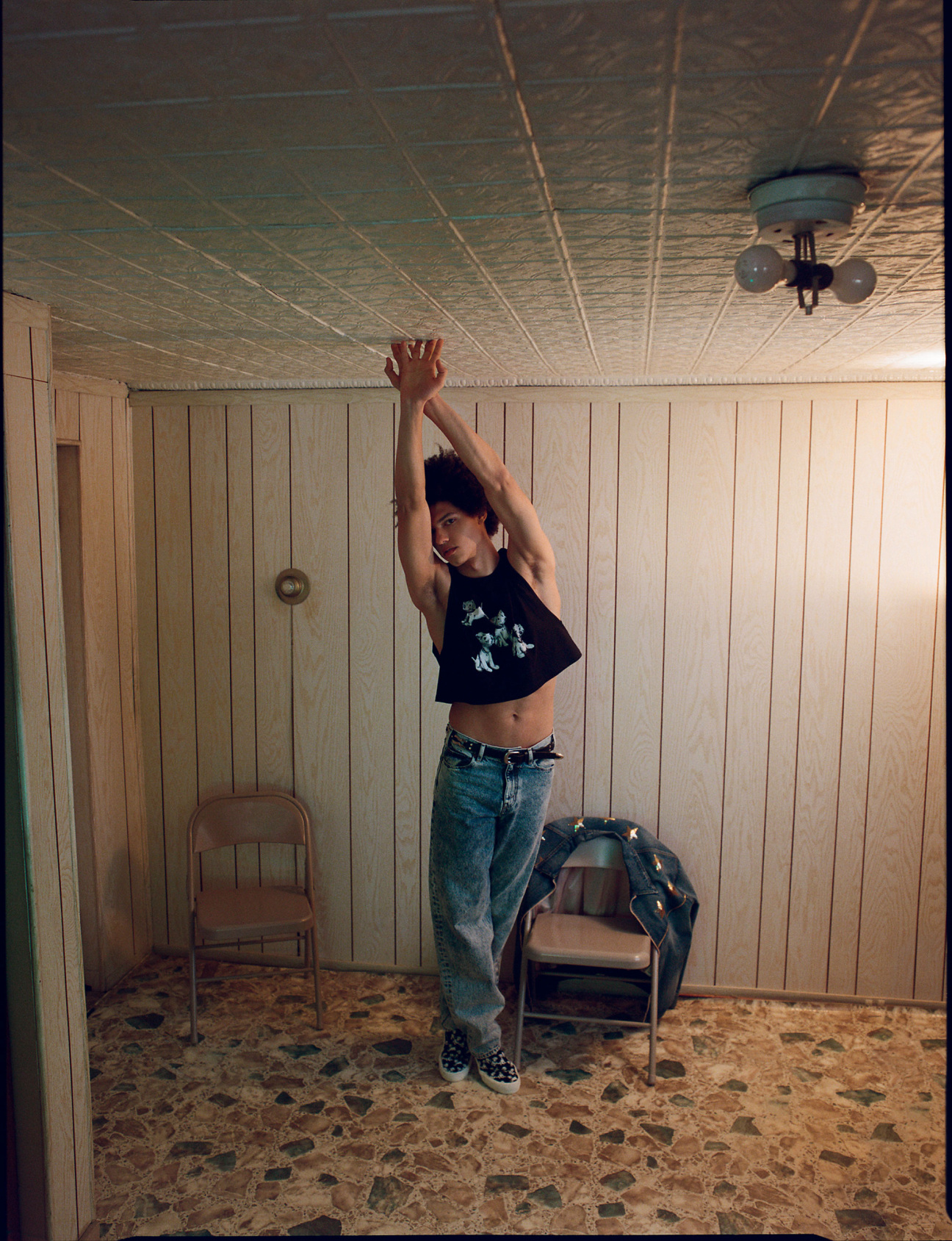 Amy Dorian
Amy Dorian has developed a loyal cult following with her brand Rare Boots, which feature her fake band logos, drawn and screenprinted onto small, limited edition clothing runs. For CELINE, curious, innocent puppies dominate her all-over pattern print. Seen jumping, sitting and playing, the little white puppies appear on sweaters, pants and beanies. The cartoonish animals are characteristic of Dorian's style, which she developed while studying illustration and printmaking at Ringling College of Art and Design.
Dorian grew up in Orlando and is now based in New York. Stemming from her interests in printmaking and popular culture, she often takes inspiration from magazines, ads and movies, like the animated characters that proliferate in her hometown. Unfit for Disney, however, Dorian's illustrations reveal her partiality for edginess. "I draw snakes, swords, naked ladies with wings and flaming skulls. I've always incorporated grit into my work," she says. "Even if what I make ends up looking glamorous, I like the element of grit and humor."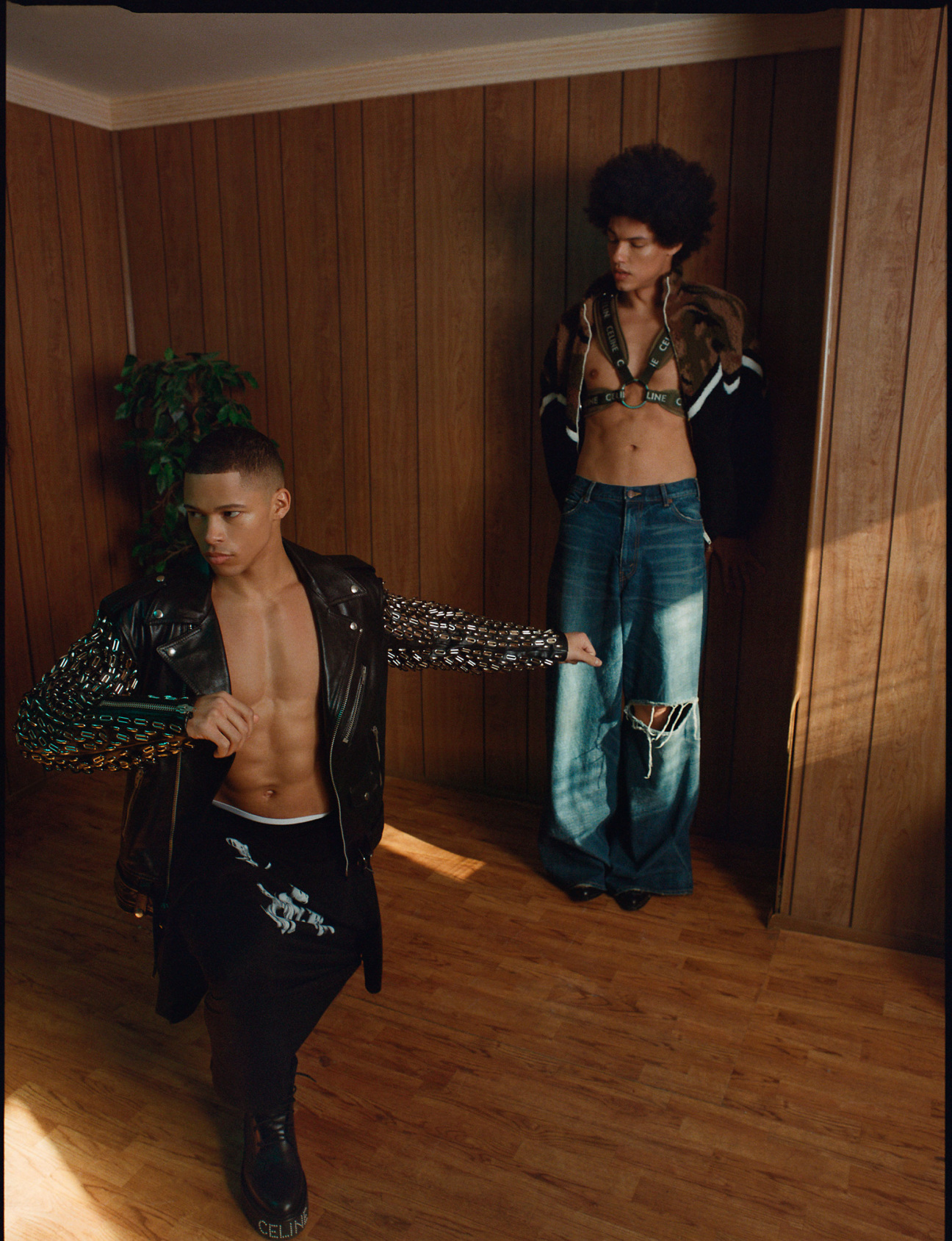 Everyday objects also come into play in her illustrations. The CELINE puppies were inspired by a plastic trinket she saw in a dollar store. Elevating kitsch, Dorian's puppies have a goth allure that fits perfectly in Cosmic Cruiser. "The entire collection seems to have this great quality where something glamorous is a little rough around the edges," she notes.
Dorian says she found the toy puppy at the end of 2020, a time when she was reflecting on the "craziness" of the year. The innocent, playful puppy seemed to reflect her feelings towards the state of the world. "The expectant, naïve look of the puppy really drew me in," she says of the piece, titled Brain on 2020. "I thought about how strange it was to feel hopeful about a new year at the end of 2020, when the feeling of uncertainty still lingered. It was strange to feel all of that at once, and this little toy puppy was a perfect representation."