On March 4, luxury fashion brand Hermès opened the doors to its renovated and expanded 7,100-square-foot boutique in the South Coast Plaza shopping center in Costa Mesa, California. The grand opening marks the 25th anniversary of the Costa Mesa boutique and the Hermès United States president and CEO, Robert B. Chavez, knew there would be no better way to celebrate than to give the location a complete revamp.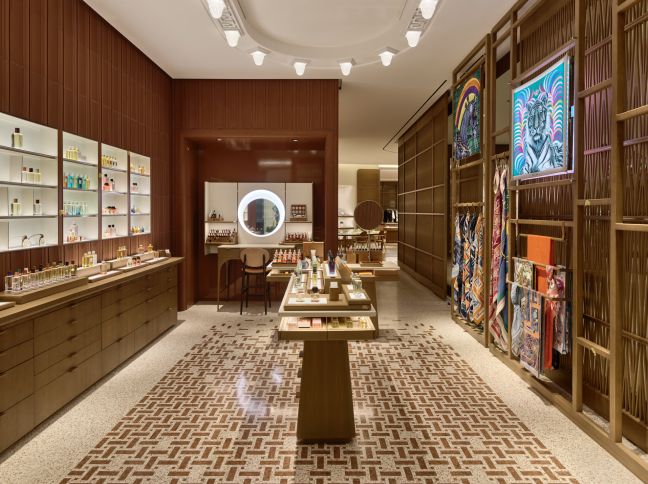 Designed by French architecture firm RDAI, the expansive interiors of the transformed boutique complement the surrounding Southern California landscape. While the architecture remains true to the traditional Hermès Parisian style, there are elements of the store that reflect the coasts of the Golden State, including the organic curvature of the interior walls as well as the subtle earth tones and accents of natural material of the display benches and tables. The mother-of-pearl–and–red-marble terrazzo floor is laid in the brand's iconic Hermès Faubourg pattern, but conjures up allusions to the seaside.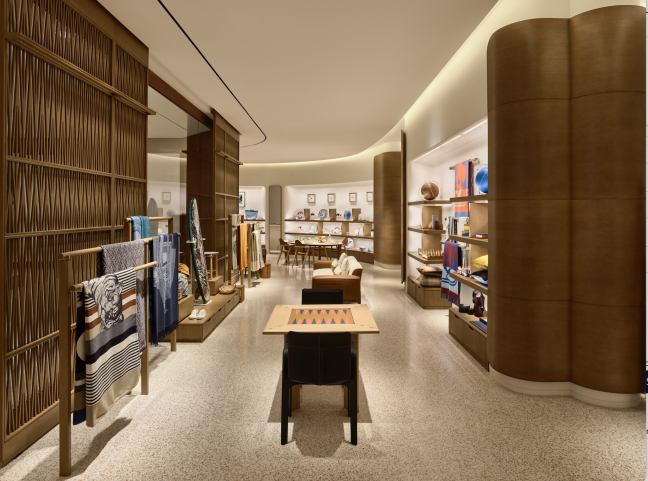 Additionally, the expanded store offers a more seamless experience for customers. Those who enter from the main entrance (one of three) float in through a glass facade framed in terracotta, complemented by the wood claustra partitions, which create unique shadows within the store. Upon arrival, Hermès's colorful silk scarf collection immediately entices shoppers. The intentional horseshoe shape of the store encourages eyes to explore every section from the leather salon to the sparkling jewelry displays and an expansive shoe selection for both men and women.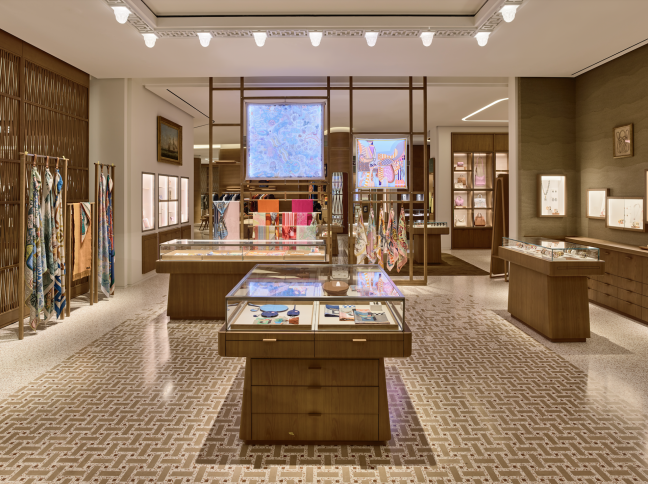 With each new boutique, Hermès aims to bridge its centuries-long heritage with the local character of its immediate context. To ensure complete customer satisfaction, the South Coast Plaza shop has a private salon dedicated to after-sales and repairs. Throughout, shoppers can immerse themselves in the eye-catching curation of art by famed French artists Suzel Caspard, Filipe Jardim and Marion Dubier Clark while browsing for a signature silk scarf or speaking with a sales associate. The placement of these works is yet another deliberate design detail, like all in this redesigned boutique, that plays an important part in telling the timeless story of Hermès.